The Loop
Purkey on the Putting Line
Mike Purkey's "TV Rewind" column in Golf World, one of the best-read parts of the magazine, doesn't normally draw too much fire. Mike's fair and pretty objective. His comments in the December 26 issue about the "Putting Line" tracker , however, lit a fire under a couple of you. Purkey wrote: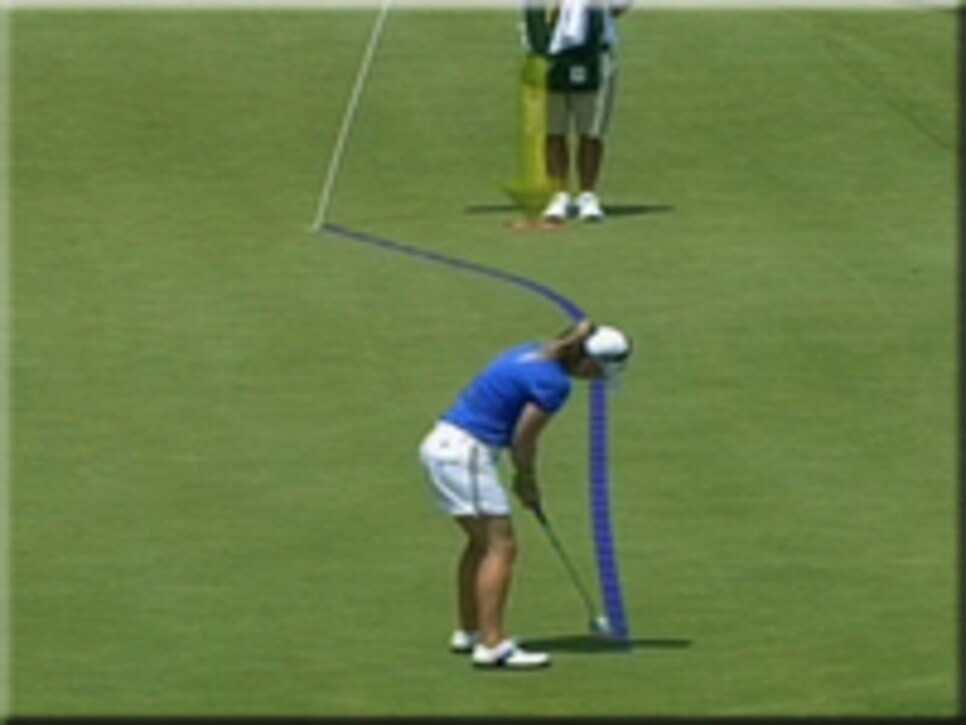 Far and away, the Putting Line--sponsored by Mutual of Omaha--is one of TV's best viewer enhancements. It is uncanny how precise the technology is in determining the path of the putt and how much break should be played. Shown only on Golf Channel, it usually is set up on a hole that doesn't make much of a different in the outcome of the tournament. Get Putting Line on the 16th, 17th and 18th holes--where it counts the most--and watch the drama.
These words of praise didn't sit well with readers Paul Hutton and Bob Kains, both, interestingly, from Canada, where the national pastime is hockey, another sport that television has felt compelled to enhance with gadgetry.
I couldn't agree less with Mike Purkey's glowing praise of the "Putting Line" as one of "TV's best viewer enhancements." Apparently, this amazing gadget draws a superimposed line on the green and viewers can watch a putt roll along the line all the way into the hole. Thank goodness. With only one ball and one hole on each green it was nearly impossible to figure out what the goal of the game was.
Mike Purkey's suggestion that "the Putting Lineâ¿¿is one of TV's best viewer enhancements" is not something with which I would agree. It is a distraction and removes most of the excitement of watching the putt travelling towards the hole, wondering if it will miss or drop. With the Putting Line, as soon as the ball leaves the dark blue line there's no need to watch the rest of the putt. I agree it is amazingly accurate but just because the technology is available doesn't mean it should be used. It reminds me of Fox Network's use of the blue streak to show where the puck is in a hockey game. It's just a distraction. Leave the graphics until the shot has been completed.
Thanks, gentlemen. It's interesting that you should bring up Fox's blue-streak puck tracker. I think the Putting Line is better than that, but your reaction suggests that Golf Channel's caution in not using the tracker on the last few holes may be wise.
(Photo: aimpointgolf.com)