Courses
Punta Cana, Dominican Republic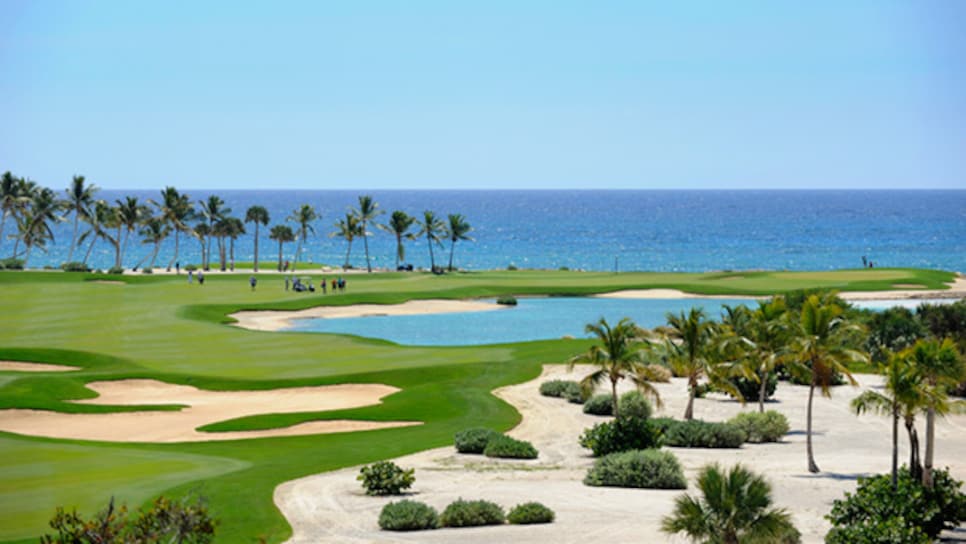 Depending on which way you turn, your impression of the Punta Cana region in the Caribbean island nation of the Dominican Republic can change dramatically. Head northeast from the airport—the largest privately owned international airport in the world—and you'll encounter the all-inclusive resorts and tourist areas that see more than two million vacationers each year. There are great beaches, casinos, all the tchotchke shops you and your credit cards can handle; there are even some decent golf options.
Take my advice: If budget allows, head in the opposite direction. South of the airport you'll find two tranquil golf-resort communities that somehow manage to offer all the drama and splendor of five-star hotels without taking away from nature's finest work. Hotel rooms that come with outdoor showers and personal golf carts stand unobtrusively next to tropical rainforests, picturesque grottoes and sparsely populated beaches.
And then there's the golf.
Teeth of the Dog, 45 miles west in La Romana, established the Dominican Republic as a golf destination in the 1970s. But two relative newcomers are going to keep it there. In the past decade, Punta Espada and Corales have opened on the island's eastern shore—two magnificent seaside experiences that are arguably the best one-two punch in the entire Caribbean. Certainly the best most golfers have never heard of.
Punta Espada is the elder, having opened in late 2006. It was designed by Jack Nicklaus in the massive 46-square-mile Cap Cana community 15 minutes south of the airport. The course (par 72, 7,396 yards) is big-boy golf. If the 611-yard second hole doesn't jolt you awake, the ocean spray on the 250-yard 13th will. If you've never been to Scotland or Bandon Dunes, you might not be familiar with factoring wind gusts into green reading. You'll do plenty of that here.
The course has eight holes along the water and a few more with water views. It's also surprisingly hilly. Be sure to trek up to the back tees on No. 2, even if you have no intention of playing from up there. The scenery is spectacular. The course also hosted the Cap Cana Championship, a Champions Tour event, from 2008-'10.
Heading back toward the airport is the equally massive Puntacana Resort & Club, which opened in 1969 and is now the home to Corales, a Tom Fazio design that opened in 2010. Corales matches Punta Espada in terms of seaside beauty but gets the nod for being easier.
Like many Fazio designs, the fairways are wide and forgiving and intended to give a 15-handicapper a chance when the trade winds are howling. There are six waterfront holes, including the 501-yard, par-4 18th. If you want to reach the green in regulation, you'll have to blast one over waves breaking against the coastline. Although the views aren't as impressive, the holes on the interior portion of the property aren't a letdown. Multiple tee boxes, risk-reward approaches and even optional greens help vary the experience.
Punta cana also has a second course, the respectable 27-hole La Cana Golf Club, designed by P.B. Dye, the youngest son of architect Pete Dye. Several of its holes play along the water, but it's not as picturesque.
How good is the golf here? When Corales was about to open, former senior tour player Jay Overton had to be convinced by the resort's owner, Frank Rainieri, to come down and possibly take over golf operations. By the time his first visit had ended, Overton was ready to buy a house. "Until you see this area, you really can't appreciate what Mr. Rainieri and the others have tried to build here," says Overton, Corales' golf director. "It's a world-class golf destination."
To that end, hotel accommodations at Puntacana and Cap Cana aren't cheap. You can save money by shuttling back and forth between the all-inclusive resorts north of the airport and play these courses à la carte. (See course guide.) But if you want to live the high life and stay on property, both communities have stay-and-play packages at their elite hotels.
Golf Punta Cana offers four- and five-night packages at Cap Cana's Eden Roc hotel that allow you to play all three courses mentioned here (April 6 through Dec. 22). It includes golf, transportation, daily breakfast, and all taxes and gratuities for $689 per person, per night based on double occupancy. Although not directly on the beach, Eden Roc is an amazing hotel (it's the one where each spacious suite has a private pool, golf cart and outdoor shower.)
At Puntacana, the highly regarded Tortuga Bay Hotel, an oceanfront property designed by the late fashion icon Oscar de la Renta, has several golf packages (April 6 to Nov. 23). One offers four nights' lodging, three meals a day, alcohol, VIP airport transportation, and two rounds at Corales and one round at La Cana for $569 a person, per night, based on double occupancy. There's another package for the more-affordable Westin Punta Cana Resort & Club.
No matter where you stay, make sure to visit Playa Juanillo. On this beach, a few hundred feet from the aquamarine water, is an idyllic outdoor bar, Juanillo Beach Food & Drinks. It's the type of spot you dream about when you are shoveling snow. Two or five cervezas here and you'll find yourself planning your next visit to Punta Cana.