The Loop
Progress On Pinehurst Trip
I received this question from a reader recently: Hello Matt. I'm just wondering if the "buddy trip-planner contest" winners to Pinehurst in July have been determined? (Clark Overstreet, Mt. Vernon, IL)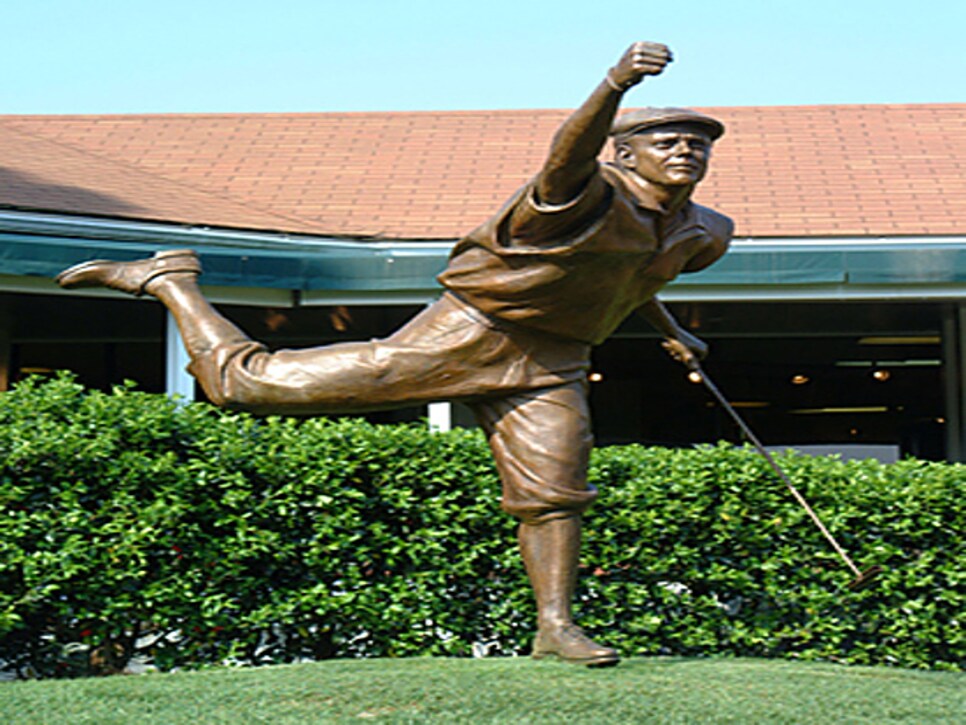 Tell us something we don't know: I deserve this trip because there is nothing I would rather do with my spare time than play golf with friends. (John Dunleavy, Raleigh, NC)
Short but not sweet enough:
PLEASE PICK ME! (Monica Majewski, East Hampton, CT)
He's the best. (Doug Biben, New York, NY)
Just to get away. (Karen Massey, Savannah, GA)
He Rocks! (Jo Evans, Ipswich, MA)
"Thank God for inventing golf": Winning a weekend at Pinehurst (Nirvana) would be my reward for making sure my buddies always walk away from our trips with one thought: "Priceless." I make sure they have price ranges for the airlines, schedules, itinerary of the courses to be attached with tee times, descriptions and history of each course, restaurant reviews and individual bedrooms to mitigate snoring debates. I get each guy psyched before the trip with e-mail blasts and I do my best to kick up their competitive juices for the multitude of bets. Friendships are renewed, forged and strengthened on these trips. Thank God for inventing golf. (Elliot DeBear, Scarsdale, NY)
Where can I get a freind like this?: Bob Sandt has coordinated trips for his golf buddies to places such as: Spain, Scotland, Ireland, Arizona, RTJ Trail, Cozumel and more. He has never asked for any compensation or recognition for his efforts, except great fun and a lot of laughter. His trips go on without a hitch, come in on budget and include a photo album of our adventures for each traveler. He coordinates travel groups from four to 80 members, age ranges from 26 to 76 and he has included 80 to 100 different people over the past 20 years. He is simply the best! (Bob Gorelik, Park City, UT)
On behalf of the selfless spouse: Because he works 60-plus hours per week to provide for our family. He always puts his family first, before anyone or anything. He goes without so his family doesn't have to. He's one of the most loving, respectful, deserving, hard working men I've ever known. He doesn't take sick days or just lazy days to do something for himself. He needs this. He deserves this. (Brittania Thompson, Greenwood, IN)
A very good use of 100 words: Graylin Lawson is the most awesome annual trip planner. Graylin coordinates a long weekend for a dozen of his golf buddies in the Fairfield Glades Resort area in Tenn. The weekend consists of playing 36 a day for two days, and one day with 18 holes, but five different courses all within 45 minutes of each other. One night we cook our own steaks at our woodsy accommodations--the other night we go out to eat. It's a great trip for under $500, and if you're a golf buddy, all you have to do is show up and enjoy yourself. (Michael Yarbrough, Hendersonville, TN)
Finally, there's Sad if it's true: Because his wife is a nasty piece of work that doesn't give the poor guy a chance to catch his breath. In many years he hasn't had more than the escape he gets from sleep. So please help this poor guy get some air! (Steve, Youknowwhereyouarefrom, USA)
We'll announce the six winners on this website at the end of the month.