The Loop
Price makes cut, speaks mind on The Heritage
PALM BEACH GARDENS, FLA. -- Nick Price is in the World Golf Hall of Fame for the exquisite shot-making that earned him three major championships, but the guy is also world-class when it comes speaking his mind. And usually he knows what he is talking about. On Friday at the Honda Classic, the 54-year-old Champions Tour refugee who made the cut at windblown PGA National, weighed in on the possible demise of The Heritage and with it, the loss of one of the best courses on the PGA Tour.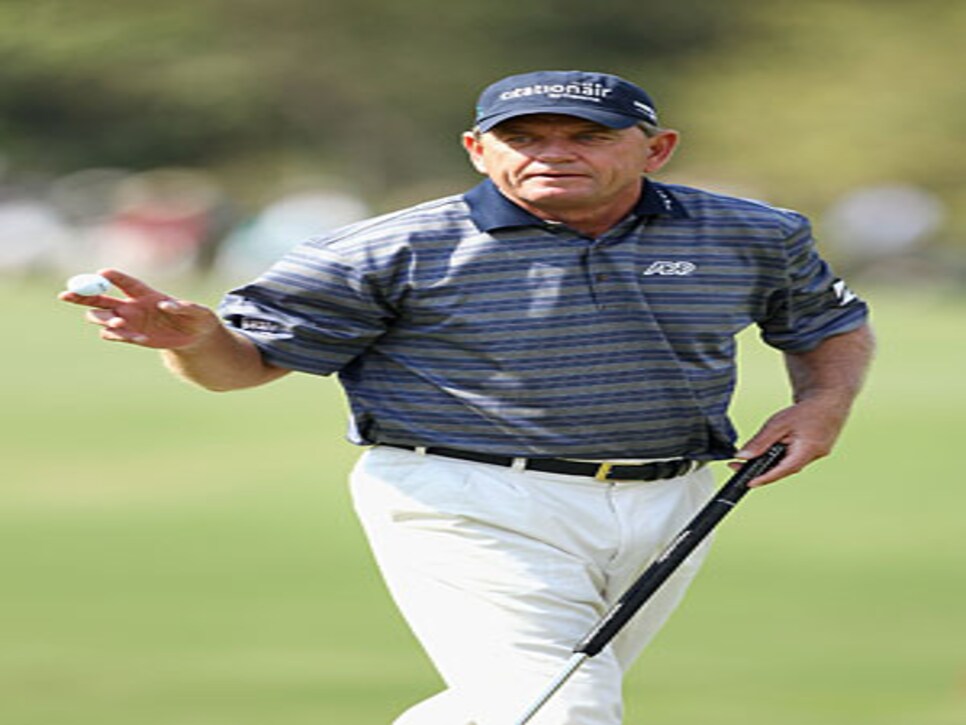 "It's a tragedy, tragedy," Price said about the 42-year-old event played at Harbour Town GL on Hilton Head Island, S.C. "I blame the top players, and you know who I mean," Price said, letting listeners draw their own conclusions. The tournament is being played this year without a sponsor and all indications are that it will not be able to survive for 2012 unless a new corporation is brought in to pick up the costs, which exceed $8 million a year.
Tiger Woods has played the Heritage once, finishing T-18 in 1999. Phil Mickelson has played there once since 1999, finishing third in 2003. Of all the courses on tour, Harbour Town is one of the most traditional, requiring accuracy off the tee and precise iron play. It is not a layout where the bomb-and-gouge approach has much success.
"It's sad, really sad." Price said. "That's one of our great tournaments. And it's one of the great courses of all time we play on our tour." Indeed, since Arnold Palmer won the inaugural Heritage in 1969, the tartan jacket has been put on by Johnny Miller, Jack Nicklaus, Tom Watson, Nick Faldo, Bernhard Langer, Davis Love III, Greg Norman and Price in 1997.
"When I won there I was really on top of my game," Price said, "and I used every club in the bag. A lot of the golf holes today are taking strategy out of the game. You have that at Harbour Town. I really hope something can be done to save that tournament."
Price, who is using his one-time career top-50 money list exemption to get into PGA Tour events this year has not decided how many tournaments he will play on the regular tour, although both The Heritage and The Colonial Invitational, where he is also a past champion, are possibilities.
"I'm hot now, so playing more is appealing," Price said after he added a 74 on top of an opening-round 70 to trail likely midway leader Rory Sabbatini by nine strokes going into the weekend. "I might look and see a few more [tournaments on the PGA Tour]. But I want to stay in the top 10 on the money list on the Champions Tour, and that's difficult to do playing part-time. That's my tour."
It would be nice to see Price at The Heritage, especially if this is going to be its last go-around. It would be fitting to have one the game's great players, and great people, at one of the tour's great courses to say goodbye.
(Photo: Christian Petersen/Getty Images)