News
One of our own explains his part in Erin Hills' strange path to attracting a U.S. Open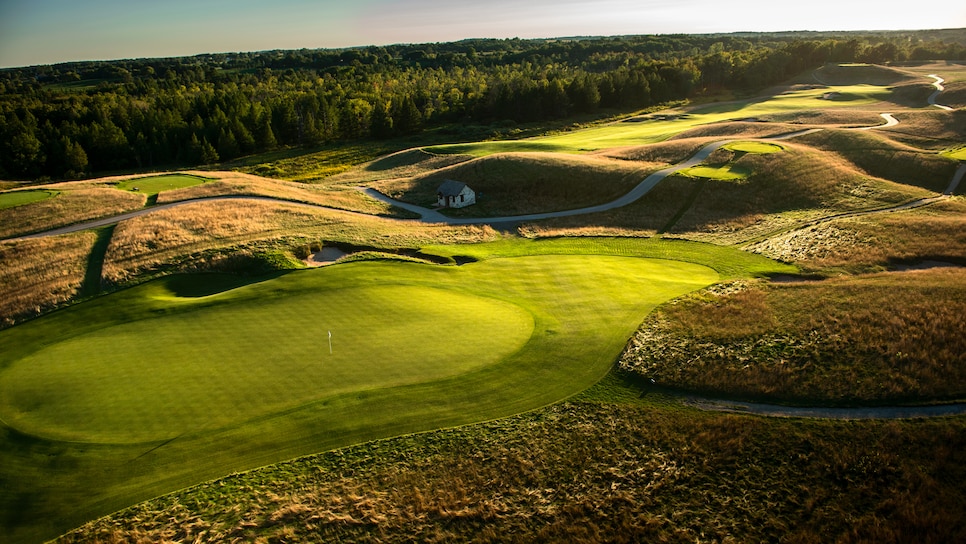 Editor's note: Ron Whitten has been covering golf architecture for Golf Digest since 1985. In 1992, citing his inexperience—he'd never designed a golf course—he turned down Mike Keiser's offer to design the first 18 at Bandon Dunes, giving way to David McLay Kidd. In 2000, Whitten jumped when invited to join Dr. Michael Hurdzan and Dana Fry in creating a new course northwest of Milwaukee. Little did they know then that Erin Hills would develop into a course worthy of the 2017 U.S. Open. Here Whitten tells a story of the many surprises—some good, some bad—that led to Wisconsin's first U.S. Open.
In June, Erin Hills, the mammoth rumpled blanket of a golf course in tiny Erin, Wis., will host the first of what will be many U.S. Opens. I say that with confidence, because it's the right course in the right place at the right time.
Erin Hills is a privately owned public golf course, befitting the USGA's populist desire to grow the game, in an untapped market. The course sits on 652 acres, an expanse unprecedented in championship golf. There's enough room to accommodate every money-making skybox, hospitality palace and merchandise tent imaginable. There's room for 100,000 spectators, if the USGA wanted that many. It doesn't. Ticket sales were capped at 35,000, evidently to avoid traffic snarls.
The course will be a genuine test. Yes, it's ridiculously long from its back tees at 8,348 yards, but it isn't intended to ever be played at that length. For the Open, it'll officially measure 7,693 yards but will be shorter on any given day because each hole has enormous flexibility. It's a par 72, first for a U.S. Open since Pebble Beach in 1992, and at least a couple of par 5s could force even big hitters to use a fairway wood to reach those greens in two.
Agreed, it's not a genuine links where one can bounce every shot into every target. There are some elevated fairways and elevated greens, and that's by design. The wind blows a considerable amount of the time at Erin Hills, and one of its tests is handling aerial shots in the wind. Fairways pitch and heave, dip and tumble, with few level lies anywhere. Its bunkers are real hazards where recovery is often secondary to escape. The greens are pure bentgrass, the first time in a U.S. Open in forever, slick and smooth surfaces on which there will be plenty of birdie putts made.
Yes, I'm an unabashed cheerleader for Erin Hills. I have a right to be, for I was involved in its creation. Or rather, its excavation. Erin Hills existed within the glacial folds of Wisconsin's kettle-moraine topography for eons. We just had to unearth it.
STATING MY CASE
Let me set the record straight: I was a co-designer of Erin Hills with Hurdzan and Fry. We jointly bid on the project in 2000 and won the job over competition that included the design firms of Jack Nicklaus, Arnold Palmer and Tom Doak. I was not brought in at a later date by Mike and Dana to peek over their shoulders and write laudatory commentary. I was not hired as a design consultant to stop by a couple of times for arm-waving photo opportunities. And I was certainly not, to quote the phrase Doak once used, there to simply "fill the talent deficit of Dr. Mike." (Leave it to Tom to pat a guy on the back and end up slapping another in the face.)
Mike and Dana needed no additive. They are two of the most talented, imaginative, knowledgeable and enthusiastic golf architects I've known. Their works speak to that. Calusa Pines and Naples National, both in Naples, Fla., and highly ranked by Golf Digest, are as different as yin and yang. Likewise, Devil's Pulpit and Devil's Paintbrush, Golf Digest's first Best New Canadian Courses in the early 1990s, sit side by side yet don't resemble one another in the slightest.
But because media coverage of golf architecture is mostly fan-boy worship, Mike and Dana have never gotten the national attention they deserve. They were never the cool kids in school. The Internet is full of pundits who say Erin Hills would be so much better if only one of the Golden Boys had designed it. Chew on this for a moment. Mike and Dana were one of five finalist firms for the Chambers Bay job, the course that hosted the 2015 U.S. Open. Had things gone just a little differently, they'd now have two courses hosting U.S. Opens in a three-year span.
We agreed to team up on the Erin Hills bid because Mike and I have been friends since the mid-1970s. In the late 1990s, as I was approaching 50 and feeling life was passing me by, I decided to get involved in some course designs. Mike and Dana took a chance on me without hesitation. It was simple luck that the project we decided to chase together was a course that has ended up hosting a U.S. Open. But then again, as I'll explain, you make your own luck.
I say all this to explain why I can't be objective when talking about Erin Hills. I made over 100 visits to that site. I staked out every hole and then some. I hand-dug bunkers, floated out some greens. I agonized over big issues and tiny details. Of course, I'm biased and highly emotional on the subject. My DNA is in that design.
OUR PHILOSOPHY
'I don't care how much money you spend," Dana says. "You can't outdo God." That sums up our approach to Erin Hills. For better or worse, our objective was to prove that Mother Nature is the best golf course architect of all time.
When Mike and I first saw the land, in June 2000 (Dana made his first visit in the fall of 2001), it was an overgrown, rolling pasture with several sections covered in dense trees. Yet we could see, even then, its glorious natural contours. This was our opportunity to emulate Sand Hills Golf Club, the brilliant minimalist layout by Bill Coore and Ben Crenshaw in central Nebraska, easily the most natural course in America. We wanted to move as little earth as possible, make it memorable, walkable, with holes no one had ever seen or played before. (Some would say we went overboard in that last regard.)
We were also determined to build it efficiently and inexpensively, and we did. Erin Hills was built for less than $3 million, about a third of that devoted to irrigation. A ton of money was subsequently spent on other aspects of Erin Hills, but the course itself was two point nine eight.
Once we finally settled on our routing—18 holes plus a bonus, a par-3 Bye hole—Mike suggested minimally invasive construction. We mowed down existing grasses, sprayed the stubble with herbicide, slit in irrigation and seeded right into the mat of dead vegetation, preserving nearly every ridge, wrinkle, hump and hollow. We cored out areas for greens, which were constructed of pure sand, and hauled the soil off for use elsewhere, mostly in creating landforms for tees. We used a bulldozer sparingly, mainly to carve away small portions of four holes.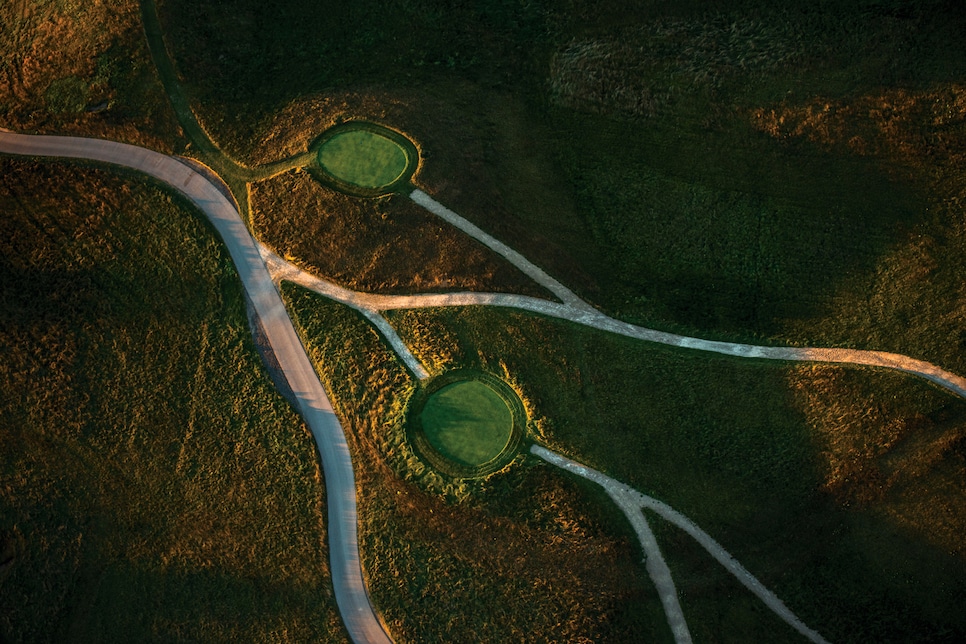 IT TOOK A VILLAGE
What I learned from the experience is that golf architects really get too much credit. Architects develop concepts, but it takes a lot of people to build a golf course. At Erin Hills, we had contractor Bill Kubly, a Wisconsin native whose firm is considered among the best in the business.
(Coincidentally, the barn from his great-grandmother's nearby farm was reassembled next to the practice range and now serves as a caddie shack.) Kubly's group included project manager Curt Grieser, construction chief Steve Posler (who taught me plenty; sadly, he died in 2014 at 47), Paul Kiekhaefer, Chris White, intern Brendan Dolan and about a dozen laborers, mostly green-card Guatemalans. There was also Hurdzan/Fry associate Jason Straka, who was instrumental in several early routings. There was Jeff Rottier, the original superintendent, and his assistant (now head superintendent) Zach Reineking, both lured from world-class Whistling Straits to grow in a fescue-based golf course on a minuscule budget.
There was our primary shaper, Rod Whitman. Rod is an outstanding golf architect (Cabot Links in Nova Scotia being his masterwork) who was between jobs in 2005. An artist on a bulldozer, he made sure our greens tied into surrounding grades and our artificial tee boxes looked like glacial formations. He also trained our utility infielder, Robert Ortega, into becoming an efficient dozer operator. I shouldn't leave out freelancer Chris Hunt, who ran a mini-excavator, a tiny steam-shovel-like contraption, digging most of our bunkers.
There was also our general manager-to-be, who looked like every mousy accountant ever portrayed in the movies. He had quit his job as a software programmer to pursue a dream of running a golf course. He'd located the land and talked a businessman into buying it, lobbied to have Doak design it, and when we got the job, became our champion. He shepherded every regulatory permit to a successful conclusion, participated in most discussions about design and made sure everyone got paychecks on time. He was eager to run the club once it opened, until, on the cusp of completion, he went home one night and, for reasons unknown, killed his wife. He subsequently pleaded no contest to a charge of reckless homicide and is now serving a lengthy term in a Wisconsin prison. I mention him here because he was essential in the creation of Erin Hills, but decline to state his name out of respect for his children, who are now adults.
Finally, and most important, there was the guy who hired us, Bob Lang, who had created a small business empire producing greeting cards, calendars and gift-shop collectibles. His Lang Companies was based in Delafield, 20 miles south of Erin. Bob had rebuilt its downtown into a charming 19th-century retreat, a Wisconsin version of Colonial Williamsburg. The day we first met, he proudly pointed out specific building details, such as hand-planed floor planks secured by square nails. His office contained valuable Civil War relics, an incredible collection of Abe Lincoln portraits and the framed autographs of the first 12 presidents of the United States.
'Of course I'm biased and highly emotional on the subject. My DNA is in that design.'
CARE AND FEEDING
Bob was a less-than-avid golfer whose vision for the project was the lush, green, tree-lined Brown Deer Golf Course in Milwaukee. Though there's nothing wrong with Brown Deer, it was not what our site was offering. Mike and Dana left it to me to educate Bob, so I took him to Prairie Dunes in Kansas, then sent him on to Sand Hills. Bob didn't like what he saw. Sand Hills had no trees, and both courses were more brown than green. "I want Ireland," he said, "I want emerald green."
"Ireland is 40 shades of green," I told him. It took a while, but it eventually sank in. Bob would later launch an Erin Hills media campaign that boasted Forty Shades of Green.
Bob knew just enough golf to be dangerous. He wanted a par-73 course, with six par 5s. We explained to him that par would end up being whatever the land allowed us to build, but six 5s were at least two too many, unless he wanted six-hour rounds. His solution was 15-minute tee times. We explained it would be hard to make money with only four foursomes per hour.
He also wanted to own the longest golf course in the world and wasn't happy when I told him that was an indication of phallic envy. We informally lasered the course from stake to stake and found it to be 7,911 yards from the proposed championship "black tee" markers. Bob wanted more. He wanted a set of "back black" tees to reach his goal of 8,800 yards. We finally caved, found him some locations and ran irrigation to them, but explained they were for use 30 years or more down the road. We made him pledge to us that he wouldn't put markers on them or list them on the scorecard.
The first thing he did after the course opened was to hold a highly publicized Back Black Challenge, involving local pros and amateurs. The course measured over 8,300 yards, par 75 (including the Bye hole), and the winning score was 81. I told him that was the worst sort of PR he could give to a new public golf course. But he persisted. He was soon selling hats in the clubhouse with the inscription Erin Hills ... Not for the Faint of Heart.
Bob made some genuine contributions to the design. He discovered the par-3 sixth hole, playing uphill to a horizon green, which allowed us to play another par 3 in the opposite direction, to a wide but shallow sunken green. This was our original seventh, the Dell hole (named after the Dell at Lahinch in Ireland), a blind par 3 where everyone aimed for a big white rock (on which Bob had painted Whitten) that was moved each day to indicate the correct line to the hidden flag. Critic Brad Klein, calling our course "Errant Hills," scoffed at the hole, labeling it "a vast taco shell." I always thought that was the perfect description.
Bob also lobbied hard to locate the 16th hole in a spot we thought was simply too distant from the clubhouse to return without creating a couple of outrageously long back-to-back par 5s. (Bob's solution was to create a par 6. Seriously.) But one day I humored him, and we walked out to the meadow. We discovered a hilltop recently cleared of trees with a unique kettle hole atop it that we called The Volcano. That became the green site for our short par-4 15th. By abandoning a par 3 earlier in the nine and creating a new par-3 16th to a wonderfully natural punchbowl green (more of a gravy boat), we made it work, avoiding back-to-back par 5s to conclude the round.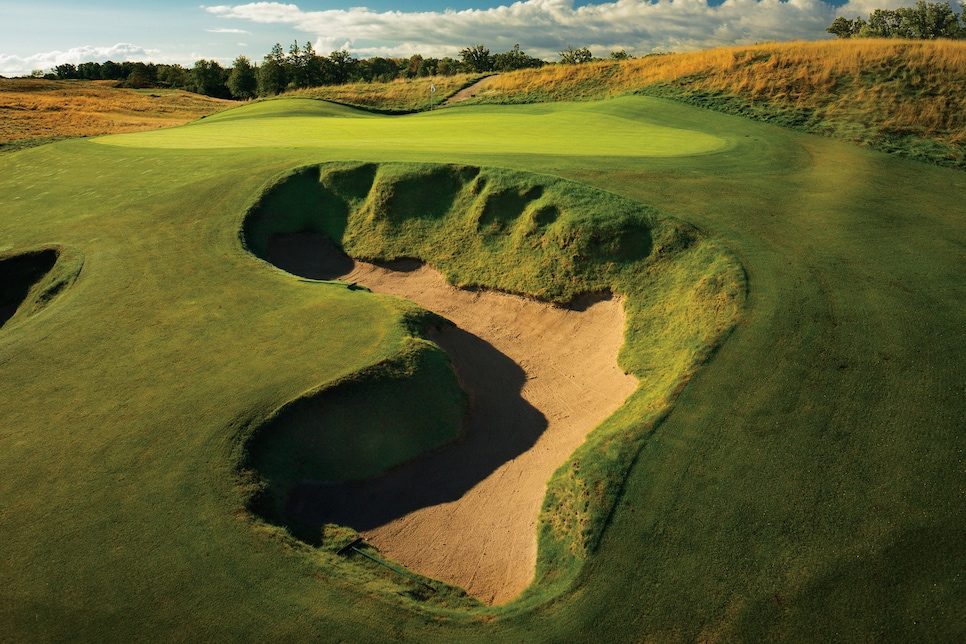 SHOW ME THE MONEY
Bob was a hands-on owner who kept a tight grip on his money. He continually declined to approve a construction budget. "I'm not going to sell half my company to build a golf course," he said. "Find me a partner." So I wrote Lowell Schulman, founder of the private Atlantic Golf Club on New York's Long Island, and Herb Kohler, owner of Blackwolf Run and Whistling Straits in Wisconsin. I made visits to each, pitching the idea of becoming minority investors. They politely declined. My frustration was evident in a May 28, 2002 email: "Forgive me, Bob, but I must make this observation. I'm out here beating bushes trying to find financing for construction of the course, while you're in the field knocking down trees and apparently creating golf holes. Somehow, it ought to be the other way around."
That summer, a dock strike embargoed a lot of his company's products, and Bob told us he was probably going to abandon the course. I met with Hurdzan and suggested we dangle a U.S. Open in front of Bob.
"The USGA is never going to take the U.S. Open to a remote public course in the middle of Wisconsin," Mike said.
"You know that, and I know that," I said, "but Bob doesn't know that."
With Mike's blessing, I met with Bob and told him we thought Erin Hills would be a fantastic place to host a U.S. Open, if only he'd let us build the course. Bob now says we played right into his hands, because a U.S. Open had been his dream ever since he first saw the property in 1997. Mike, Dana and I cannot recall him ever expressing that dream to any of us, but Bob insists he told others about it as far back as 2001.
[RELATED: Lessons learned at Chambers Bay that can be applied at Erin Hills }(http://www.golfdigest.com/story/robert-trent-jones-jr-lessons-learned-at-chambers-bay-applied-at-erin-hills)
We got his go-ahead to finalize the routing, but still no construction budget. The final government permit allowing us to build the course was issued in June 2003, but Bob wanted assurances. So on July 24, 2003, I wrote Mike Davis, then director of the U.S. Open, today executive director and CEO of the USGA, and brazenly told him that Erin Hills "will ultimately be a better Open site than the Straits Course at Whistling Straits." The only catch, I casually added, " ... our course is not yet constructed." I invited Davis to tour the site with us and offer his suggestions on how to make Erin Hills championship-worthy. I also enclosed a few photos of the site.
Davis didn't respond until Sept. 30. "If I can make a visit, I will be happy to," he wrote. "I do need to go to Whistling Straits at some point, so could perhaps tie the two in. I am also making periodic trips to Chicago G.C. for the set-up of the '05 Walker Cup." I responded by saying that Bob was eager to show him the site in October or November. It didn't happen, but in early November, Bob told us he'd closed on a business deal and now had clear title to all the land for Erin Hills. (I hadn't known he hadn't owned the land.) But he still needed construction capital.
We spent the spring and summer of 2004 debating our final routing and quibbling over a final budget.
Mike and Dana wanted to hire Coore & Crenshaw bunker guru Jeff Bradley, who'd worked with them on their fine Shelter Harbor design in Rhode Island, to impart his distinctive bunker style upon Erin Hills. I talked them out of that, in part because Bradley was an expensive line item, but mainly because I thought Bradley was so associated with Coore & Crenshaw that pundits would insist we'd copied their bunker style. I argued that Erin Hills was unique and deserved its own bunker style.
A year later, when we finally started building bunkers, we did three varieties. We had a few small pot bunkers, which I called Kettle Hole bunkers. We had Blow-Out bunkers, most of them flagged out by Dana to look like wind had carved out pits from tall sand dunes. (Some, like a big one left of the 14th fairway, were indeed native sand; when we dug out others, we hit glacial rock, so we carted in sand.) And after studying water erosion patterns in the Kansas Flint Hills, I sketched out what I called "erosion bunkers," with narrow fingers spreading downhill and widening into irregular bottoms of different levels. These became the most prevalent type of bunkers on the course.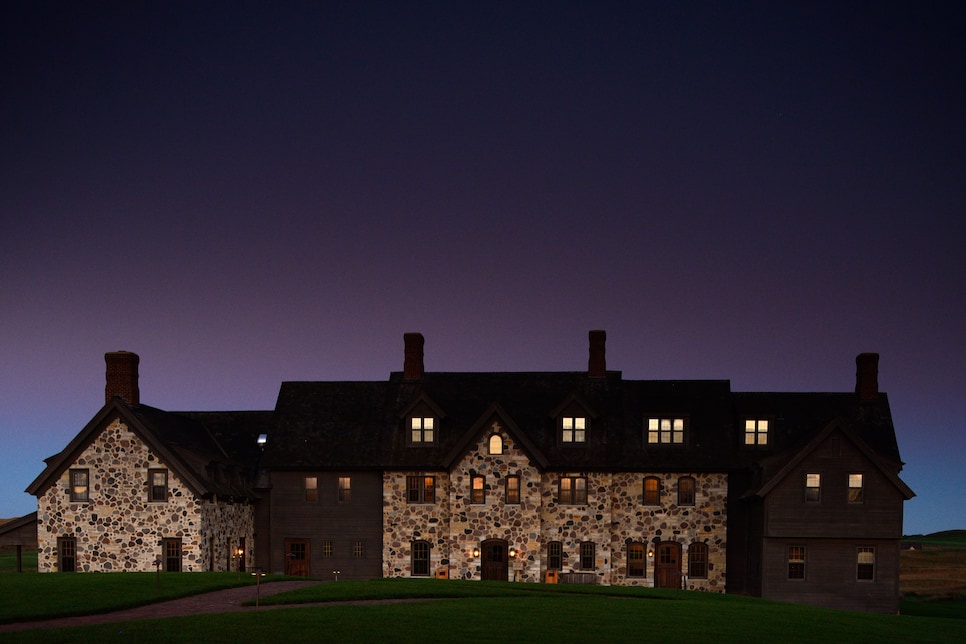 THE DREAM BECOMES REALITY
In July 2004, Davis wrote me saying he'd stop by Erin Hills during the week of the PGA Championship at Whistling Straits. In advance of that visit, Bob and I took turns on a tractor mowing the tall prairie grasses to indicate the proposed tee, fairway and green of each hole. We then tied flags to broomsticks and pounded them into the center of our greens. Without moving a single shovelful of earth, it looked like a golf course.
Davis visited on Aug. 10, with then-USGA agronomist Tim Moraghan. They spent 4½ hours walking the entire 18 with us, answering our questions, offering suggestions: keep the greens small; no severe slopes that gobble up hole locations; save room for tee expansion; consider traffic flow through the property for service vehicles; use grasses that will provide firm-and-fast conditions.
When we reached the proposed 10th green, atop a hill, Davis noticed a steep hollow beyond it, and a plateau beyond that. "Would you look at that," he said. "That looks like a natural Biarritz green." The following day, I went back to 10 and studied it. Why hadn't I noticed that? It was indeed a natural Biarritz, so I mowed it down and staked it out. Mike and Dana loved it, so we eventually built it, a 77-yard-long green, with a deep trench across its middle, on the top of a hill at the end of a 672-yard par 5. What were we thinking?
A little over a week after the USGA visit, Bob wrote us all, saying he'd located the construction money: "It's time to begin the next phase of our journey to build Erin Hills."
Construction finally started on Sept. 15. The next month, Davis returned, this time with then-USGA executive director David Fay. After walking every corridor, Fay said to Bob, "Let's see how this will play in June" and offered him the 2007 U.S. Women's Amateur Public Links Championship. Bob immediately accepted and gleefully called us. We panicked. That was less than three years away. We hadn't even started construction; one stretch of bad weather, and we'd never have the course ready in time.
Luckily, Fay soon phoned Bob and said he'd misspoken. They'd already offered the 2007 event to Kearney Hill in Lexington, Ky. Would he host the 2008 event? Bob agreed, and we all relaxed, just a little.
When we returned in the spring of 2005, construction sputtered. An irrigation pond took longer to be dug than we'd anticipated. Worse, we had no water to fill the pond because well-drilling was delayed. We fell behind deadlines for seeding, and that ultimately spilled into spring 2006.
There were other complications. Although two years earlier Bob had hired local workers to clear-cut entire hillsides, he now couldn't bring himself to cut down any more trees. Dana's philosophy was "nuke 'em all," but Bob thought clusters of trees in the middle of some fairways would be marvelous strategic elements. I ended up spending months bartering with him, tree removal on one hole in exchange for retaining some trees on another.
Erin Hills officially opened for play in August 2006, too early for the turf conditions, but Bob wanted to start generating revenue. It received mixed reviews. Golf Magazine named it Best New Course of the year, but Wisconsin Golfer said awarding it a USGA event "was like putting Miss America's crown on a newborn."
Make that two crowns. In February 2008, the USGA announced the 2011 U.S. Amateur would be played at Erin Hills. Bob told me privately that a U.S. Open was also part of the deal but said the announcement of that would not be made for a couple of years. It was tough, as a writer, to sit on that scoop, but I'm glad I did, because I'm no longer sure what Bob told me was accurate.
Wisconsin Golfer said awarding Erin Hills a USGA event 'was like putting Miss America's crown on a newborn.'
THINGS TURN SOUR
The Women's Publinks was played in June 2008. It rained for 15 straight days before the tournament, and though the course drained well, the water table was so high that some low spots in the landscape became de facto ponds. The blind par-3 seventh hole was not used; the downhill Bye hole was substituted, as the ninth. Several golf writers clucked about thin turf on the fairways. Of course they were thin. We'd had only one full growing season. It takes several years to fully grow in fescue turf.
I attended the event, but it wasn't until I returned home that I read accounts from some reporters that Bob was planning many design changes to Erin Hills that fall, "enhancements" required by the USGA for the U.S. Amateur. This "face-lift for a 2-year-old" was news to me. I contacted Davis, who assured me that he'd told Bob the Amateur would be a test run, and discussion of any course changes should be postponed until after its conclusion. To document that, Davis sent me a chain of emails from Bob, which showed Bob had copied Mike and Dana on his desired changes, but, for some reason, not me.
I called Hurdzan, and he admitted that they would soon start the remodeling. "Bob asked me to tell you to stay away," he said. "He just feels you'd be so opposed to any changes that you'd just try to delay things."
I was pissed. I'm a writer. I get edited all the time. That didn't bother me. But I didn't like being benched. When I later talked to Dana, he said they weren't sure the U.S. Open was a done deal. "Whatever it takes to get the U.S. Open, we'll do," he said.
The one change I disagree with was elimination of the Dell hole. Bob later told me he abandoned it because the USGA would never have used it in a U.S. Open. But even today, Davis insists he was open-minded about a blind par 3 and had wanted to see how players would react to it during the Amateur. In an act that sealed its fate, Bob, without consulting Hurdzan or Fry, had the hillside in front of the Dell green bulldozed away to create a new set of back tees for his new seventh hole, the old par-4 eighth lengthened into a par 5. Bob now had his par-73 course.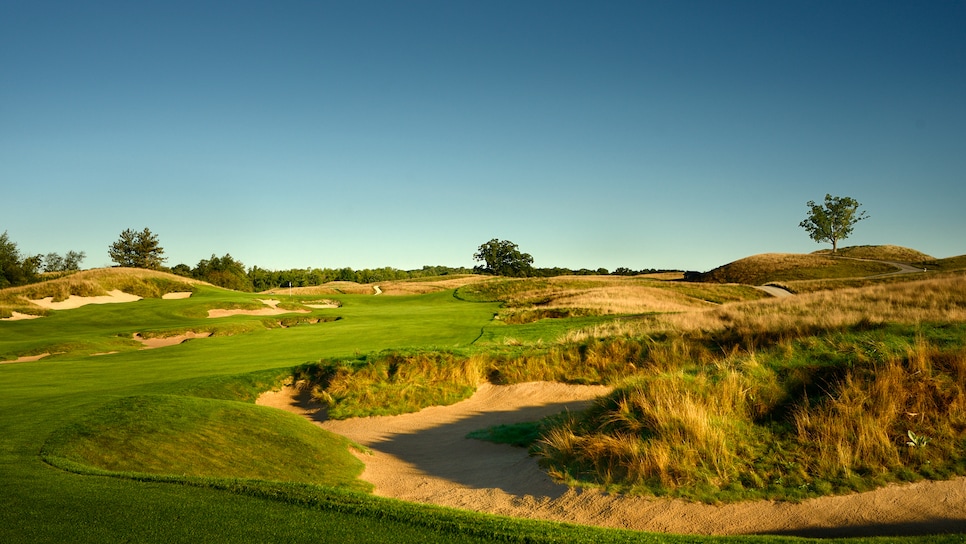 The old ninth became the eighth, and the Bye hole, a short, downhill par 3 to a sliver of a green surrounded by nasty erosion bunkers, became the ninth hole. It's now probably the most photographed hole on the course.
While reconstruction was happening, I noticed my name and bio had disappeared from the Erin Hills website. Then an Erin Hills spokesman contacted my boss, Jerry Tarde, and told him Ron Whitten was no longer involved with Erin Hills. I'd not just been benched, I'd been kicked off the team. And I realized why.
When I first interviewed for the job, I had explained to Bob that I was involved with Golf Digest's 100 Greatest Courses rankings, and if I were to be involved in his design, Erin Hills would not be eligible for any Golf Digest award. At the time, Bob didn't care. But by 2008, he had apparently caught 100 Greatest fever. Tarde turned down the first overtures but changed his mind in 2013, after Erin Hills had been awarded the U.S. Open, overcoming the appearance of a conflict of interest. Erin Hills made the list in 2015 and this year is ranked No. 44 among America's 100 Greatest and No. 9 among America's 100 Greatest Public Courses.
Mike and Dana thought they had completed the remodeling work by late fall 2008, but new activity in spring 2009 postponed the season opening until July. Erin Hills was in an extended drought that spring. The fescue fairways remained dormant, and I heard rumors that Erin Hills might not survive the recession that was upon us. So in late July 2009, over a year since my last visit, I drove to Erin Hills to see for myself. Bob was not there. As I walked the course, I became depressed. The putting surfaces were OK, but the fairways looked badly neglected. The native rough, what Bob had always called "sea of fescue," was mostly weeds and thistles. Crews were busy digging more bunkers and adding new cartpaths instead of tending to the course.
It was apparent that Bob, on his own, had added over 100 bunkers, because they looked so amateurish. (Twelve were filled in by Mike and Dana, and others were rebuilt.) The morning after my visit, I received a brief email from Bob. "I know it must hurt to see some things," he said. "Mike Davis says it's fabulous. He is the barometer."
I wrote Bob a stern response. "Your self-indulgence is jeopardizing the future of Erin Hills," I said. "You had the talents of Mike Hurdzan and Dana Fry, yet most of the bunkers were done without their knowledge or guidance. ... The course is a mess. It looks like it's a year from being ready to open for play. And yet you're accepting tee times on a painfully apologetic reduced rate. ... You have created more maintenance headaches without addressing the maintenance budget or manpower needed. ... Your continued ripping up and refashioning of the course has put the 2011 U.S. Amateur in jeopardy. ... There is only one solution, Bob. ... You need to bring in a partner and relinquish control to that partner."
Three months later, on Oct. 24, 2009, Bob Lang surprised many, including me, by selling Erin Hills outright to Andy Ziegler, a highly successful Milwaukee investment-fund manager. I didn't hear the news from Bob. Instead, I read about it on a newspaper website. Bob later gave details to one of my Golf Digest colleagues, telling him that after all those course enhancements, he'd run out of money.
Bob and I are friends again now. I feel bad that he lost the course, but I'm relieved—Ziegler took immediate steps so that Erin Hills could, as he told a reporter, "earn a second chance to make a good first impression." Without him, I think we would have lost the Amateur.
Ziegler had Mike and Dana build a new 10th green, shortening the hole to a par 4, ridding the layout of its par 73 and our wacky Biarritz green. At Davis' suggestion, Ziegler relocated the third green. He built a state-of-the-art maintenance facility (Bob had been content with a metal building with no running water) and increased the maintenance budget dramatically. He expanded the practice facility, now one of the most elaborate in the nation, built a new clubhouse and eventually added several overnight cottages patterned after those at Pine Valley and Augusta National.
Most important, Ziegler brought stability to Erin Hills. Soon after the purchase, Davis offered a public voice of confidence in Ziegler's leadership.
At the 2010 U.S. Open at Pebble Beach, it was formally announced that Erin Hills would host the 2017 U.S. Open. Hurdzan and Fry were in attendance. Ziegler's office had invited me to attend, but I declined. Bob was there, in the shadows, listening through a crack in a door while the USGA made the announcement. Hurdzan later spoke with him that day and said Bob felt vindicated.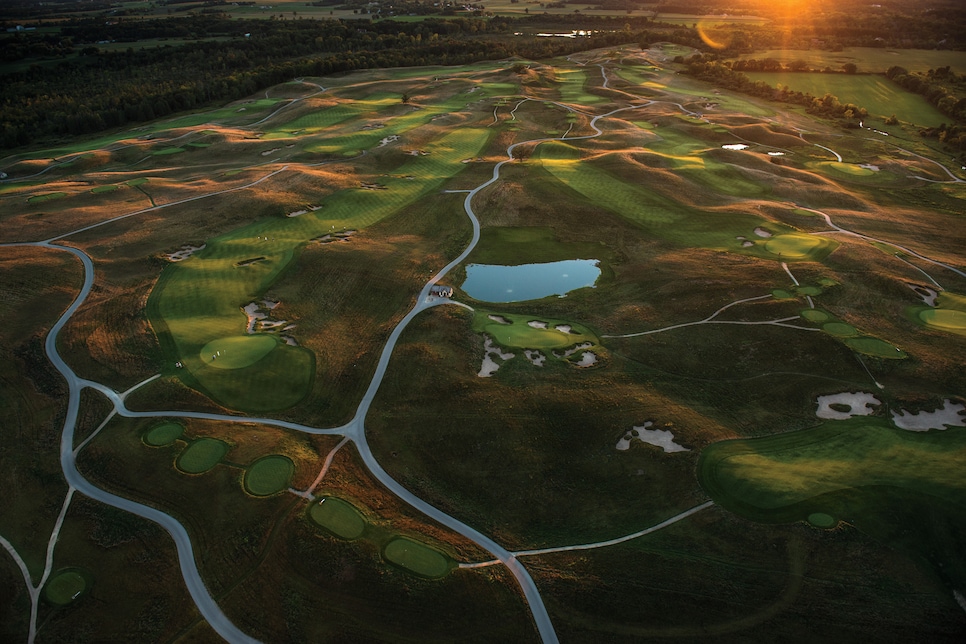 RANDOM CLOSING THOUGHTS
I'll never live down the suspicion that Whitten screwed up Erin Hills so badly that Hurdzan and Fry had to tear it up to repair his mistakes. It's still the same course we all built, just with three different greens and a bunch of extra bunkers. But I know others will view its history differently.
In 2012, Hurdzan and Fry dissolved their partnership and formed rival firms. I've worked on a couple of design projects since Erin Hills, but the economy has not been kind to any of us. Mike and Dana are still design consultants for Erin Hills; they afforded me input on recent changes. We've all remained friends and have jointly promoted Erin Hills in advance of the Open. I'm proud of my involvement and my contributions, and I'm pleased to have worked with them.
Mike and I liked Erin Hills more when it still had giant specimen trees along certain hillsides. They're all pale green ghosts now, except for a magnificent red oak on the 15th hole, all chopped down under Dana's direction. Though I agree with him that their removal expanded long-range vistas, their absence eliminates a third dimension to the course. Trees had once reached 100 feet or more in the air, far higher than the highest dune. Now the ceiling has been dropped.
Over half a century ago, golf writer Herbert Warren Wind, my oracle of course architecture, wrote, "If the greens, the bunkering and the fairway contours appear to have been built by nature and not by bulldozers, the designer has created a successful course." By that standard, I consider Erin Hills an unqualified success. We accomplished what we set out to do: build a natural course at a reasonable cost. It's simply a bonus that it's hosting the U.S. Open. I do believe there will be many more of those in its future.
I have in my files an email from Bob Lang dated June 3, 2006: "U.S. Open 2017," he wrote. "I'll bet everything I own."
In a very real sense, he did.