The Loop
President Clinton breathes life into the Hope
Bill Clinton has a clear passion for the game of golf, that became obvious during the eight years in which he was President of the United States. Now he has a PGA Tour event he can play pretty much any year he wants. The William J. Clinton Foundation, which has done pioneering AIDS work around the world, and Humana, an insurance provider, announced Thursday an eight-year partnership with the tour and the Bob Hope Classic.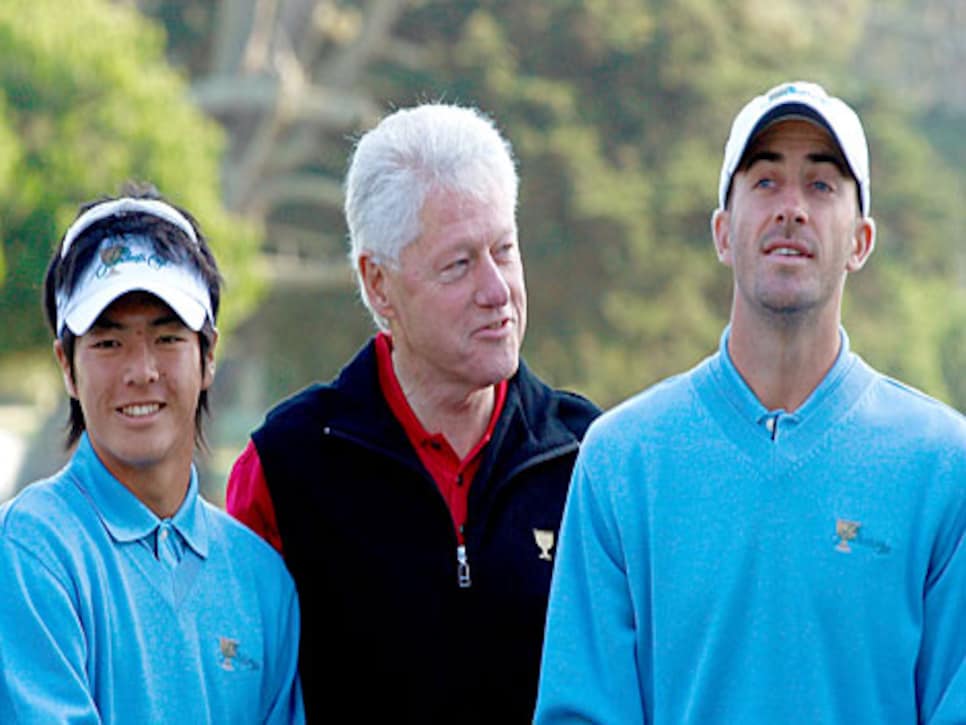 "We are excited to announce this collaboration between Humana and the Clinton Foundation in support of this iconic event," PGA Tour commissioner Tim Finchem said in a release. "The tournament will take on an expanded focus of serving as a strategic platform to establish and communicate new initiatives in health and well-being. We are delighted to have the support and commitment of Humana and truly honored to have the Clinton Foundation's partnership."
Ever since the first Palm Springs Classic was won by Arnold Palmer in 1960, the 90-hole tournament in the California desert has been a fixture on the PGA Tour and it just might lead the tour in names. The stop became the Bob Hope Desert Classic in 1965, the Bob Hope Classic in 1984, the Bob Hope Chrysler Classic in 1986, the 50th Bob Hope Classic hosted by Arnold Palmer in 2009 and then back to the Bob Hope Classic last year. It's not clear yet exactly what it will be called next year, but it is clear Humana and the Clinton Foundation helped save a tournament that was on the ropes.
"President Clinton and his foundation have had an enormous impact over the past years on improving lives by transforming ideas into real action," said Humana chairman and CEO Michael B. McCallister. The Clinton Global Initiative has helped 2,000 projects worldwide benefiting 300 million people in more than 170 countries, including 1.5 million children in the United States with greater access to healthcare and helped four million people gain access to life-saving HIV/AIDS medication.
"The PGA Tour has always been a leader in philanthropy," President Clinton said. "I'm so pleased that my foundation has committed to working with the tour and Humana to raise awareness for global health and continue to improve the lives of people around the world."
In recent years, the Hope, which has the Eisenhower Medical Center as its primary charitable recipient, has not attracted the star-power field it used to get when its winners list, in addition to Palmer, included Jack Nicklaus, Billy Casper, Johnny Miller, Tom Kite, Fred Couples and David Duval, who shot his famous final-round 59 there in 1999. The addition of two World Golf Championship events in the first quarter of the year created scheduling challenges as players had to decide which weeks to take off. The 90-hole format, use of amateurs in multiple rounds and the low scores needed to win also chased some big names away.
Still under consideration, according to sources close to the situation, is a proposal to make the tournament four rounds instead of five with amateurs playing three of the rounds. This year, Jhonattan Vegas needed to shoot 27 under par to get into a playoff, which he won against Gary Woodland and Bill Haas. Perhaps next year, when he defends his title, he can have President Clinton as one of his amateur partners. Clinton played one round of the Hope in 1995 with Presidents George H.W. Bush and Gerald R. Ford, with Scott Hoch as their pro. Clinton was also honorary chairman of the Presidents Cup in 2000.
(Photo: Scott Halleran/Getty Images)*