Editor's Note: This article first appeared in Fire Pit Collective, a Golf Digest content partner.
I always have a song in my head. Well, often. Thirty-one years ago, on a cold February morning in New York City, my wife of four months and I got in a cab on the Upper East Side, heading for JFK and from there, to borrow a phrase, places unknown. We had two Pan Am tickets to Nice, France. That much we knew. I had lined up a one-week tryout gig as a caddie on the European Tour. That much I knew. Unknown was everything beyond that, everything beyond the Mediterranean Open. I was a new husband. I had to carry myself with a certain confidence. Husbands protect and provide, right? Five thousand years of DNA can't be completely wrong. Of course we had a plan. But it was a vague one.
My golf clubs and clothes were in a single bag in the roomy trunk of our big yellow taxi. The clubs were in a little brown sack. A graphite-headed Yonex driver. PRGR blade irons. A T.P. Mills putter, its topline painted black, in an effort to reduce glare. Christine had packed a rain jacket with a thick belt, sweaters in various weight classes, the hint of her perfume (Coco Chanel) on them. The song in my head was Chris Isaak's "Wicked Games." Me and a million other people, right about then.
The world was on fire and no one could save me but you
It's strange what desire will make foolish people do
I never dreamed that I'd meet somebody like you
Maybe you know it. That song—that song, on that winter morning, half my life ago—means more to me than I can say. I can't expect you, or anybody else, to understand. If you want to try, that's up to you.
I caddied for the American golfer Peter Teravainen at the 1991 Mediterranean Open. He made the 36-hole cut. The cut is an undervalued aspect of professional golf. He made the cut and that meant I had a job for the following week. As it played out, I caddied for Peter the rest of that winter, through the spring and into summer. Peter was a journeyman. He played every week. He played for money and because he liked being on tour. Our last week together was the 1991 Scottish Open, on the King's Course at Gleneagles, in early July.
And suddenly, far too suddenly, I found myself at the 2022 British Senior Open, on a soggy Sunday in late July, as the King's Course at Gleneagles was being pelted with rain. Some of the players in the field at the '91 Scottish Open were in the field at this year's British Senior Open, 31 years later. Colin Montgomerie. Ian Woosnam. Mark James. Bernhard Langer. Glen Day. Paul Broadhurst. But most, no surprise, were not. David Feherty took his talents to broadcasting, and Michael Clayton turned to course design. Seve Ballesteros—there will never be another one. Jean van de Velde doesn't come around much anymore. (I can justify every shot he played on the 72nd hole of the 1999 British Open at Carnoustie, but we are all corrupted by our associations. I know and like the man.) Peter lives in Singapore now. I know few people with more insight into the game.
This year's Open, every golf fan knows, was won by Cam Smith, ready-to-go Aussie golfer. He came home in 30 on a dry and still Sunday to post 20 under on the Old Course. In the end, it was one ahead of Cameron Young, with whom he played, and two ahead of Rory McIlroy, who was in the day's last pairing. People are saying that Rory didn't win because his putter went cold. Don't agree. Rory didn't win because there was no wind and in those conditions a guy (Smith) could shoot a Sunday 64. Rory played a conservative round of golf, in the tradition of Jack Nicklaus.
Nicklaus won 18 Grand Slam events—and finished second 19 times. That's what conservative golf will get you. You can't win 'em all. On Sunday night, Rory's public demeanor was perfect. Right out of Big Jack's in-his-prime playbook. Please don't tell me Rory lost that Open. He finished third. You could say Bob May lost that playoff to Tiger at the 2000 PGA, but you could also say he finished second. Rory took solo third. He earned his way into the field and to third place. An Open is not an invitational.
A week after the Open, on the Sunday of the British Senior Open, Christine and I began our day in St. Andrews. The giant yellow scoreboard above the bleachers on the right side of the 1st fairway was still up. The scores and the names were still there too, except for the names of Smith and McIroy. Giant name tags—vanished! Some collector's item.
I have made many trips to St. Andrews over the years, going back to 1985, during Opens and in regular weeks too. On that Sunday morning, on the Sunday after Open Sunday, I couldn't remember if the closed-on-Sunday tradition still held. You might know this old Old Tom Morris quote: "If you dinna need a rest on the Sawbath, the links does."
Old Tom was the keeper of the green, a high-order churchman and a natural authority figure. Moses's beard had nothing on Old Tom's. Turns out, the Old Course is still closed on Sundays. Tradition, tradition. The American "course superintendent" is still called a greenkeeper in Scotland. When I told a Scottish greenkeeper the other day about another American title, "director of grounds," he laughed. You can't direct the ground. Well, this gent had never been to Augusta National. On that Sunday after Open Sunday, people were all over the course and on the beach and the beach paths. The Old Course is narrow and compact and parts of it run along St. Andrews Bay. Such a bland name. In my mind, it's a sea.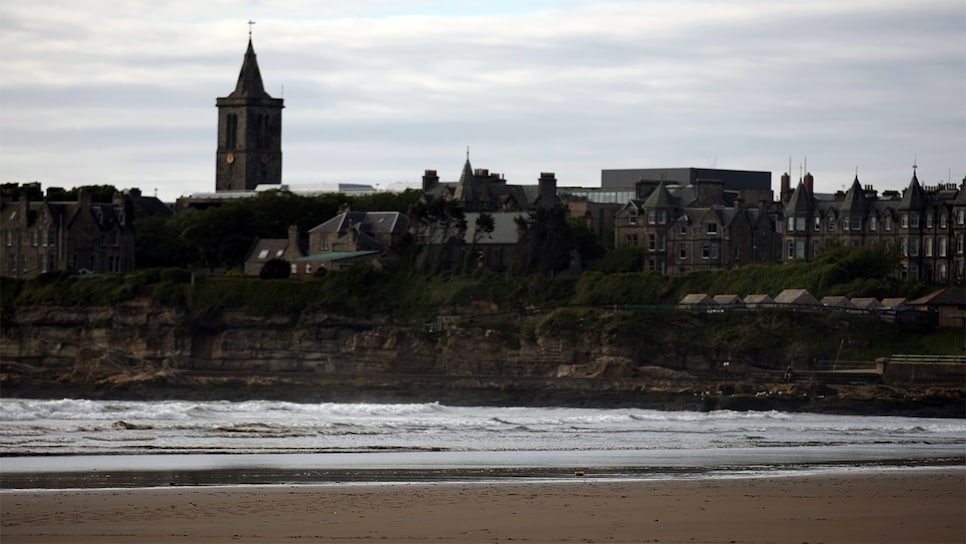 Before driving to Gleneagles for the Senior Open finale, I went for a run along the St. Andrews beach. The music in my head was the theme from Chariots of Fire. You may know the opening scene from that 1981 movie depicts British Olympians running in ankle-deep water. The runners run, the music plays. In that context, it's an uplifting composition. Accompanying my 11-minute miles, the music spilling out of a phone in my right hand, it sounded tinny, corny and ridiculous.
Jogging back to town, on a paved path, a kid, maybe 4, on a wee bike that looked like a mini motorcycle, came racing in my direction. He was wearing a round helmet, snug around his head, that looked like it had seen battle in the Great War. His specs looked like Snoopy's perfect-circle aviation glasses. He gave me a wildly enthusiastic head nod, athlete to athlete, one local (I'm guessing) to (at least in spirit) another.
A week earlier the Old Course was open for business on a Sunday. A rarity. Her wide corridors were dotted with players, caddies, camera operators, officials and police officers. Her shoulders were lined with fans, paying and otherwise, gleeful with anticipation. Rory had the last tee time of the afternoon, with Viktor Hovland of Norway, at 2:50 in the afternoon. They were tied for the lead and four shots ahead of (as Rory called them) "the Camerons." Rory was staying at Rusacks, a hotel right on the 18th fairway. Talk about an easy commute. That's one of the reasons we are drawn to the pro game. Their work is our play. Sometimes, they play our courses. The Old Course is as public as a course gets.
The thing I remember best about my first round on the Old Course, in 1985, was how one of my playing partners, a Scotsman, putted from far off the green. Six years later, when I was caddying for Peter on the European tour, he would sometimes play with another American, the aforementioned Glen Day, who was the first player I saw chip with a fairway wood.
Some years later, I developed a club that combined elements of a putter, a 5-wood and a sand wedge. I got a patent on the invention. (The E-Club.) We sold enough of them to almost break even. Lee Trevino used it when he played in his final Open, at St. Andrews in 2000, without any incentive to do so, except the possibility that it could help him shoot a lower score. The highlight of my so-called golf career, right there.
The highlight of the Open this year, for me, was Trevino on the range on the Monday before the tournament began. You talk about a guy who's got it. Trevino's got it. He always will, because what he knows he figured out for himself.
The guys watching him were mesmerized. He was hitting balls next to Darren Clarke. Trevino was in black pants with a crisp crease, a black belt and a pink shirt, and if it looked like he knew what he was doing, at age 82, it's because he did. Clarke, 53, was wearing pink shorts and an untucked black shirt, and in terms of his swing, looked lost. He missed the cut at the Open at St. Andrews, by 10 shots. He won the Senior Open at Gleneagles. Golf's a funny game.
Some footnotes: The first Open Clarke played was in 1991, at Birkdale. He shot 287. Teravainen shot 290. Trevino shot 281, at age 51, nine shots behind the winner, Ian Baker-Finch. Soon after, Baker-Finch lost his game. Trevino never did. He can't. His game is baked-in.
Some other highlights from '91. Ian Woosnam won the Mediterranean Open and the Masters six weeks later. Payne Stewart won the U.S. Open. John Daly won the PGA Championship. Seve won the European Tour's Harry Vardon Trophy for finishing first on tour's Order of Merit. That is, its money list. (Order of Merit. How quaint.) "Wicked Game" gave way to "Future Love Paradise" by Seal. (People will listen to those songs forever.) In a restaurant in Majorca, Spain, Christine and I discovered that our Saturday lunch order was not available on a repeat basis on Sunday. "Yesterday is not today," the waiter said. (We still cite that wisdom.) An old Scottish pro named John Stark took me to a rugged six-hole course, laid out by a shepherd, in a glen on the River Almond called Auchnafree.
The shepherd who laid out that course, John Pollock, drowned in that river, trying to save a sheep, in 1990. Payne Stewart died in 1999. John Stark died in 2008. Seve died in 2011. Not many people can say they had a drink with Hogan and performed at an exhibition for junior golfers with Ballesteros, but Stark did. He was unique. He wore polyester pants and smoked cheap cigars. No wet wool for him.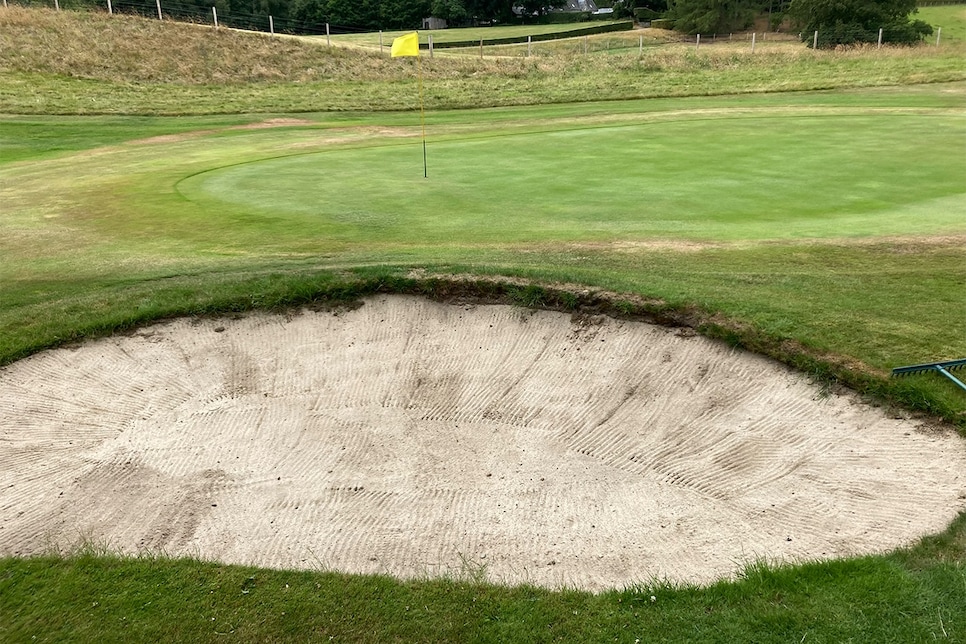 On the Monday after Clarke's win at Gleneagles, Christine and I made the pretzel-logic drive to Auchnafree, on roads about as narrow as your sidewalk. Christine thought she had been there in '91, but when we arrived she realized she had not. It's a moonscape, spectacular and untamed and unique.
We were in central Scotland. When we got out of the glen and back onto paved road, it was about 5 o'clock, with five hours of daylight left. We had no real plan. Should we drive south to Machrihanish or north to Dornoch? We decided on the latter, made it as far as Inverness and went to Balmoral Castle, the royal family's summer hangout, the following day. Did you know there's a nine-hole course on the grounds? It's for the royals and the Balmoral staff, and their children and their grandchildren. It's lovely.
I walked the course and took the liberty of tending to a wee bunker in need of a rake job. You know what they say: You can always leave a golf course in better shape than you found it. The song in my head was "Dream Never Dies" by Lo Moon. You can find it on YouTube, if you like. Free will is a beautiful thing. Golf is a good place to practice free will. Music, the same. Marriage is a good place to practice consensus.