The Loop
Points' late withdrawal causes unusual situation at the Players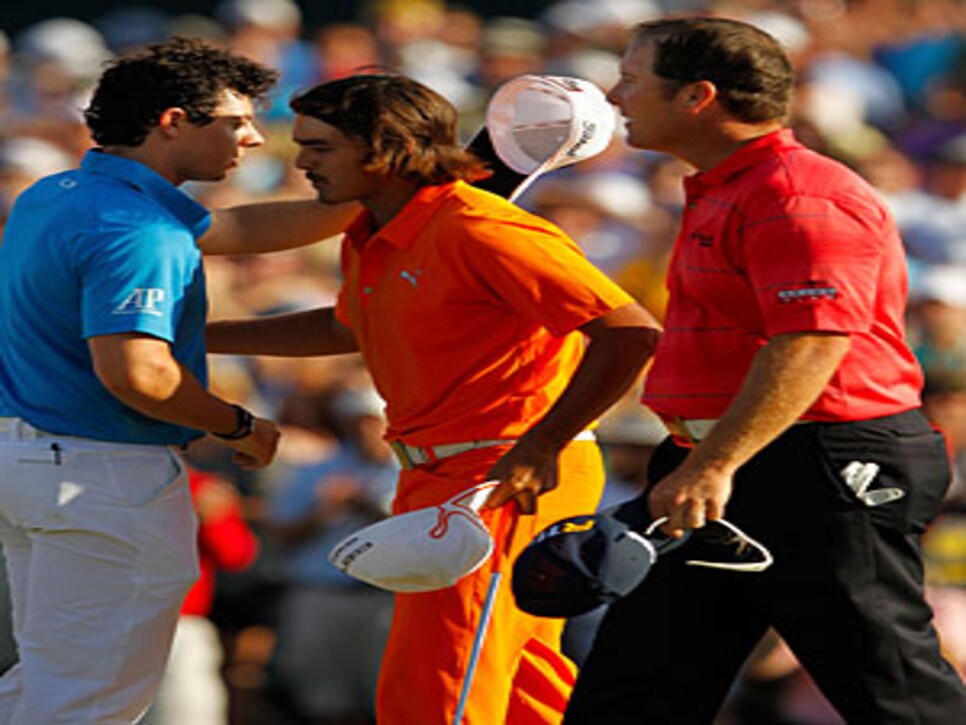 PONTE VEDRA BEACH, Fla. -- Tiger Woods has made news withdrawing from the Players each of the last two years. Neither time, though, did it cause as much confusion as when D.A. Points pulled out Thursday morning.
Points, AKA that "other guy" in last week's playoff between Rickie Fowler and Rory McIlroy last week at Quail Hollow (left), withdrew due to back problems before teeing off in the opening round. Simple enough, right? Not so fast.
You see, Points was already on the first tee with his name having already been called and one of his playing partners had already hit when he informed an official he wouldn't be playing. The literally last-minute decision made it impossible for first alternate Brian Harman to slide into Points' 8:39 tee time.
It took a few hours of deliberation, but the PGA Tour Rules Committee ultimately determined that Harman should still get to tee it up. At around noon, it was announced that the PGA Tour rookie would tee off TPC Sawgrass' first hole at 12:20 as a single. Here's part of a statement released by the PGA Tour:
"Although we are not aware of this specific situation occurring previously on tour, the decision to assign Harman a new starting time is consistent with the PGA Tour's standard procedures for substitutions and withdrawals. Alternates are asked to be on-site, inform the committee of where they will be, and keep their mobile phone on so they can be contacted. Once a withdrawal occurs, the rules committee assesses the timing of the situation and determines whether it is reasonable for the player to make it to the tee for the original time, or if a new starting time should be assigned."
Mark Russell, PGA Tour vice president of rules and competition, called it a "very unusual situation" and said he could "never remember a player withdrawing right before he's supposed to play."
Harman, who will also play Friday as a single, can expect to be waiting to hit a lot on a day where rounds appear to be on a five-and-a-half hour pace. After nearly not hitting a single shot after coming to Ponte Vedra Beach, though, we doubt he'll be complaining too much.
UPDATE: Harman shot 73 playing as a single in his first tournament round at TPC Sawgrass. With Paul Casey withdrawing after his front nine, Harman will now take his spot in that threesome for Friday's second round.