RICKIE'S ROLLING
Playing with a new caddie, new putter and house money, Rickie Fowler finds early form in Memphis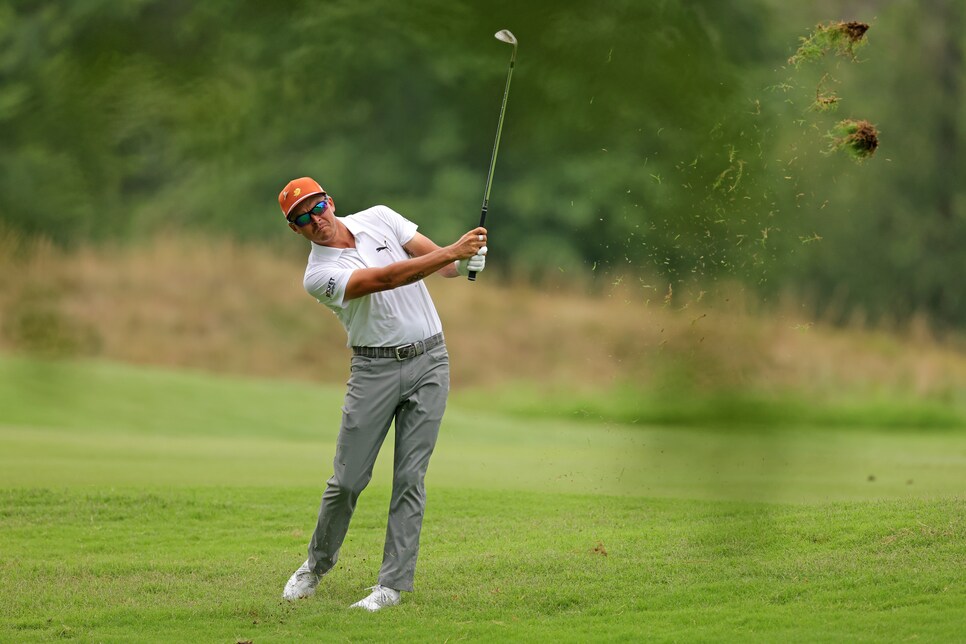 MEMPHIS — After missing the cut last Friday at the Wyndham Championship, Rickie Fowler knew his hopes of making the FedEx Cup Playoffs sat on a knife's edge. He also knew there was no longer anything he could do about it—after missing the playoffs for the first time in his career last season, finishing 134th in the standings, he nearly duplicated the effort a year later. This time, though, the defection of LIV golfers elevated him in the standings and gave him a chance to reach the magic number.
On Sunday, as the contenders battled it out in Greensboro, Fowler did his best to distract himself, playing a friendly round with a local pro at the Grove XXIII in Hobe Sound, Fla., and occasionally checking his status on the PGA Tour app. By the time he got home and the dust had settled in Greensboro, he had made the playoffs on the number: 125.
His week was about to get more eventful, and not just because he was heading to Memphis for the FedEx St. Jude Championship instead of starting his offseason early. On Tuesday, news came out that he parted ways with his caddie Joe Skovron, who had been on Fowler's bag since the start of his professional career in 2009. Calling it a "team decision," Fowler turned to Cobra Golf employee Ben Schomin as a temporary fill-in.
The very early returns are in, and the verdict is, "so far, so good." On a humid day in Memphis, Fowler shot 65, his best round by raw score since last October. At five under, he's currently tied for fifth with a large group, and trailing leaders Si Woo Kim and J.J. Spaun by three strokes. When asked if the caddie change made any immediate difference, though, he demurred.
"It was going to be more about me taking ownership and putting more of a workload on myself and more accountability," Fowler said. "I still had plenty of his voice and one-liners and stuff in my head, so he [Skovron] wasn't on the bag, but he was definitely present."
The highlight of Fowler's round came on the par-5 16th hole, when he hit his second shot from 220 yards to within five feet and converted the eagle.
"With the small green it makes it a little dicey," he said. "You miss the green, it can make it a little tough to get up and down. If you do hit the green in the right section, you're going to have a pretty good look. Ended up having a good number with the breeze off the right and can kind of just let 4-iron cruise and if I hung it a little bit, the little breeze was there to hold it. Came out perfect, kind of little cut off the pin and held there. "
"Luckily at five feet I felt pretty good about myself," he joked.
There's truth in every jest, and for Fowler the nugget of truth is that he pinpoints putting as the weak point in his game that has seen him plummet from previous highs in the past two years. The stats back him up—after spending most of his career well into the top half of the tour in strokes gained/putting, and leading the tour in that category in 2017, he slipped to 126th last season and currently sits 179th. Worse, he can't quite pinpoint what's gone wrong.
"Kind of goes all over the place," he said. "I would say a lot of it is read-based, but at that point when you're not trusting your reads, speed's a little off, so there's plenty of variables in putting. If you're not starting it online, it doesn't matter if you have the right read or speed. I would say one of the biggest ones has been getting proper reads and then on top of that, trusting that. So with that, like I said, speed can become a little inconsistent based on trust, but I think stemming from reads."
The reference to "reads" were the only potentially critical words out of his mouth regarding his former caddie, and even then it was more by implication, and he didn't excuse his own role in his struggles. He's used at least five putters in competition this season, including a Newport Plus he played with for the first time Thursday.
He worked with his coach John Tillery in the week leading up to Memphis and came in with a nothing-to-lose attitude; in a strange way, unexpectedly making the playoffs freed him to play aggressively, knowing both that this was an opportunity, and that he'd have to play exceptionally to fight into the top 70 and make the next leg at the BMW Championship.
He's off to a fast start, and while it would be foolhardy to think that everything has changed with a single round, Fowler is at the point where any optimism is refreshing. We don't know if this will be the moment that sends him rising back to the top of the sport, but the fact that it might be is, if nothing else, a boon to a player who needs a bit of good news.