The Loop
Players brace for a challenge at the U.S. Senior Open
While there have been exceptions -- Fred Funk's record winning score of 20-under 268 at Crooked Stick GC in 2009 pops to mind -- the U.S. Senior Open is perennially where golf's 50-and-over crowd faces one of its biggest challenges of the year. "Hit the ball where you're aiming it, make a couple of putts and get out of dodge without making too many mistakes," said U.S. Senior Open defending champion Olin Browne, who triumphed at Inverness Club last summer.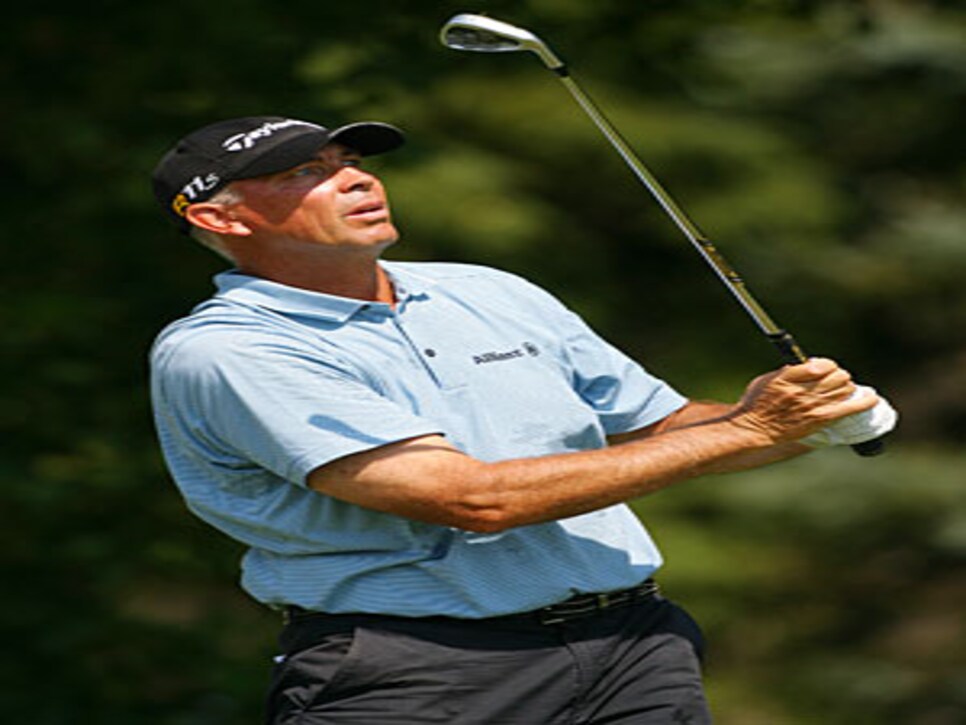 Browne's recipe for success holds for the 33rd U.S. Open Senior Open being contested this week at Indianwood G&CC in Lake Orion, Mich., not too far north of Detroit. The Wilfrid Reid/William Connellan design, which opened in 1925, will measure 6,862 yards and play to par 70. There are only two par 5s, lots of elevated greens, fairways rewarding precise tee shots and plenty of rough awaiting those who miss.
"The fairways are narrow and there is a lot of rough out there," was how Michael Allen, a two-time winner on the Champions Tour this season, appraised Indianwood. "I've never seen so much rough for any event I played on the Champions Tour. I think it's going to be a real challenge."
Tom Watson, who at 62 is still chasing his first U.S. Senior Open title, didn't mince words about what will be essential this week. "If you don't drive the ball well, you have no chance," Watson said. "Absolutely no chance. None. Zero. The rough is so deep, so penal, and the fairways are pretty narrow."
Indianwood's USGA history goes back a couple of decades, when it was the site of the U.S. Women's Open in 1989 and 1994. Those championships were captured by two of the best players of their generation, Betsy King and Patty Sheehan, which makes it seem likely that the winner this week could be a familiar force on the Champions Tour as opposed to upstart winners such as Roger Chapman, who won the Senior PGA Championship earlier this year, and Joe Daley, who won the Senior Players.
In between those two events, senior stalwart Tom Lehman prevailed at the Regions Tradition, and Lehman, who threatened so often to win the U.S. Open, certainly should be a player to watch at Indianwood because of his complete game. "It's a typical U.S. Open set-up here, in [that] you can't really get away with too many loose shots," Lehman said. "You're going to get punished for some wayward play out there. So you get here and you get on the course and realize, 'Ah, ha, yes this is a U.S. Open.' And there's no gimmicks. You gotta play solid golf, put it in the fairway, put it on the green and putt well."
Most of Indianwood's greens are on the small side, the mammoth and heaving 18th being -- literally -- a huge exception.
"I'm not sure how you would describe that green," said Lehman, who then made an attempt at explaining the severely sloped putting surface, which USGA official Jeff Hall said is 51 yards deep. "There's something [buried] in there," Lehman said. "Volkswagen Bugs, maybe a few General Motors cars and Buicks. Something is in there. I don't know."
By the time competitors get to the finishing hole, they will have already tested their patience in familiar ways.
"We do want the Senior Open to be very reminiscent of the U.S. Opens of the past these gentlemen have participated in," Hall said. "That said, it's not intended to be the U.S. Open. It can't be. It's a different group of players. But we do want it to be the toughest test in golf that these players encounter each year."
Having been through the real thing last month at Olympic Club, Allen and Browne are recently battled tested, not that their peers don't remember the feeling.
"In these kinds of tournaments, you know you're going to be frustrated a few times," Allen said. "You're going to hit some shots that don't turn out [that] well. You've got to have a lot of patience out here. You've got to go through it and kind of stay in the ball game."
(Photo by Hunter Martin/Getty Images)