The Loop
Players park drivers at Players
Over the last decade or so professional golf has become a power game with an equipment focus on balls that fly like flubber and drivers the size of saucepans. Less noticed, however, has been the role of the fairway wood. Quietly, the club has gone from one used to reach the green on par 5s to, in many instances, a second driver.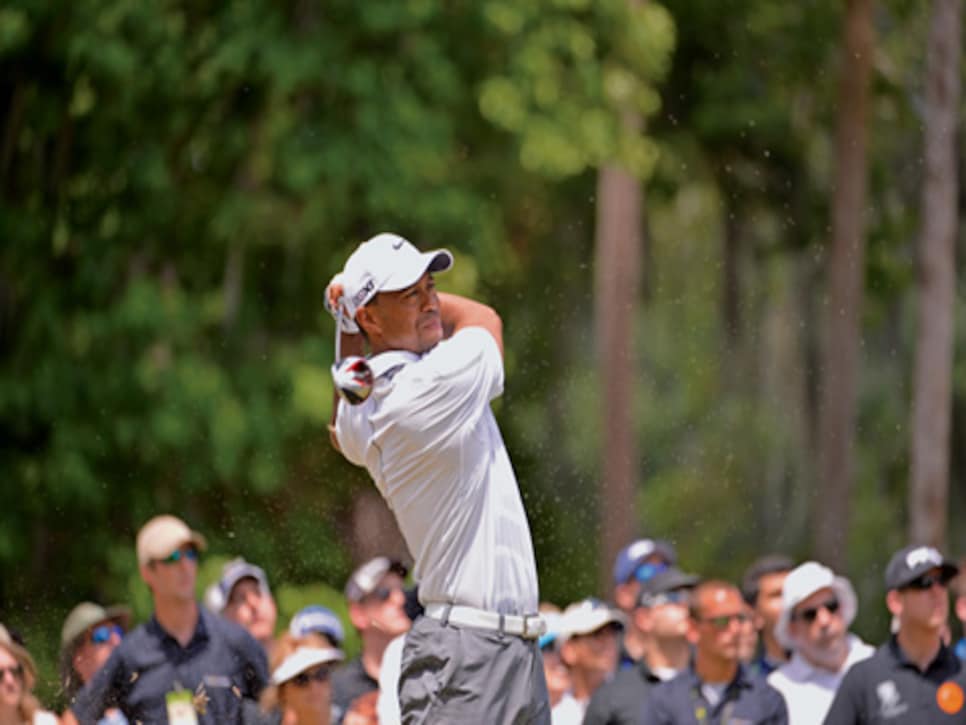 There are few tournaments where that holds as true as at the Players, where many in the field hit driver only a handful of times. One of those players was eventual winner Tiger Woods, who hit the big stick sparingly and let his 3-wood and, at times, his 5-wood carry the load.
"I'm hitting 3-wood over 300 yards," said Woods. "This 5-wood I was hitting most of the week was going 280, and I was carrying it easily 260. Those are big numbers."
The bigger question, is how are these distances possible? The short answer: Driver technologies such as springy faces, higher moments of inertia (which produce better results on mis-hits) and longer shafts have trickled down to fairway woods, making them easier to gain distance with off the tee. Some outside-the-box thinking has helped too. Adams and TaylorMade have employed slots to boost ball speed, Nike's VRS_Covert fairway woods (used by Woods) have an open cavity on the sole and Callaway's X Hot 3Deep has (as the name implies) a noticeably deep face -- all with the thought of providing additional yards.
"It has been relatively easy to get to the USGA and R&A limit on springlike effect for many years," said Dr. Alan Hocknell, senior VP of R&D for Callaway. "It's taken a little longer to get there in fairway woods because you're working with a smaller size and, in most instances, stainless steel instead of titanium." That smaller head meant a reduced trampoline effect and stainless steel is not as durable as titanium, meaning it was more difficult to make the face thin without risking caving in.
A combination of improved manufacturing processes and more durable steels allowed designers to begin thinning the face (as well as other areas of the clubhead) and moving the center of gravity forward -- both favorable to increased distance. With that, interestingly, has come a shift toward higher lofts on the 3-wood within the PGA Tour ranks.
At the 2010 Players, slightly more than half of the 3-woods (52.4 percent)had less than 15 degrees loft, with 56 of the 145 players in the field (38.6 percent) using a 3-wood with 13.5 degrees of loft or less. Just three years later those numbers have shrunk to 47.6 and 22.8 percent, respectively. One of the reasons is that the more forward center of gravity combined with today's low-spinning golf balls make it more difficult to achieve the proper launch angle. Just as with a driver, a 3-wood off the tee requires a high launch with low spin to produce optimal results. The forward CG helped the low-spin part. More loft assisted the necessary high launch.
Such improvements in fairway woods have helped limit the use of drivers at TPC Sawgrass. The last 10 winners of the Players have combined to hit just 72 tee shots of 300 yards or more (an average of 7.2 per year). Over the last five years the winners have averaged just 6.6 such tee shots. But that doesn't mean there's a power outage off the tee.
"There's really no room to hit driver except for a few par 5s," said Woods. "I hit 5-wood off the tee [on No. 5] because I was afraid of hitting 3-wood up over the hill and through the rough and into the bunker. Even that 5-wood I think was 310."
For the record, ShotLink had it at 289 yards. But that doesn't diminish the fact players were getting more than enough off the tee with their fairway woods. "You've got to play the golf course for what it gives you," said Woods. "Certain years it's soft and it's wet, and I hit a lot of drivers. This is one of the weeks where I didn't."
As it turned out, he didn't need to.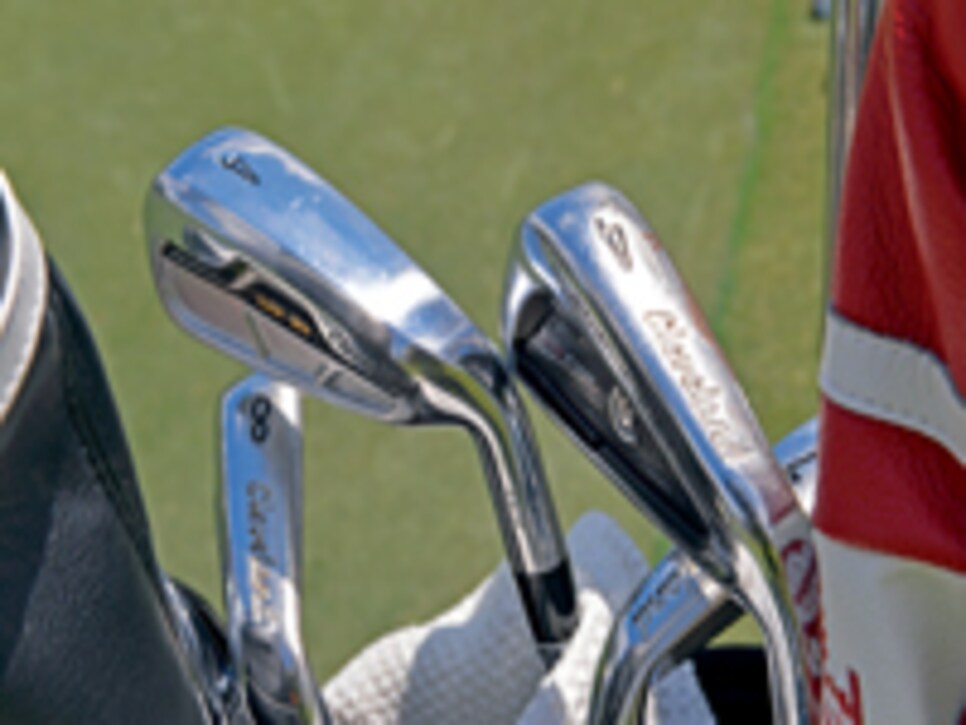 Phil Mickelson has used two drivers, and there have been some instances of tour players heading into action with a pair of putters. At the Players, however, Keegan Bradley took on TPC Sawgrass with two 4-irons.
That's because one of the 4-irons actually behaves more like a 3-iron for the 2011 PGA champion. Bradley's iron set is Cleveland Golf's CG7 Tour model, a modest cavity-back favored by better players. The second 4-iron, however, is the company's 588 MT. Although the MT is a full iron set, many on Cleveland's PGA Tour staff have employed the beefy longer irons as hybrids or utility irons. At the Players, Bradley also worked with 2- and 3-iron 588 MTs with the possibility of adding one or both to his bag at Merion for the U.S. Open.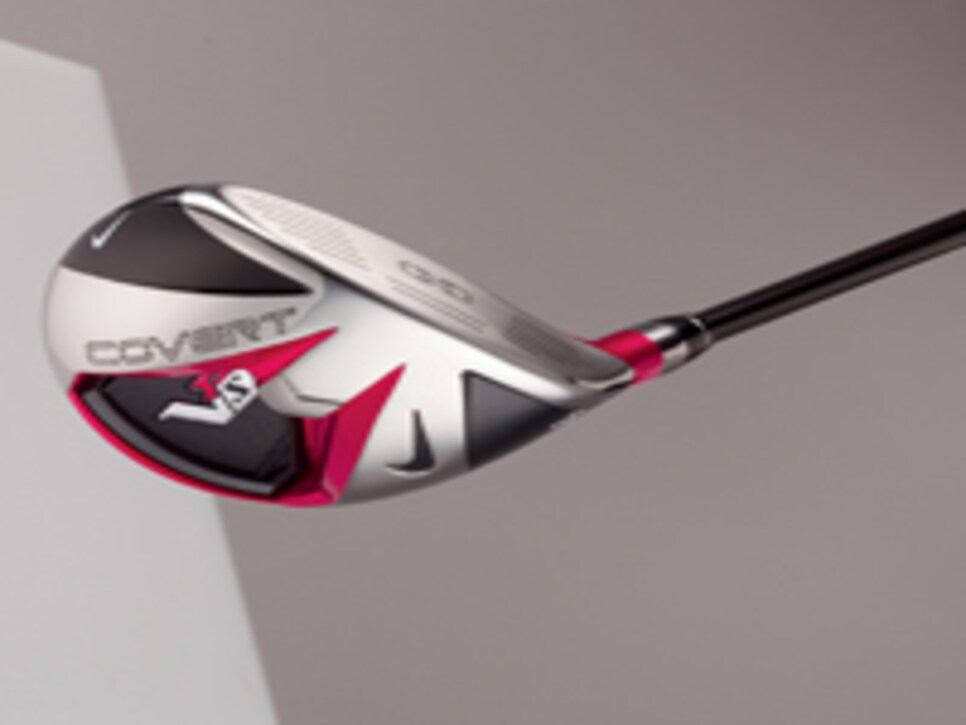 PRICE: $200 (Models: 3- and 5-wood, adjustable)
Tiger Woods used these fairway woods at the Players. A dual-axis hosel allows for independent loft (five to choose from) and face-angle adjustments.
Now healthy and saying, "I'm able to generate the speed like I used to, and I'm able to handle that shaft again," Tiger Woods changed driver shafts at the Players, returning to the Mitsubishi Diamana White Board he used for most of 2007 through 2009. ... Another player switching to a Mitsubishi shaft was Louis Oosthuizen, who after testing the 'ahina model in his Ping Anser driver said he felt he was gaining up to 10 yards. Oosthuizen then backed up his claim, leading the field in driving distance at 300.6 yards -- the only player to crack the 300-yard mark for the week. ... If it looked as though David Lingmerth was using a shorter-than-normal putter, it's because he was. Lingmerth's Ping i-Series Craz-E is just 33â¿¡ inches long. ... At the other end of the putter-length spectrum was Roberto Castro. The first-round leader put a new club in the bag at TPC Sawgrass -- a TaylorMade Daddy Long Legs putter. The counterbalanced mallet was 38 inches long with 3 degrees of loft. ... Jeff Maggert is known as one of the most particular players on tour when it comes to equipment. How precise is Maggert? He has the swingweight on his irons down to the decimal point. The swingweight on his Ping S56 irons are D2.2. ... Wilson was showing its prototype adjustable woods to players this week, and Padraig Harrington liked the hybrid enough to put the club (21 degrees of loft) in the bag. No word when (or if) the clubs will be brought to market.