Players Championship
Players 2021: Jon Rahm makes birdie from a volunteer's lunch bag, gets back into contention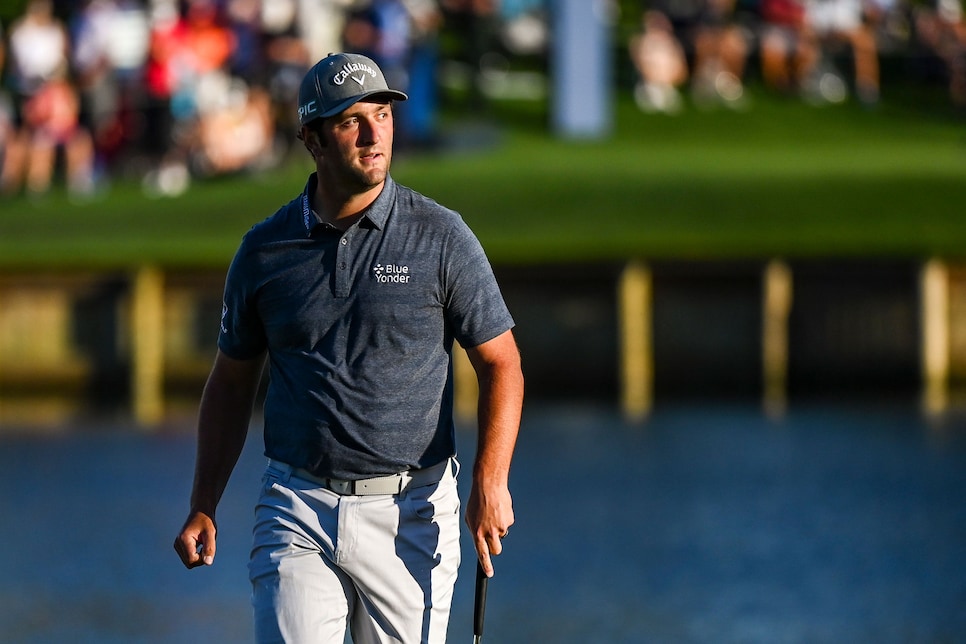 After an opening 72 on Thursday, Rahm bounced back with a four-under 68 to climb into contention ahead of the weekend at TPC Sawgrass.
Keyur Khamar
Some birdies just taste better. Ask Jon Rahm.
After a wayward drive to the right on the par-4 seventh hole Friday at TPC Sawgrass, the Spaniard came upon his ball only to find it resting against the lunch bag of a volunteer.
Bad pun aside, it ended up being a terrific break. Rahm knocked his next shot to just inside five feet and made the putt.
"Overall pretty good lie to be honest," he said. "It was such a bad drive. I ended up in a decent spot, ball below my feet, 165 meters in the rough, with that wind I just aimed left edge of the green, opened the face a little bit with a 7-iron and swung about as hard as I could.
"I caught it just perfect, just thin enough, didn't get caught in the rough, came out just like if it was in the fairway, and with the softness of the greens, it stopped pretty quick."
Even better was the one he made on the par-5 ninth, his final hole of the day.
After a drive that landed in the fairway and at what he said was an in between distance 255 yards out, Rahm tried to fade a 5-wood into the green. But he came out of the shot and ended up 35 yards short and short-sided with the pin on the front of the green.
Then he pitched to 20 feet and made the putt to cap a round four-under 68 that leaves him the same number of strokes under par heading into the weekend and in contention at the Players Championship.
"Big," he said of the final birdie, his fifth of the day and fourth over his final eight holes after hitting just half his fairways but still managing to find 15 of 18 greens. "I felt pretty good on the greens today, especially as the round went on, and had a couple long ones that had a pretty decent chance of going in. I just put a free stroke on it. It was a pretty stressful round. I was barely in the fairway, fought all day, and I just thought it was a free birdie look, and took advantage of it."
Now the question is if he can take advantage of his good fortune the rest of the way.
Two years ago, Rahm had the 54-hole lead at TPC Sawgrass before flaming out with a Sunday 76 to finish T-12. In five starts in 2021, Rahm has four finishes in the top 15. His last win came last fall at the BMW Championship.