News
Players Championship 2018: Tiger Woods, Phil Mickelson and Rickie Fowler disappoint again on Friday at TPC Sawgrass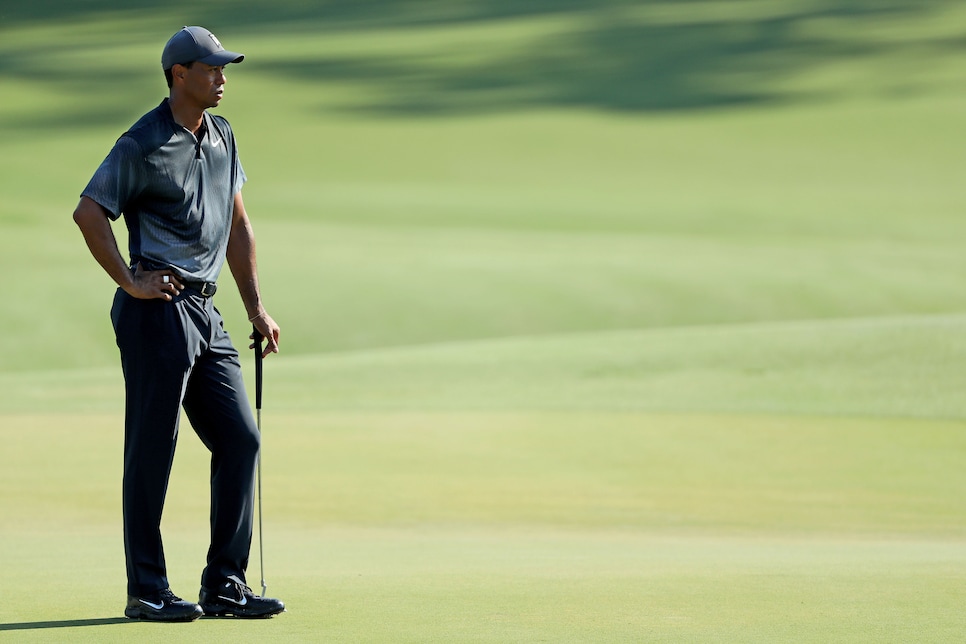 PONTE VEDRA BEACH, Fla. — After a low-energy opening round from the mega-pairing of Tiger Woods, Phil Mickelson and Rickie Fowler, fans packed around the 10th tee on Friday morning at TPC Sawgrass were hoping for a flip of the script. What they got was more of the same, including an uneventful one-under 71 from Woods that didn't look or feel like the improvement it was on the leader board for the 14-time major winner.
Woods' opening tee shot was reason enough to still be optimistic, a low 302-yard stinger that left him a 113-yard approach shot to a back-right pin location. From there, he missed the green right, which set the tone for the rest of the day, as Woods struggled to convert with short irons in his hand on numerous occasions.
"I didn't hit the ball close enough today," Woods said. "I didn't get off to the start I wanted to. I had sand wedge on 10, reachable par 5 at 11, sand wedge again at 12, and I played those even par. That's not the start I wanted to have, and unfortunately kind of went the rest of the day the same way.
Even when Woods was able to hit it somewhat close, he couldn't sink a putt, starting at the par-4 14th, where he had a 162-yard approach shot from the rough and below his feet and was managed to draw a 9-iron in to 15 feet. After missing the putt, then missing a 17-footer at 15 for birdie, Woods finally got his first red number of the round at the par-5 16th. His confidence continued when he hit his tee shot at the 17th to 12 feet, but what felt like momentum beginning to build quickly disappeared when he missed that birdie try and then bogeyed the 18th.
"I didn't quite swing it right today," he said. "And I didn't quite have the shape, ball flight. I didn't have much of what I wanted. With these greens as soft as they are, I didn't take advantage of the opportunities I had today to really shoot a good number."
Woods got that shot back at the par-3 third when he drained his only long putt of the day from 17 feet to get back to one under. A good drive in the middle of 14 fairway presented an opportunity to get two in a row, but he flew the green from 106 yards. Story of his round.
"Yeah, I had 106 there and tried to flight one in there, and geez, I stuck it in the ground and hit it long. It was a bad combo," he said.
Meanwhile, Mickelson and Fowler were doing their best to build some momentum of their own. For Lefty, it was a struggle from the start as he bogeyed his opening hole and finished his first nine holes in two-over 38 after playing his final nine holes on Thursday in five-over 41. Mickelson managed four birdies on his back nine Friday, but closed with three straight bogeys for a 73 that left him well off the cutline.
Fowler, however, seemed to be playing fine, sitting at five under for his round through 14 holes and three under for the tournament. But out of nowhere came back-to-back double bogeys on Nos. 6 (losing his tee shot in a tree) and 7, eventually leading to a one-under 71 that saw him finish one over for the tournament, costing him a spot in the field on the weekend.
Woods was able to keep it together, making par on his final six holes, but the home stretch proved the hype train was too much to overcome for the threesome. It's fair to say their collective struggles had a negative affect on the group, but Woods didn't believe so.
"No, no, I have my own struggles. I have my own business I need to take care of," Woods said. "This golf course is so demanding and it puts so much stress on you from tee to green, it's very stressful, a very stressful ball striking golf course because there really isn't kind of -- there really isn't a let off. You really have to be committed and be focused on what you're doing."
Woods should get two more cracks at it over the weekend, barring some unbelievable play from Friday's afternoon wave. In typical Tiger fashion, he believes he's just a couple of low numbers away from being in the mix.
"Well, I got to shoot something in the probably mid 60s both days to get myself up there to have a chance or something. Hopefully give myself some more looks."