News
Players Championship 2018: Ian Poulter pours cold water on all the Tiger-Phil excitement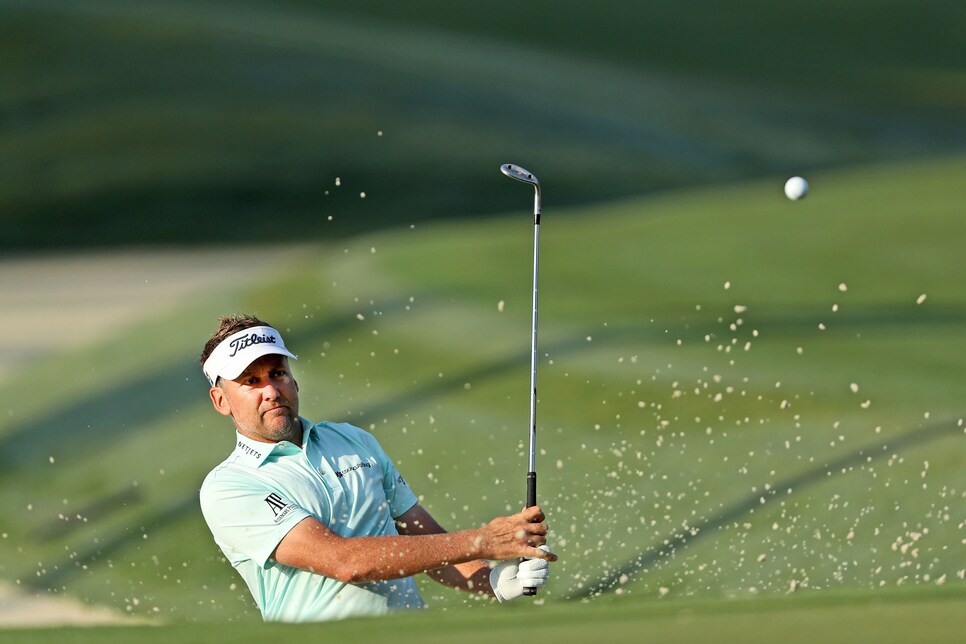 PONTE VEDRA BEACH, Fla. — The scene at the first tee for the Tiger Woods-Phil Mickelson (and Rickie Fowler) pairing was unlike any other on Thursday at the Players Championship. Fans packed in 10 rows deep just to try and catch a glimpse of the top of Woods' backswing or heckle Mickelson about his bold new look.
In case you were wondering, Ian Poulter was NOT a member of said gallery.
Poulter, who valiantly tied for second at TPC Sawgrass a year ago after thinking he lost his PGA Tour card, posted an eventful two-under 70 in his opening round Thursday, one that included six birdies and four bogeys. Knowing how low the round could have been was obviously frustrating for the Englishman, and he called it "annoying" afterwards, specifically referring to all four bogeys, all of which came on the front nine (his back). After assessing his round, the recent Houston Open winner said he felt good enough to hit the beach with his kids and not work on anything in the afternoon.
That's when a reporter asked him about Tiger and Phil, which led to this semi-awkward, semi-hilarious exchange:
Q. Will you be a curious observer of Phil and Tiger this afternoon?
IAN POULTER: I'm going to the beach. Did you hear what I said? I'm going to the beach with the kids.
Q. You can't watch TV at the beach?
IAN POULTER: Do you watch your office? When you go home after a long day's work do you sit, do you go back to work and sit in the office?
Q. I watch golf after I play.
IAN POULTER: I don't. No, I know, I'm messing with you, but like, I'm here to play golf. Last thing I do when I get up at 5:00 a.m. is play five, six hours of golf and then go back and watch golf all afternoon. That's not my thing. I'll have a look at the at the end of the day. I'll check the scores.
Sounds like Poults will not be tuning in the the marquee pairing this afternoon like the rest of us. Some will likely take this the wrong way considering Poulter's checkered history with the fans, but you have to love his refreshing honesty. We'll take this over a packaged "Oh yeah, I'll definitely be watching Phil and Tiger, these guys are so great for the game" answer any day of the week.