News
Players Championship 2017: Updates -- Kim, Holmes in early lead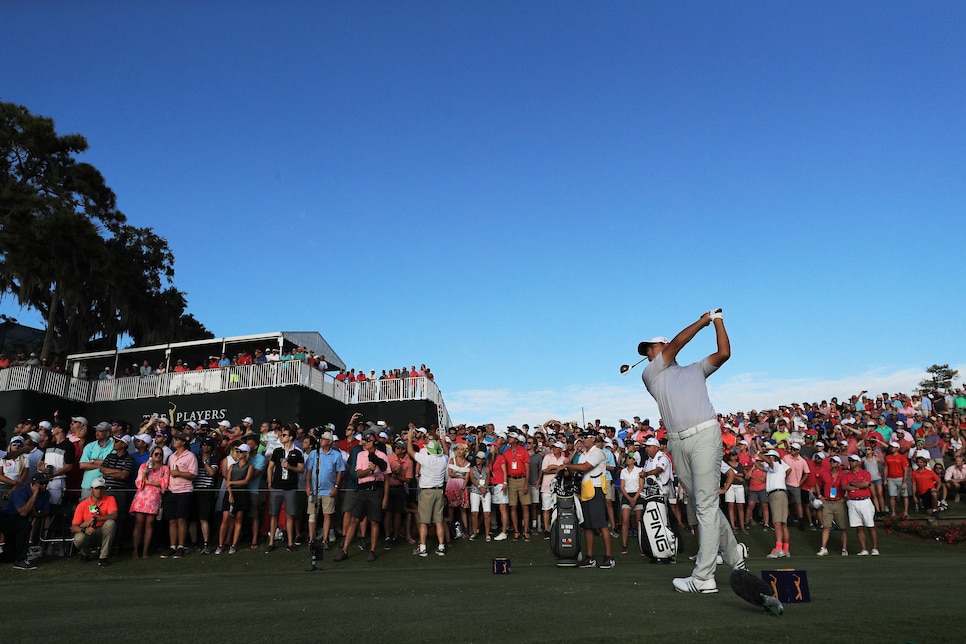 Players Championship 2017: Live Updates -- Golf Digest/Golf World will be keeping you informed on all the action from TPC Sawgrass throughout the week.
3:17 PM: Dustin Johnson finishes his tournament with a 68, likely locking up his first top-20 finish at Sawgrass. Although, that's two straight weeks without a win. I thought this guy was supposed to be good. Is Dustin Johnson overrated? My column...
3:11 PM: Lot of uh-ohs: Holmes makes bogey, Stanley lips out for par, Oosthuizen puts his approach on No. 4 in the water. Si Woo Kim in line to take the lead.
3:02 PM: Garcia takes double, dropping him six strokes back. Of course, dude won the Masters and made an ace on Thursday. I think he'll be just fine.
3:00 PM: Holmes makes a two-putt birdie on No. 2, while Stanley records par. It's the second-easiest hole on the week; not the start Stanley needed.
2:55 PM: Sergio finds himself buried in the backside bunker at No. 4, unable to get it out of the sand. He's four back, and with a big number likely coming, this could put the kibosh on his title chances.
2:50 PM: Oosthuizen birdies No. 2 to take the lead. Holmes puts himself in good position though with a bomb off the tee. Amazing that, for as much game as Shrek has, he's never won in America.
2:40 PM: Both Holmes and Stanley look shaky on No. 1, failing to convert up-and-down par attempts. That brings a host of players -- including Louis Oosthuizen -- into a tie for first.
2:30 PM: Si Woo Kim birdies the first to get to eight under, one back of J.B. Holmes and Kyle Stanley. Kim has struggled this season with just one top 10 in 19 events. Kim's getting it done off the tee this week, ranking second in strokes gained: off-the-tee. For context, he entered the week ranked 205th on tour in this category.
2:20 PM: Ian Poulter is on the course, three back of the lead. As you probably heard a dozen times the past three days, Poulter is only here thanks to a loophole discovered by Brian Gay. What you haven't been told, however, is that if Poulter wins, his five-year exemption is split with Gay. Crazy, right? Don't look it up; trust us, it's true.
2:10 PM: Let's check in on Louis Oosthuizen's confidence for today...
Forget the claret jug. You don't wear a white belt unless you can back it up.
1:52 PM: How do you really feel, Phil?
1:45 PM: The leaders are still 40 minutes away, but a look across the early scores show the course can be had on Sunday, with big names like Hideki Matsuyama, Patrick Reed and Dustin Johnson all heading for sub-70 rounds.
1:23 PM: OK, this is an amazing birdie by Dustin Johnson. Not enough low numbers to leave the World No. 1 in contention this week. But this is hands-down one of the shots of the week.
From WAY left on the redesigned 12th hole at the Stadium Course, DJ made one of the sportiest birdies you'll see at The Players. Awesome.
12:59 PM: Early on Saturday, we saw Pat Perez card a low 6-under 66 round to vault into earshot of the lead. There isn't as much movement early on Sunday at The Players. The lowest round of the day is from Canadian Adam Hadwin.
Here's a look at his scorecard:
11:10 AM: You think of J.B. Holmes, and you think of his world-class length and piercing iron shots.
The bomber had just 25 putts in the third round, picking up more than four strokes on the field on the greens. His Strokes-Gained/Putting performance (7.613) is really off the charts, and the reason why Holmes has a chance for the biggest win of his PGA Tour career.
It hasn't mattered that Holmes has hit just 40.48 percent of his fairways (17 of 42) or hitting just 57 percent of his greens in regulation. It's been the short game that has bailed out the long-hitting Holmes through three rounds.
9:32 AM: It's one of the best Sundays of the year for golf. Happy Mothers Day to everyone -- what would we do without our Moms?
You'll see a plethora of pink at TPC Sawgrass today for breast-cancer awareness. Always a worthy cause that deserves our attention. Our thoughts, too, lie with Jason Day, whose mother is currently battling lung cancer. And Martin Kaymer, whose mother, Rina, lost her fight with skin cancer in 2008. The 2014 Players champion keeps a sunflower on his bag in honor of her.
Also worth our attention is this leaderboard at The Players. A number of players have a chance at this year's tournament. Most people have their eye on Sergio Garcia, sitting T-7 and just four shots back of Kyle Stanley's and Louis Oosthuizen's lead.
Can Sergio join Tiger Woods (2001) as the only one to win the Masters and the Players Championship in the same year?
It was just a couple years ago when Tiger and Sergio were dueling on the back nine Sunday, as Tiger edged Sergio out for the 2013 Players. Sergio was tied for the lead with Tiger coming into the 17th hole, but Sergio took an aggressive line off the tee and drenched his tee shot.
We'll hope for an equally exciting final round today at The Players.
7:30 PM: That was quite a finish on moving day at the Players. Kyle Stanley grabbed a share of the lead after a birdie on the 17th and then made an excellent sand save on the final hole to stay at 9-under. He and J.B. Holmes take a one shot lead into the final round.
Louis Oosthuizen made a great comeback par putt on 18 to stay at 8-under, just one back in solo third.
It should be a wild finish Sunday, with 10 players within five shots of the lead. Some of the notables in that pack: Ian Poulter (-6), Sergio Garcia (-5), and Patrick Cantlay (-5).
Thanks for following along and be sure to check back tomorrow for what's going to be a fascinating day at the Players.
6:59 PM: Scratch that birdie for Vijay on the par-5 16th, he ended up making par. And it gets worse. The Fijian has put two balls in the water on the 17th and is officially out of contention. It was fun while it lasted. His partner, J.B. Holmes, hit one stiff on the par-3 and rolled in the birdie putt. He's your solo leader at 9-under.
Back on the 16th, Oosthuizen just lipped out a bomb of an eagle putt. He'll tap in and get to 8-under, one back of Holmes. Stanley made a solid par to remain at 8-under as well. To the 17th we go....
6:47 PM: Poulter gets into the clubhouse without dropping a shot in his round of 1-under 71. He's played 28 consecutive holes without a bogey, and had the only bogey-free round of the day Saturday. He's 6-under overall, firmly in the mix heading into Sunday. What a breakthrough that would be for the Englishman to get a victory tomorrow and silence the doubters. He'll need to continue to stay away from the bogeys to pull it off.
Other than Poulter's finish, nothing drastic has happened since we last checked in. Tough to watch Vijay limp his way in, but it looks like he may finally get one back on the 16th. Holmes and Stanley head into the home stretch still tied for the lead at 8-under.
6:22 PM: J.B. Holmes just showed everybody why he is on tour and we aren't. He saves bogey after a disastrous drive on arguably the hardest hole on the course. He's now tied at 8-under with Kyle Stanley.
Ian Poulter's streak continues through 16 holes, and he's just knocked one on the 17th green. He'll have a legitimate chance for birdie to get to 7-under and within a shot of the leaders, and will almost certainly keep the streak alive with a simple two-putt. Quite a performance this week for Poulter when he needs it most.
6:04 PM: Yikes. J.B. Holmes is in big trouble on the 14th hole. He took the solo lead thanks to a birdie on the 12th, but it looks like that won't last much longer. Not even sure if the drive he just hit is still on the property.
Si Woo Kim's entertaining round is over. After making his first bogey on the 16th, he bounced back strong with a birdie on the famous 17th and a par on the 18th. His 4-under 68 gets him to 7-under and gives him the lead in the clubhouse. Big spot to be in heading into Sunday for someone in just their second Players Championship appearance.
5:55 PM: Stat of the day comes from Ian Poulter, who remarkably has not dropped a shot in 24 consecutive holes. He's channeled his inner Phil Mickelson today, scrambling from everywhere for pars. Since his birdie on the par-5 2nd, he's made 12 straight. We'll see if that can last as he heads to the gauntlet of 16, 17, and 18.
5:43 PM: All of a sudden it's getting pretty wild on the back nine. After J.B. Holmes finally got his first birdie, Oosthuizen gets one on the 11th to make it a three-way tie at the top.
Up ahead, Patrick Cantlay hit an absolutely majestic shot on the par-3 13th to kick-in range. He's now just one back.
Then there's Si Woo Kim, who continues to entertain. His second shot out of the pine straw on the par-5 16th unfortunately found the water, but he was able to knock his fourth shot inside 10 feet for a solid look at par. It doesn't go, and his bogey-free round sees its first blemish.
5:30 PM: You might've seen Rickie Fowler's tee shot find a tree off the fairway on the 18th hole today. You need to read this story from our Alex Myers about what happened to that ball. Great reporting from TPC Sawgrass by Myers.
Meanwhile, J.B. Holmes just birdied the 11th hole to tie Stanley for the lead. A bogey by Oosthuizen at 10 drops him to one back. It's going to be a battle to hold on for these guys on the back nine.
5:03 PM: Louis Oosthuizen hasn't done anything remarkable, just hanging on and playing for pars on Saturday. A birdie at the ninth hole gives the South African a share of the lead along with Stanley (8-under).
Speaking of remarkable feats, how about hitting driver from a trampled down area of the rough? Si-Woo Kim is doing his best to turn heads on Moving Day at The Players.
4:45 PM: Things haven't come easy for Kyle Stanley on Saturday. Playing in the final group of the day, Stanley bogeyed three of his first four holes -- and understandably there might be some nerves for the 2012 Waste Management winner.
But Stanley cozied in a birdie at the eighth hole to take the outright lead. That's his 17th birdie of the week (through 44 holes). Some really, really good golf. And impressive to turn around that string of bogeys to grab the lead.
4:29 PM: We've seen all sorts of plays at the new, reachable par-4 12th hole this week. How about the ricochet-tree shot onto the green for an eagle putt? Si-Woo Kim did just that.
Though he didn't hole the eagle, his tap-in birdie propels the 21-year-old into a share of the lead at 7-under for the tournament. Kim is 4-under on the day.
The four-way tie for the lead now: Louis Oosthuizen, Kyle Stanley, J.B. Holmes and now Kim, all at -7.
4:02 PM: Sergio got into the clubhouse with a 5-under 67 -- currently just two shots behind the leaders. The Masters champion is looking to win both titles in the same season, a feat only accomplished by Tiger Woods in 2001.
Meanwhile, former PGA Tour Rookie of the Year Emiliano Grillo also fired a third-round 67. Grillo is one better than Sergio -- sitting at 6-under for the tournament and just one back of the current lead.
3:14 PM: Sergio missed a good opportunity for birdie at the 17th hole, but for Sergio, just parring into the clubhouse would be ideal. The Spaniard is 6-under for the day, now just two off the lead of Kyle Stanley and Louis Oosthuizen, who both bogeyed the first hole.
3:05 PM: An eagle now from Sergio Garcia at the 16th hole has the Masters champion moving up the leader board rapidly, putting himself very much in the golf tournament.
Following three straight birdies on the 11th through 13th holes, the Spaniard holed his putt from off the green to move to 6-under. Wow . . . fresh off his green jacket win, Garcia is making a BIG move on Saturday at TPC Sawgrass.
Meanwhile, Vijay Singh just smoked his second shot at the second hole -- and just missed a 12-footer for eagle. 54-year-old Vijay is now just two back of the lead.
2:58 PM: Jon Rahm sat just a couple back heading into the day -- but he's going on the reverse on the leaderboard. And apparently not too happy about it . . .
2:50 PM: Rickie Fowler has had one of the best rounds of the day going this afternoon. Until his tee shot at the 18th hole sparked a disastrous end to his Saturday at TPC Sawgrass.
Here's a look at his lie after his tee shot.
Not exactly playable. So he took his unplayable, but rinsed the next shot. The result? A triple-bogey 7 -- leading to an even-par round of 72. At one point, Rickie was 5-under for his back nine. No longer.
2:22 PM: There's finally a green jacket sighting on the leader board at TPC Sawgrass. With a third consecutive birdie, Sergio Garcia has climbed into the top 10 at four under.
Garcia's hole-in-one on No. 17 in the opening round remains the highlight of the week, but after a couple of so-so days, he's putting himself in position to contend on Sunday. Not that we should be surprised. The 2008 Players champ is also the event's all-time money earner.
1:57 PM: It hasn't been Rory McIlroy's week at TPC Sawgrass. It's perhaps a combination of health and his new equipment -- admitting his back is still not 100 percent, and adjusting to the first tournament round with new clubs.
That new driving iron in the bag? Rory has no trouble hitting that a far ways. And after bombing one on the 12th hole on Saturday, he might need to harness that power a little bit.
This one flew about 285 yards:
ShotLink says his tee shot, with an iron, rolled out to 329 yards. The firm green landing downhill led to the crazy distance. But still, hitting an iron almost 330 yards is something none of us could say . . .
1:36 PM: Jason Day drops in a 10-foot curler for birdie on No. 5 to get to four under and move into the top 10. The defending Players champ was five under at one point during his opening round before falling back. Day is trying to become the first golfer to successfully defend his title at TPC Sawgrass.
1:01 PM: Dustin Johnson gets up and down for birdie on the par-5 ninth to complete a front-nine 34. Johnson hit a majestic 4-iron over the green to set it up, but his most impressive shot of the day (so far) came on the par-4 sixth with a wedge. After an errant 1-iron off the tee into the trees, Johnson appeared to be in jail, but he hit his second shot from the pine straw through a window in the trees to 20 feet and two-putted for par. Still, the World No. 1 has a lot of work to do if he's going to contend for a fourth win in five starts.
12:18 PM: It was a bogey finish at 18 for Perez, but it's still one of the best rounds of the week at the Stadium Course. Perez's 6-under 66 puts the veteran to 4-under for the tournament -- a big push on Moving Day indeed.
Here's his tee shot at the 17th hole. This will be tough to match for shot of the day on 17.
12:03 PM: Pat Perez is having a career rejuvenation this season. The 41-year-old won at Mayakoba to start the year for his first victory since 2009, and he has had many strong finishes in 2017.
Add to that list this Saturday push at The Players.
Perez started the day 2-over par for the tournament, but a sizzling 7-under-par round on Saturday (through 17 holes) had Double P just four back of the leaders -- with more than two hours until the final groups are teeing off. Amazing.
And he nearly won last weekend, one of many strong finishes in 2017, finishing T-2 at the Wells Fargo, nearly missing a playoff.
11:08 AM: The afternoon wave of tee times will start making their way to the first tee at the Stadium Course here shortly. What should we expect from Moving Day at The Players? Well, odds are, there won't be as much carnage as Friday.
The island-green 17th hole, which always provides entertainment, saw the most golf balls in the water on a single in 13 years.
And this 97 second video just about sums it up.