Balancing Act
Players 2022: Zach Johnson's biggest challenge as U.S. Ryder Cup captain has nothing to do with the Ryder Cup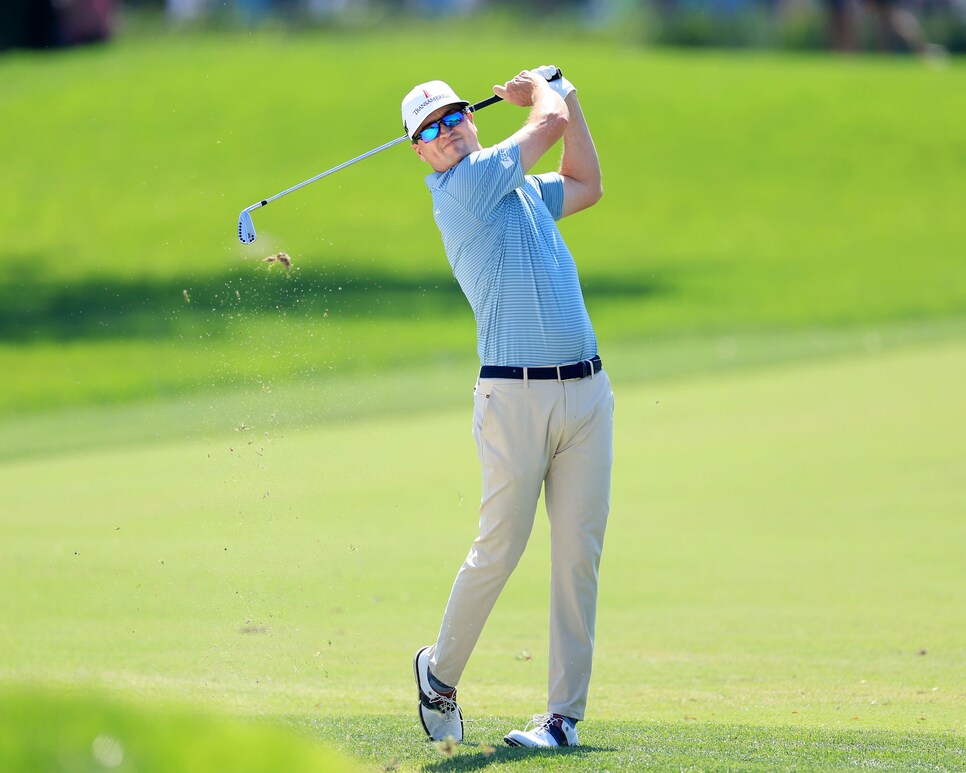 PONTE VEDRA BEACH, Fla. — Barely more than a week into his role as U.S. Ryder Cup captain for the 2023 matches in Rome, Zach Johnson hasn't yet wrapped his head around the honor bestowed upon him, let alone the enormous responsibility inherent in the job.
He'd known for much longer than that, however, months really, that he would be next man up in the chain of command, the American line of succession having been established in 2014 with the creation of the now-defunct Ryder Cup Task Force.
But the real challenge that Johnson faces, one of more immediacy and what captains on both sides of the Atlantic have had to countenance, is psychological in nature and difficult for those who still are active competitors on the PGA Tour: that is one of grasping their changed identity. They have been players all of their professional lives, and now they are asked to wear a second hat. Not many men have proven adept at handling the delicate balancing act.
"Being the captain of the U.S. Ryder Cup team isn't something you can say yes to immediately," Johnson said Tuesday at TPC Sawgrass, where is preparing for his 17th start in the Players Championship. (He begins the championship with J.T. Poston and Marc Leishman at 2:18 p.m. EST on the No. 1 tee.) "It's obviously an honor, a huge honor. But knowing what I know when it comes to Team USA and the Ryder Cup, you can't just say yes to say, 'yes.' You have to ask yourself, Is it my time? Is it best for Team USA? And is it best for me? Because, bottom line, I'm still a player."
Johnson asked himself these questions—and asked them of his wife Kim, too, because it's an investment in time they make together and an experience they get to share that is much different than the two majors and 12 PGA Tour wins Johnson has claimed during his playing career. He'll have most of this year to remain mostly a player before things really ramp up as the 44th Ryder Cup approaches next September.
But the Ryder Cup will hover in his subconscious—and increasingly dominate his conscious thoughts—from now until the first shot Sept. 29 at Marco Simone Golf and Country Club in Guidonia Montecelio, Italy. Somewhere in his head he has to save room for concentrating on a golf game that has fallen short of his expectations and standards.
Few men, players usually in their 40s when they take the captaincy reins, juggle the task well. Bernhard Langer, perhaps not surprisingly given his drive, played decently in 2004 before leading Europe to a blowout victory at Oakland Hills. Among his finishes that year was a T-4 in the Masters at 46. Last year, Padraig Harrington, at 49, snuck in a T-4 at the PGA Championship at Kiawah Island, a performance overshadowed by Phil Mickelson's astounding run to victory. They are exceptions to the rule.
Johnson, who hasn't won since his victory in 2015 Open Championship at the Old Course at St. Andrews (where golf's oldest major returns this year) won't know until he makes the journey whether he will struggle or discover rejuvenation. The 46-year-old Iowa native would like to think the captaincy will sharpen his focus and stir more motivation, not that he needs the latter.
"My motivation to work never has been an issue, and I feel even more motivated now," he said. "If my body will allow me to work on the range and in the gym, then what I can say is that I have tremendous motivation to play in the next Ryder Cup. And Charlotte [site of this year's Presidents Cup] is right around the corner, and I'd like to be in the discussion to make that team. I know with all the great young talent we have that saying that might sound pretty crazy, but I believe there is still a lot of good golf in front of me."
Johnson, who finished T-2 in the 2012 Players, hasn't recorded a top-10 in more than a year, since he was T-8 at last year's Honda Classic. He has fallen to 198th in the world. "My play of late hasn't been where I've wanted it as far as outcomes," he admitted.
But he truly believes that his selection as Ryder Cup captain is an opportunity to reset. It also gives him a goal without pressure.
"As the captain, I'm a part of the next Ryder Cup, so I'm sort of playing with house money in mind," Johnson said. "I want to play well enough to make the team. We have such great depth that I would have to play super great golf to even have a chance. But that's my goal, and goals like that tend to help you. I'm motivated to try. It almost clears your mind in a way. I still want to be, first and foremost, the best player I can be."