Why Phil had to make the switch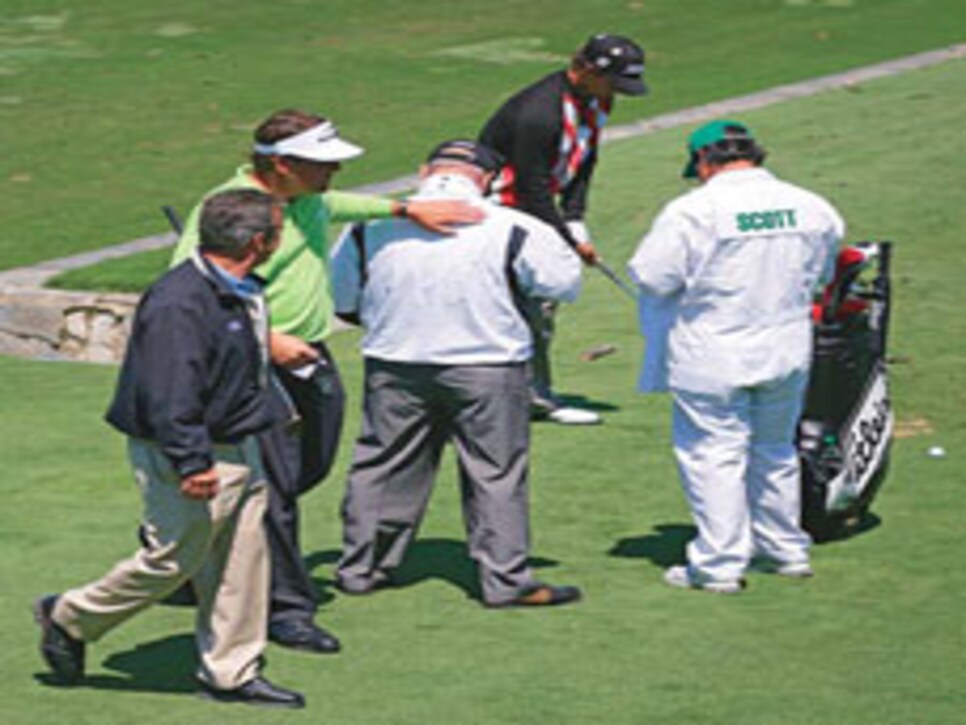 Before the change: Phil Mickelson gives Butch Harmon a pat while walking with Rick Smith at Augusta.
With 31 official victories, Phil Mickelson is near great. Or, more generously, great for his time but not for all time. After winning his first major in 2004, he quickly won two more, and he believes he can continue the surge. He still has the chance to become an all-timer.
Of course, the window grows smaller: Mickelson turns 37 on June 16. If he truly wants greatness, he must correct what no great player in his prime—with the possible exception of Seve Ballesteros—has ever had: an unreliable swing off the tee.
Mickelson is known for his loyalty, but two weeks after a disappointing finish at the Masters, he confronted the problem by terminating his long association with Rick Smith as his swing instructor, replacing him with Butch Harmon.
It was a painful decision for Mickelson. He and Smith are close friends and business associates in several projects. In 10 years together, they had many successes, most recently Mickelson's superlative week of long and accurate driving while winning early this year at Pebble Beach. There was uncomfortable waffling: Mickelson denied that a change was in the offing, even after he was seen practicing with Harmon.
It didn't help that Harmon and Smith aren't friends. Things got very complicated. But the specter of Mickelson's horribly pushed drive on the 72nd hole at last year's U.S. Open, and how much the fear of recurrence could cripple Mickelson in future majors, finally made things simple.
The switch to Harmon marks a turning point in a cycle of avoidance. Mickelson is rightfully distrustful of those who would mess with his undeniable physical gifts, and he's loath to give up driving distance. For too long his style was marked by a swing from the heels followed by a wondrous—but not always successful—recovery. He preferred dabbling in technology to deconstructing technique.
Of course, Mickelson was just too good not to find a way to win a lot anyway. But even the three majors that he won with a more conservative approach that featured a grudging fade off the tee haven't masked the core problem. Mickelson's swing, particularly with the driver, has been loaded with terrible toos: too long, too loose, too narrow, too inside out, too unbalanced, too inconsistent, too suspect under pressure.
Harmon is perfectly suited to provide the antidote. Shortening and firming up the backswing, while keeping the turn wide and deep, is the hallmark of his teaching. The principles worked in guiding Greg Norman and Tiger Woods to world No. 1, in the restoration of Fred Couples and in the honing of prize student Adam Scott.
The Mickelson-Smith relationship eventually became too conflicted for Smith to have the authority an effective teacher needs, but the forceful Harmon comes in with little to lose. If it works, his already considerable reputation will take an exponential leap. If it doesn't, it will be because the man who his parents early on discovered was a textbook example of The Strong-Willed Child simply chose not to listen.
But at the moment, Mickelson appears a classic case of the old saw, "When the pupil is ready, the teacher will appear." And he has listened before, particularly in preparation for his breakout 2004 season: to Jackie Burke on short putting, to Dave Pelz on short-game strategy and to Smith on a tighter iron swing.
In Mickelson's first three tournaments with Harmon, his driver swing was clearly tidier at the top, and he finished third twice and won impressively at the Players. "If we can get him to play out of the fairway," said Harmon, "he can rival Tiger." And be an all-timer.