The Loop
Phil wrests golf news from deer antler spray
The week in golf began with deer antler spray in the news and Vijay Singh invoking the George Costanza defense ("Was that wrong? Should I not have done that? I tell you, I gotta plead ignorance on this thing"). A more credible explanation might have been a twist on an old cliche, that it takes a five-point buck to make a buck.
Singh subsequently withdrew from the Waste Management Phoenix Open, depriving the large and raucous crowds there the opportunity to render their vocal judgment on one of the game's oddest controversies. However the PGA Tour views his transgression, Singh playing the 16th hole at the TPC Scottsdale might have been punishment enough.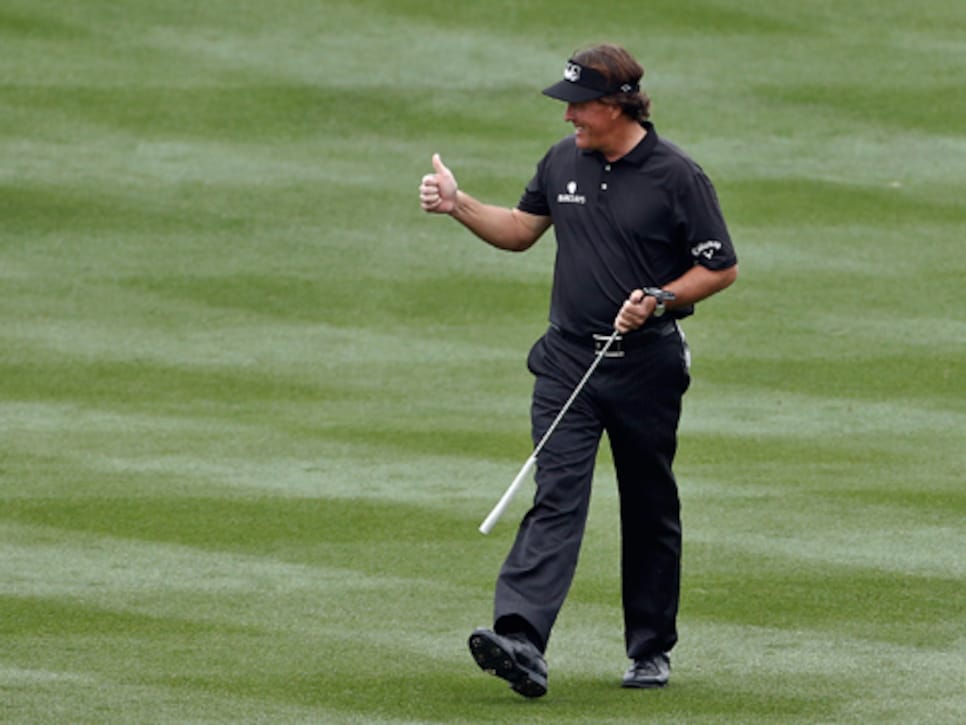 Phil Mickelson greets fans walking up the 18th fairway at the Waste Management Phoenix Open. Photo: AP Photo/Ross D. Franklin
Into this void stepped Phil the Thrill, Mickelson his own three-ring circus, wresting the news from deer antler spray (and beam-ray lights and hologram chips, the other accoutrements of Singh's training regimen).
Mickelson was dazzling all week, opening with an 11-under par 60 that came within an 18th-hole lipout of 59 and leading wire-to-wire in winning for the 41st time in his PGA Tour career.
Nick Faldo once won the British Open by making 18 straight pars in the final round. The odds of Mickelson ever playing with similar efficient monotony are roughly the same as deer antler spray curing your slice. Or your rheumatism.
It is what makes him the greatest show on turf. You never know what to expect, other than to expect something special when you least expect it. For instance, a week after struggling to make the cut in his hometown, he exhibited his Hall of Fame bona fides at the Phoenix Open.
The desert hare that he pulled from his hat was a first-round 60 that he followed with a 65, a round that included a double-bogey on the 18th hole, for those who might have been given reason to expect sustained brilliance. His third-round 64 included birdies on the last four holes and he hit it stiff at 16, thrilling the stadium crowd there that never requires a reason to raise a ruckus.
The big tease carried over into the final round, too, where he allowed his six-stroke lead to be halved by Brandt Snedeker, before closing out his third career victory in this event, this one by a margin of four.
Mickelson and the Phoenix Open were made for one another. An Arizona State graduate and former resident of Scottsdale, Mickelson is akin to a favorite son here, and the manner in which he connects to crowds has further endeared him.
"Phil has picked up where Arnold [Palmer] left off," NBC's Peter Jacobsen said, alluding to the man who set the standard in developing a rapport with crowds. "He really embraces the whole atmosphere, not just this hole, but he does it every week. He's consistent."
The Phoenix crowds, meanwhile, provide an annual and necessary reminder that golf needn't be a funereal experience, that fun has its place. And they never have more fun than they do when Mickelson is in the middle of it, though they might have proved otherwise had Singh elected to play.
One can only speculate what the volatile mix of sun, beer and deer antler spray might have produced, but suffice it to say that it would have been memorable.