The Loop
Phil Mickelson's U.S. Open disappointment was the easier topic to address on Wednesday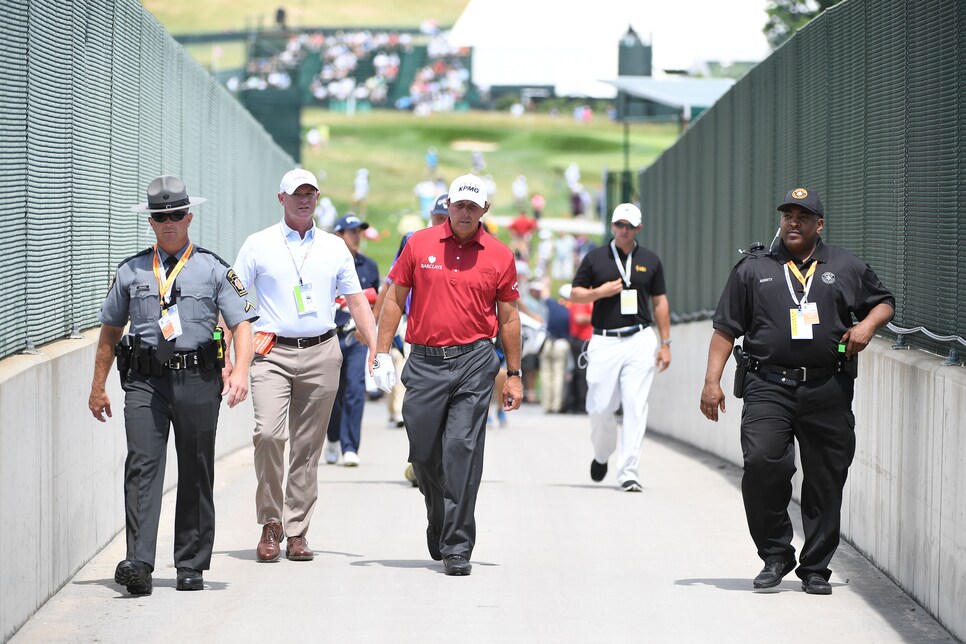 OAKMONT, Pa. -- Phil Mickelson has never won a U.S. Open, finishing second a record six times, and he has never arrived at a major championship surrounded by so many questions that had so little to do with golf.
On Wednesday, Mickelson faced more inquiries about a Securities and Exchange Commission insider trading investigation in which gambler and friend Billy Walters was indicted and led to Mickelson agreeing to repay the SEC more than $1 million that he profited from an inside stock tip.
"I've actually known for months what was going to happen, and I'm just glad that it finally is out and over with and behind me," Mickelson said. "So it might have something to do with the fact that it's behind me that I've played well the last two weeks, and I feel like I'm playing stress-free and much better golf. That might have something to do with it. I don't know.
"I'm excited I'm at one of my great opportunities. I view this week as a great opportunity to complete something that would be historic in my mind in a career."
Mickelson, who would complete the career Grand Slam with a victory this week at Oakmont, arrived off a runner-up finish last week in Memphis and a tie for 20th at the Memorial the week before.
"As I said in the past, I've got to be more careful in my associations going forward and so forth," he said.
Last month, however, things appeared much more troubling for the five-time major champion when his name was attached to the SEC case.
Mickelson was named as a relief defendant -- meaning that while he benefited from a wrongdoing he was not accused of anything illegal -- with the SEC citing a 2012 conversation between he an Walters. Their findings asserted the two were friends and the golfer owed money to Walters for gambling debts.
The complaint said that Walters had inside information from then-Dean Foods chairman Thomas Davis about an upcoming spin-off and Walters advised Mickelson to buy its stock. Mickelson allegedly bought $2.4 million worth of the stock the next day and when the stock price rose, profited $931,000.
"The complaint does not assert that Phil Mickelson violated the securities laws in any way. On that point, Phil feels vindicated," a statement by Mickelson's attorney said last month. "At the same time, however, Phil has no desire to benefit from any transaction that the SEC sees as questionable."
Mickelson has since re-paid his gains, including $105,000 in interest.
When asked on Wednesday whether the PGA Tour had contacted him in the aftermath of the investigation, Mickelson paused before responding.
"Actually, I'm not going to comment on that," he said. "Good question, though, but I'm not going to go there."
PGA Tour spokesman Ty Votaw, when contacted by GolfDigest.com and asked if the tour had spoken with Mickelson or planned to, and whether he would be subject to disciplinary action, also said the tour would have no comment.
Though the tour's policy is not to comment on disciplinary matters, there is a section in the player handbook specific to gambling that states a player shall not "associate with or have dealings with persons whose activities, including gambling, might reflect adversely upon the integrity of the game of golf."
For Mickelson's part, he seemed relieved to move on, while also acknowledging he won't make the same mistake again.
"As I said in the past, I've got to be more careful in my associations going forward and so forth," he said.