The Loop
Phil Mickelson's redemption: U.S. victory makes him 'America's ultimate Ryder Cup legend'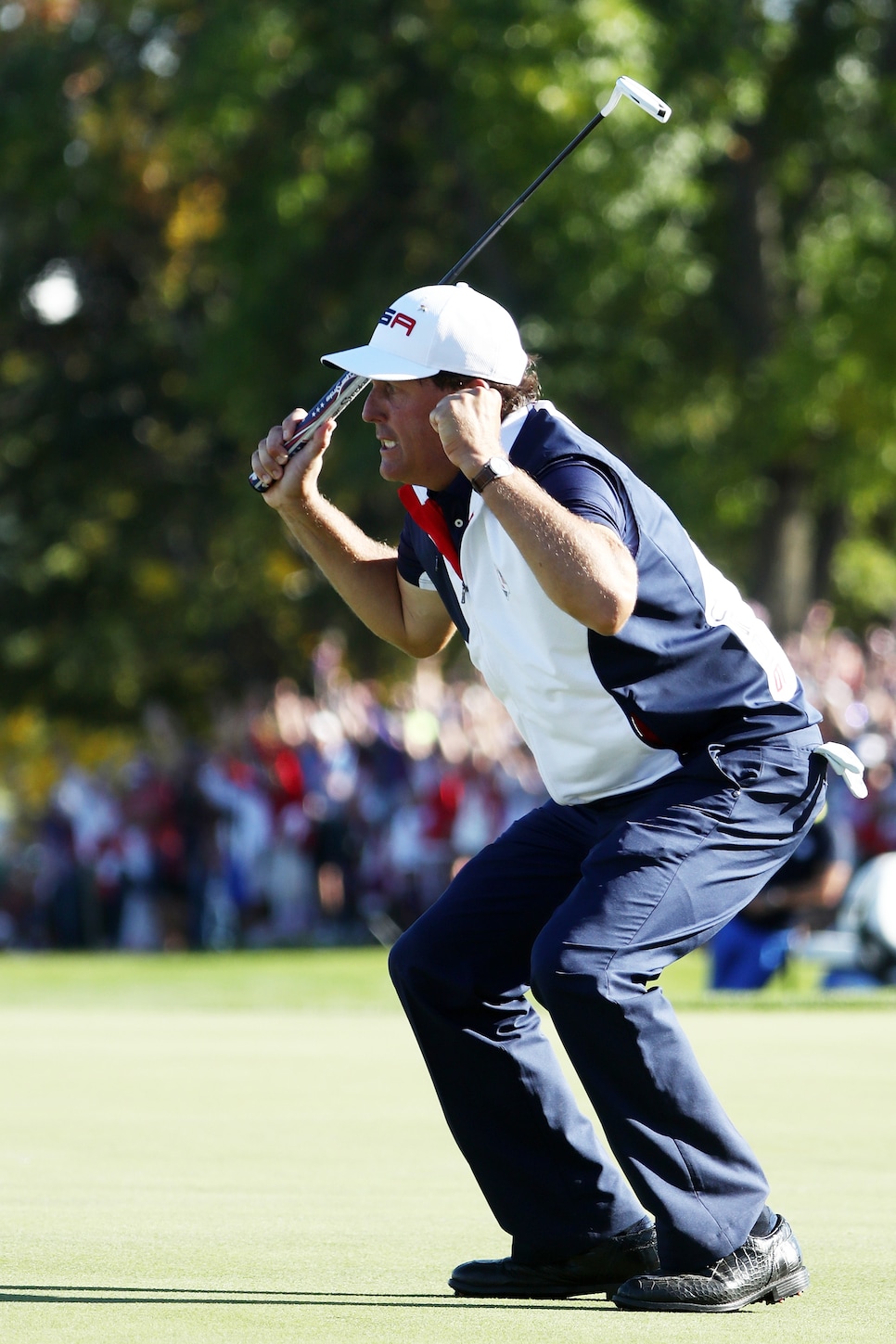 CHASKA, Minn.—Phil Mickelson began Ryder Cup week begging for forgiveness and ended the week deserving everyone's forgiveness.
The Captain-crushing, low-rough-advocating, Task Force-plotting, "power behind the throne" (as Johnny Miller branded him), sealed his place as America's ultimate Ryder Cup legend. The 11-time Ryder Cupper overcame an unfortunate mini-controversy with former captain Hal Sutton, a meddlesome swing that had instructor Andrew Getson constantly on call and more pressure than anyone in Chaska County in battling Sergio Garcia to a halve. It turned out to be a match for the ages, on the level in Mickelson's mind with the quality of golf he played during his Open Championship final-round 65 at Royal Troon.
But unlike that heart-wrenching loss to Henrik Stenson, this time Mickelson leaves as the week's biggest winner.
The masterful on-course performance at Hazeltine National, capped by clutch downhill 15- and 18-footers for birdie on the last two holes, was matched only in significance by Mickelson's obvious behind-the-scenes passion for the Ryder Cup cause. His presence was so powerful—or sinister if the Americans had failed spectacularly again—that the opening press-conference question was inevitably directed his way.
Q. What do you think of Captain Love's leadership style (laughter)? PHIL MICKELSON: (Shaking head). We had a great week this week. (Entire team turning, all focusing intently on Phil). We had a lot of fun together as a team, and we played some great golf and we are really excited to have won. (Team applauding).
All laughs aside, Mickelson's post-Tom Watson, post-Hal Sutton, full-court press could have left permanent career damage. Although, Mickelson's place as a future captain in 2024 was secure either way, his Ryder Cup playing career could have ended on a sour note and his legacy of playing more matches than anyone (45) forgotten.
Instead, Mickelson overcame the pressure, scrutiny and even all-out mocking of his Oz-like presence to post 10 birdies to Garcia's nine.
"The pressure started when some dumb ass opened his mouth two years ago in the media center," Mickelson said to huge interview room laughs.
The remarkably civil back-and-forth between Garcia and Mickelson included only one outside-the-ropes interruption from ninth-hole photographers, but was otherwise a professional battle between two veterans of the Ryder Cup. Conversation was non-existent outside of putt concessions. Family and friends galore watched every shot from the start, including wife Amy and their three children.
While Mickelson was initially disappointed to only earn a halve against someone he won't be buddy-tripping with anytime soon, the 46-year-old later admitted the tie was appropriate and the performance a cleanser for the early week brouhaha.
"I know that I birdied five of the last seven and he birdied the last four, and it was probably a fitting result with a tie, even though I wanted the win. As long as we won the Cup and brought this Cup back to America, that's all that really mattered. But the match itself was really good."
Mickelson's presence loomed so large that a Team USA lost would have been hung on his resume as much as Davis Love III's. Now Mickelson leaves Minnesota with 22 career Ryder Cup points, trailing only Billy Casper (23½) and Arnold Palmer (23). He's emboldened to make the 2018 team in Paris as a 48-year-old and seal his place as America's greatest Ryder Cup presence. And it'll make for the ultimate Mickelson family vacation.