The Loop
Phil Mickelson's on-course dance moves, Justin Thomas' puppy-aided win, and a golf curse gets lifted
Welcome to another edition of The Grind, where we haven't looked forward to Thanksgiving this much since Barry Sanders retired. Now in addition to a football feast, sports fans will get a nice helping of golf with THE MATCH (actual working name) between Tiger Woods and Phil Mickelson. Of course, golf should already have been part of this holiday, but the Skins Game was canceled in May of 2009. "Coincidentally," that Thanksgiving, Tiger put the sport in the news for different reasons. You know, his "Hello, hydrant" moment.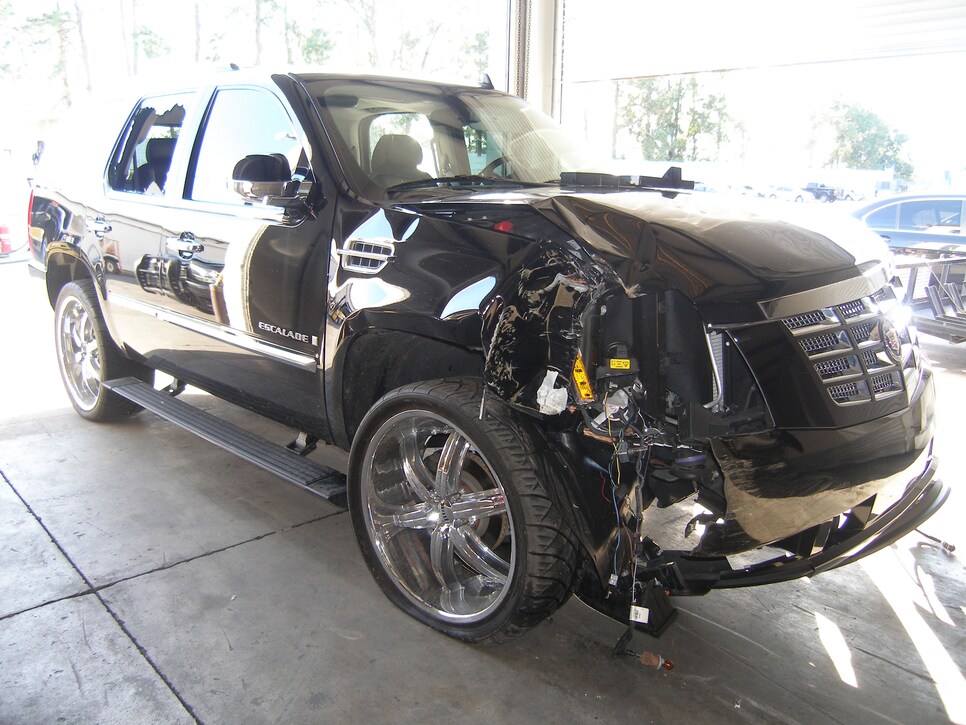 I've had trouble sleeping on Turkey Day ever since, getting night sweats in fear of another Woods-related scandal breaking and consuming my life (or maybe I just can't handle eating that many mashed potatoes anymore). But hopefully, this "Skins Game Curse" has finally been lifted, and any tossing and turning this year will be out of excitement for THE MATCH. But we've still got three more months until THE MATCH, including a THIS IS MAJOR week this week. Here's what else has us talking.
Justin Thomas: JT cruised to a four-shot win at the WGC-Bridgestone to tie current No. 1 Dustin Johnson and Bubba Watson for the most victories on the PGA Tour this season. More importantly, this was his first PGA Tour title in front of his grandparents:
Aww, how sweet. But Thomas was also aided by the presence of puppies:
Georgia Hall: Congrats to the 22-year-old and reigning Ladies European Tour Player of the Year on claiming her first major at the Women's British Open. Hall did it in dramatic fashion, chasing down Pornanong Phatlum in front of a home crowd at Royal Lytham. The only drawback to her success is that we will forever have to hear Nick Fado prattle on about her because she was kind of named after him (Georgia in honor of Faldo's Masters win in 1996).
Akshay Bhatia: In case you haven't heard the name, this kid's legend is growing like a certain other phenom a little more than two decades ago. OK, so Tiger comparisons are never fair, but Bhatia basically wins every big junior tournament these days and he added to his incredible resume with a second straight Junior PGA Championship victory. And just look at the winning EAGLE chip this 16-year-old North Carolina native holed to win this time:
Hop on board the Bhatia bandwagon while there's still room.
THE MATCH: Tiger vs. Phil with $10 million on the line?! OMG, this thing is really happening, folks! Let the hype — and trash-talking — begin!
Tiger's PGA Championship chances: Firestone forced Tiger to hit more drivers this week. It did not go well. After playing himself into contention through two rounds, Woods had a disastrous weekend, posting two 73s, including a wild final round in which he made just five pars. It sounds like the PGA at Bellerive is going to be a shootout, and I'm not sure Tiger has the firepower anymore to hang. On the bright side, he's still got a great chance to win THE MATCH.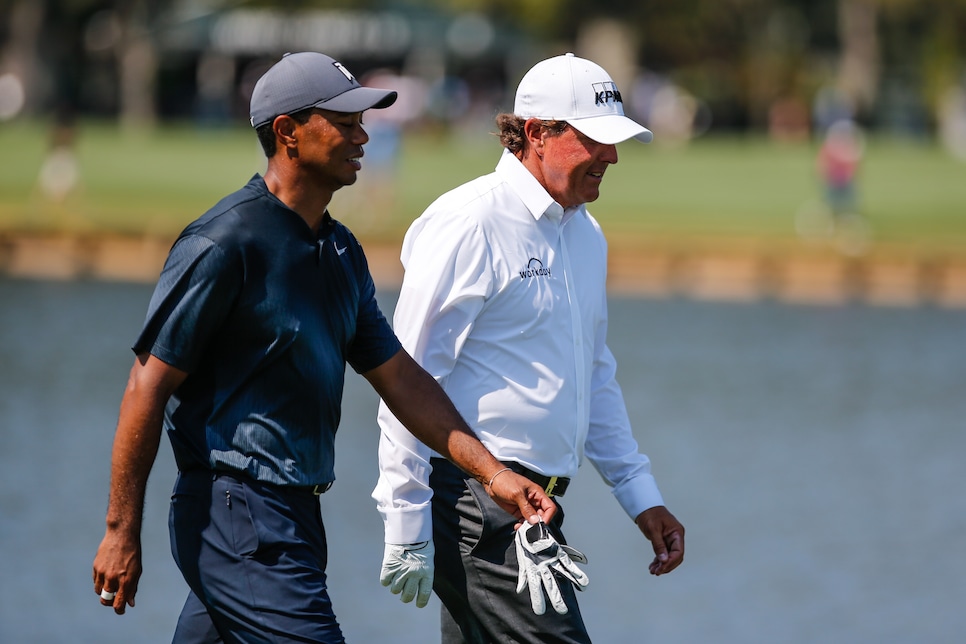 Sam Saunders' storybook ending: Arnold Palmer's grandson just can't quite get over the hump to get that first PGA Tour win — and this missed opportunity might sting the most. Right in the mix through 54-holes at the opposite-field event Barracuda Championship, Saunders shot -1 on Sunday. With Modified Stableford scoring. That's not good. And that dropped him to T-7 and left golf media everywhere shelving their best "King"-related headlines for another day. Congrats to Andrew Putnam for winning his maiden PGA Tour title, by the way. Sadly for Andrew, he's not related to golf royalty so his victory didn't get a lot of coverage. But he did get quite the congratulatory hug/kiss from his wife, Tawny:
https://www.instagram.com/p/BmJF4lXjBJN/?utm_source=ig_share_sheet&igshid=148i5d1boljul
Pretty sure he'll settle for that.
Firestone: The coolest thing to do during coverage of the WGC-Bridgestone Invitational was to criticize this Akron course.
And I'm going to pile on. As much as I'd like to see Tiger continue to play a course he (usually) dominates on, I'm over it. I used to think of it fondly because my grandpa told me he parred the final four holes there once, but I get the feeling that's all he remembered from his one round there. Farewell, Firestone.
It's PGA Championship week, and for the last time, this will be "Glory's Last Shot" when it comes to being a major. The PGA will move to May beginning next year and you will magically see a lot more heat/humidity-adverse media members in attendance. We are not a tough bunch.
Random tournament fact: After an even hotter than usual heat wave in the St. Louis area, some of Bellerive's greens aren't looking so, um, hot:
And PGA Tour pros aren't a particularly tough bunch either.
RANDOM PROP BETS OF THE WEEK
— The PGA Tour is thrilled about THE MATCH: 10 million-to-1 odds
— Justin Thomas took those puppies to St. Louis: 10-to-1 odds
— This isn't the last you'll hear about Bellerive's greens: LOCK
Pretty cool shot of Rory hitting a shot by St. Louis' Gateway Arch at an OMEGA event: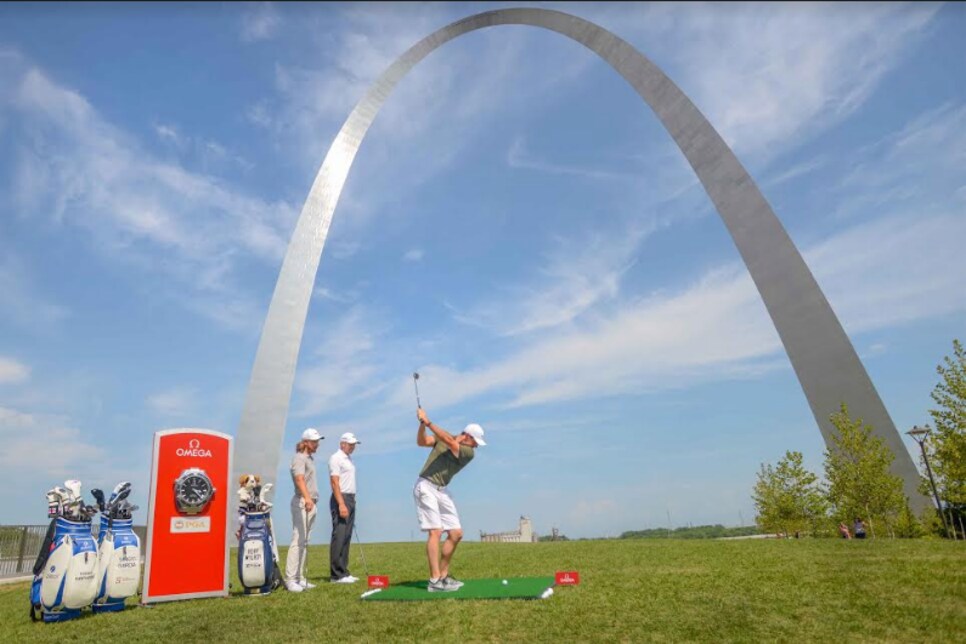 If you look quickly, it looks like Protracer.
Say what you will about wearing a dress shirt on the golf course (I still think it looks ridiculous), but give credit to Mizzen and Main for one of the most-talked-about golf commercials ever.
It also spawned this fantastic spoof by the guys at No Laying Up:
And thanks to CBS' Amanda Balionis, we know Phil didn't use a stunt double for these moves:
"Look at the movement. The attitude," Phil says. "It's a little bit more difficult to pick up than most people would think, but I do privates." Classic.
Great hashtag and good luck, Kevin. Although, if you don't get to play, I've heard St. Louis in August is just dreamy.
THIS WEEK IN DUSTIN JOHNSON-PAULINA GRETZKY-JANET GRETZKY-TATUM PUBLIC DISPLAYS OF AFFECTION
Gotta admit, I thought this was Paulina posing with Tatum at first, but it's grandma:
Initially, I also thought she was naked from the waste down so it might be time to get my eyes examined. . .
THIS WEEK IN TOUR PROS ARE JUST LIKE US!
Again, we present Phil dancing. On the course!
Who among us hasn't done a little jig after hitting a great recovery shot? Of course, we shouldn't be surprised. This is a man who did this at last year's Presidents Cup:
"I would argue [Tiger] got the least out of his talent of any player in history." — Brandel Chamblee. Well, that's one way of looking at it.
Tyler McCumber won a PGA Tour Canada event on a course designed by his dad, 10-time PGA Tour winner Mark McCumber. I've heard of parents pulling strings to help out there kids, but jeez. Anyway, we're glad an American athlete played well in Canada following Johnny Manziel's disastrous CFL debut on Friday. . . . $40,000 worth of marijuana was found in some abandoned golf bags in Texas. Has anyone seen Snoop Dogg lately? . . . After going winless for five years, my man Dave Coupland, who I own a couple shares of, won for a second time on the PGA EuroPro Tour. Keep this up, Dave, and we'll both be able to retire early. . . . And finally, I documented my recent Scottish golf adventure and offered some takeaways in case you needed any motivation to ever take a golf trip to Scotland around the Open Championship. Basically, you watch great golf, play great golf (courses), and drink great whisky.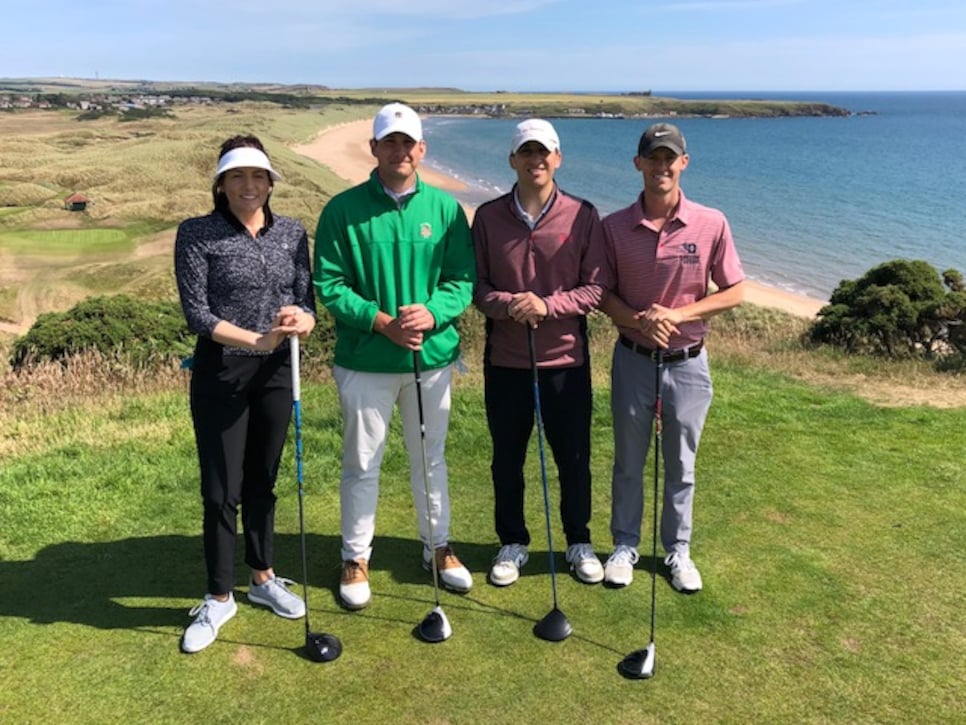 I know, it's a really tough sell.
RANDOM QUESTIONS TO PONDER
Has Johnny Miller trademarked Johnny Golf?
Who would win a Tiger vs. Phil dance-off?
Can I buy shares of Akshay Bhatia?