The Loop
Phil still has plenty to play for in 2013
NORTON, Mass. -- The clubface no sooner made contact with the golf ball than Phil Mickelson uttered a rather mournful, "Oh no, sit!" No dice. Cart path. Wicked bounce. Hazard.
But this is Phil the Thrill we are talking about. Of course he would find his ball and of course he would shun easy answers and decide to play out of the hazard.
What resulted was an all-world bogey -- he actually had about a 30-foot run at par -- to finish off an eight-under-par 63 in the first round the Deutsche Bank Championship.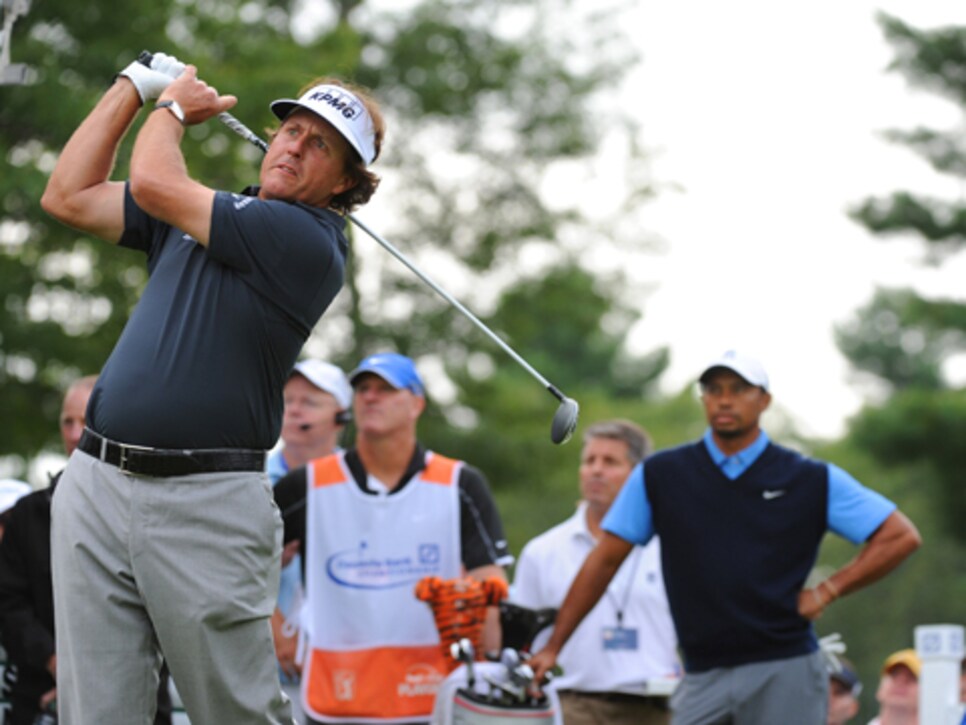 *Tiger Woods watches Phil Mickelson tees off at the tenth hole during the first round of the Deutsche Bank Championship. Photo: Stan Badz *
There is something about the way Mickelson lumbers around the golf course that makes you want to say, "Hey, ya big galoot, how the heck ya doin'?"
That answer right now would seem to be, "Just fine, thank you."
Lefty, who flew home from New Jersey to California on Sunday night to be there for his daughter Amanda's first day of high school then flew back to Massachusetts on Wednesday night, was in full Phil mode Friday at TPC Boston.
Playing with Tiger Woods and Adam Scott, Mickelson played the back nine first and started birdie-birdie, made a pair of ho-hum pars then closed with five birdies in a row for a tasty 28 going out.
He bogeyed this tenth hole -- No. 1 -- from the greenside bunker, missing a seven-footer, knocked his second shot to 18 inches on the par-5 second hole for eagle to get to eight under par and the 59 watch was on -- he needed 12 under for that magic number.
But five pars in a row ended that dream, a birdie on No. 8 got him to nine under and the bogey at the last returned him to eight and the 63, which was good enough for the first-round lead.
"I didn't hit shots exceedingly close, other than that eagle on 2," Mickelson said. "But what I did is make a lot of 12- to 20-foot putts, the ones that you need to make to get a really hot round."
And "really hot" seems to be the way to describe Mickelson right now. He closed The Barclays last week with a six-under par 65, after a 70 in Saturday's third round, to finish T-6.
In his last two rounds -- Sunday at Barclays and Friday here -- Mickelson has made 15 birdies and an eagle.
"I felt like Saturday is when it started to click," Lefty said. "I had a good feeling that I as going to have a low round on Sunday. And I felt very confident that I was going to have a good week here."
That confidence probably spiked a little bit when he saw his pairing for the first two rounds here. Quite frankly, and even Mickelson will admit this, after more than 20 years on tour he struggles at times with focus and concentration.
But there are two things that get Phil's full attention: Winning major championships, as he did last month at the British Open, capturing the claret jug at Muirfield, and beating Tiger Woods.
Asked after his 63 dusted the 68 put up by Tiger if playing with Woods still brings out the best in him, Phil said: "After today it's hard to think any differently."
Using his Phrankenwood -- a smallish, old-timey looking wood with extra loft -- as his driver, Mickelson hit 11 of 14 fairways and converted that into 14 of 18 greens, then needed only 25 putts.
The only really bad swing was that one on No. 9, his last hole, which was a pull-hook into the right hazard.
"You know, I just mentally went blank for a swing," was Mickelson's typically honest explanation of the wayward drive on the last hole. "It happens. And I just try to forget it. It only cost me one shot."
This is a pretty good time for Mickelson to kick his game into high gear. There are a few things he has never accomplished in his remarkable career that are within reach.
Phil has never led the PGA Tour money list.
He has never been PGA Tour Player of the Year.
Nor has he won the FedEx Cup or been No. 1 in the World Ranking.
All but the last are possible with three more big events to play -- two FedEx Cup playoff events and the season-finale Tour Championship.
"It's something I'd like to capture," Mickelson said about the FedEx Cup. "And I just want to play well these next three weeks because I feel like if I can add a win or two I have a realistic chance at Player of the Year."
The good news for Mickelson is that he has the same pairing in Saturday's second round at 1:10 p.m. as he did in the first -- Scott and Woods, the two guys he trails in the FedEx Cup standings.
And while Tiger pushes Phil into a higher gear, Woods was a bit cranky after his opening-round 68 -- or at least abrupt.
"The back is fine, all good," he replied when asked about the injury for which he says he's been treated "two or three times a day" since he tweaked it over the weekend at the Barclays.
"It was decent today," he said. "I didn't hit it as well as I'd like to."
The best indication that Woods' back is better? Asked if he was going to practice after his round, Tiger replied: "Going right now."
Earlier he had said it was "day to day" as to whether the back issues would interfere with his practice routine.
"Not a lot going on for me," Tiger said about his scoring opportunities, "but Phil was getting everything."
Now, I'm not exactly sure what that means, but I am betting that when Mickelson reads those words he will find a slight in there somewhere and use it for a bit of motivation.
On Friday, Mickelson shot 63 while paired with his human 5-Hour Energy Drink. Maybe playing with Tiger again on Saturday will motivate him enough to take control of this tournament and bring the FedEx Cup in sight.
Hey, it ain't a major, but Lefty is playing with Woods. And that seems to be motivation enough.