News
Phil Mickelson says there are "a number" of PGA Tour pros who "are loose" with marking their golf balls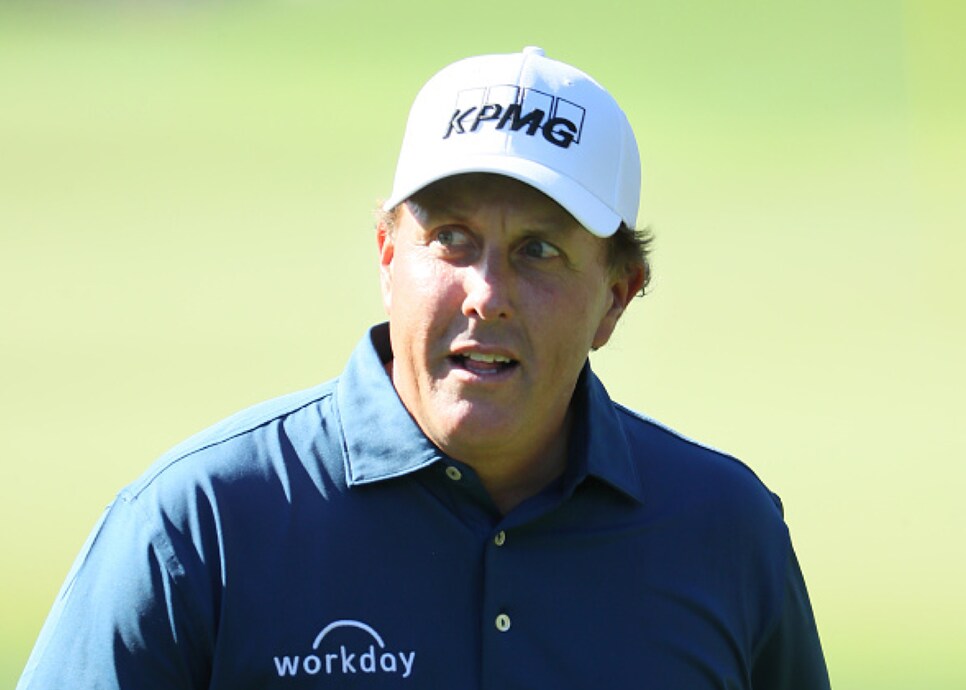 AUGUSTA, Ga. -- Phil Mickelson was one of many Masters participants on Monday or Tuesday to be asked about Lexi Thompson's rules controversy at the ANA Inspiration. However, the five-time major champ provided the most eye-opening answer.
Instead of focusing his response on the LPGA star's situation, Mickelson turned the attention to his own colleagues on the PGA Tour.
"So rather than address that specific instance, what I would say is this: I know a number of guys on tour that are loose with how they mark the ball and have not been called on it. I mean, they will move the ball two, three inches in front of their mark, and this is an intentional way to get it out of any type of impression and so forth and I think that kind of stuff needs to stop," Mickelson said. "But I think it should be handled within the tour. I think that the tour should go to those players and say, look, we've noticed you've been a little lax in how precise you've been in marking the ball. We'd like you to be a little bit better at it—and see if that doesn't just kind of fix the thing."
Mickelson did not elaborate on who might be culpable or whether he has spoken to PGA Tour officials in more depth about the matter.
Thompson was assessed a four-stroke penalty during Sunday's final round—two strokes for improperly marking her ball on the 17th green during Saturday's round and an additional two strokes for signing an incorrect scorecard. She went from leading the year's first major championship by two shots to trailing by two, and ultimately lost in a playoff to So Yeon Ryu.
Slow-motion replays showed Thompson replacing her ball a fraction of an inch away from the original spot -- nothing near the two or three inches Mickelson mentioned. Many tour pros, including Tiger Woods came to Thompson's defense on Sunday through social media. Mickelson did it in person on Tuesday.
"But to have a tournament be decided like that, with all the scenarios going around, as far as viewers calling in, as far as it being a one‑foot putt with really no advantage, just a little bit of loose marking, if you will, something that happens all the time, intentionally and unintentionally, I just think that's -- I think it should be reversed. I think that she should be given the trophy."
Minutes later, Mickelson was asked a follow-up question about whether he was a proponent of selectively ignoring the rules of golf in certain situations. He was much more vague with his response.
"Well, this is why I'm not trying to, I didn't want to comment on it directly because you—I don't want my words to be taken as though I'm commenting on the specific situation. So I don't really have a great answer for you," Mickelson said. "I don't really want to expand on what I've already said. I feel like we've all kind of been a little lax at times in the markings of our golf ball and I hate to see it cost somebody a major championship because of that. But yet I would like to see that type of nuance of the game improved on both tours, especially ours. So I'm not really trying to comment on that specific situation, even though it's what brought this to the forefront."
Instead, Mickelson brought a different issue into focus—and opened the door to a new line of questioning.