The Loop
Phil Mickelson says team vibe is better this time, manages to criticize Tom Watson and Hal Sutton as captains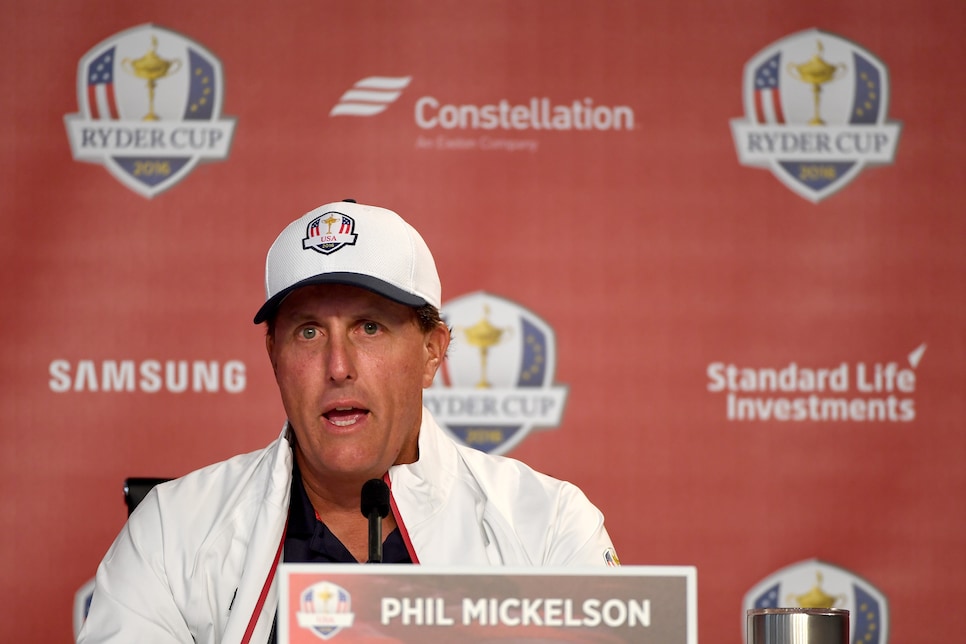 CHASKA, Minn. -- The vibe inside the U.S. team room at this year's Ryder Cup is a little different, at least compared to two years ago at Gleneagles and the train wreck that was Tom Watson's captaincy.
Players have been sharing their opinion and reportedly having it heard by captain Davis Love III. The atmosphere is less tense and more relaxed.
There is one similarity that has carried over, however: Phil Mickelson voicing a sharp opinion.
It started out harmlessly enough Wednesday with Mickelson saying everyone is excited to be at Hazeltine National. Then he pointed out the differences between the leadership of this year's team versus 2014.
"I think that when you look back on what the difference is, when players are put in a position to succeed, oftentimes, more often than not, they tend to succeed and when they are put in positions to fail, most of the time they tend to fail," Mickelson said. "This is a year where we feel as though Captain Love has been putting us in a position to succeed. He's taken input from all parties. He's making decisions that have allowed us to prepare our best and play our best, and I believe that we will play our best."
Talk about a not-so-veiled swipe at Watson.
But Lefty didn't stop there. He went back a dozen years to Oakland Hills when Hal Sutton famously paired Mickelson and Woods for each of the first two sessions the opening day.
They lost 2 and 1, and 1 up, and the Americans went on to get crushed by nine points. It was the biggest blowout in nearly 25 years.
"We were told two days before that we were playing together," Mickelson said Wednesday of the infamous pairing. "And that gave us no time to work together and prepare.
"[Tiger] found out the year before when we played at The Presidents Cup in 2003 that the golf ball I was playing was not going to work for him. He plays a very high-spin ball and I play a very low-spin ball, and we had to come up in two days with a solution. So I grabbed a couple dozen of his balls, I went off to the side, and tried to learn his golf ball in a four- or five-hour session on kind of an isolated -- one of the other holes out there trying to find out how far the ball goes. And it forced me to stop my preparation for the tournament, to stop chipping and stop putting and stop sharpening my game and stop learning the golf course, in an effort to crash-course and learn a whole different golf ball that we were going to be playing.
"And in the history of my career, I have never ball-tested two days prior to a major. I've never done it. It doesn't allow me to play my best. What allows me to play my best is to learn the course, sharpen my touch on the greens, sharpen my chipping out of the rough and ball striking and so forth.
"Instead, I'm taking four or five hours and I'm out trying to learn another ball to allow us to play our best. Had we known a month in advance, we might have been able to make it work. I think we probably would have made it work. But we didn't know until two days prior."
Mickelson went on to say he wasn't trying to knock anyone because he "loved" how decisive Sutton was. If that's not a knock, what is?
"That's an example of starting with the captain, that put us in a position to fail and we failed monumentally, absolutely," Mickelson continued. "But to say, well, you just need to play better; that is so misinformed because you will play how you prepare."
Love won't hit a single shot, just like Watson didn't two years ago, or Sutton 12 years ago, but clearly setting the tone has an impact when it comes to the U.S. team, which has lost six of the last seven Ryder Cups and eight of the last 10.
So what about this year's preparation? As Mickelson said, there's been plenty of input.
"I feel like I personally can go into any of the captains and say, here is what I'm thinking, and it would be seriously taken," Jordan Spieth said. "I feel like I do have an impact. But I don't think that's any different from any other player, either."
Will any of it make a difference? We'll find out starting Friday.