The Loop
Phil Mickelson's Michael Jordan connection, Tiger Woods' green jacket comeback, and a legend gets called a "complete turd"
Welcome to another edition of The Grind, where we love the fact that Phil Mickelson is "in the process" of becoming a member at Michael Jordan's exclusive new golf club, The Grove XXIII. Is Lefty waiting on letters of recommendation or something? Is he just taking his time to avoid paying dues this year? Do he and Amy still have to attend a few functions and pretend they're having a great time to make sure they're "a fit"?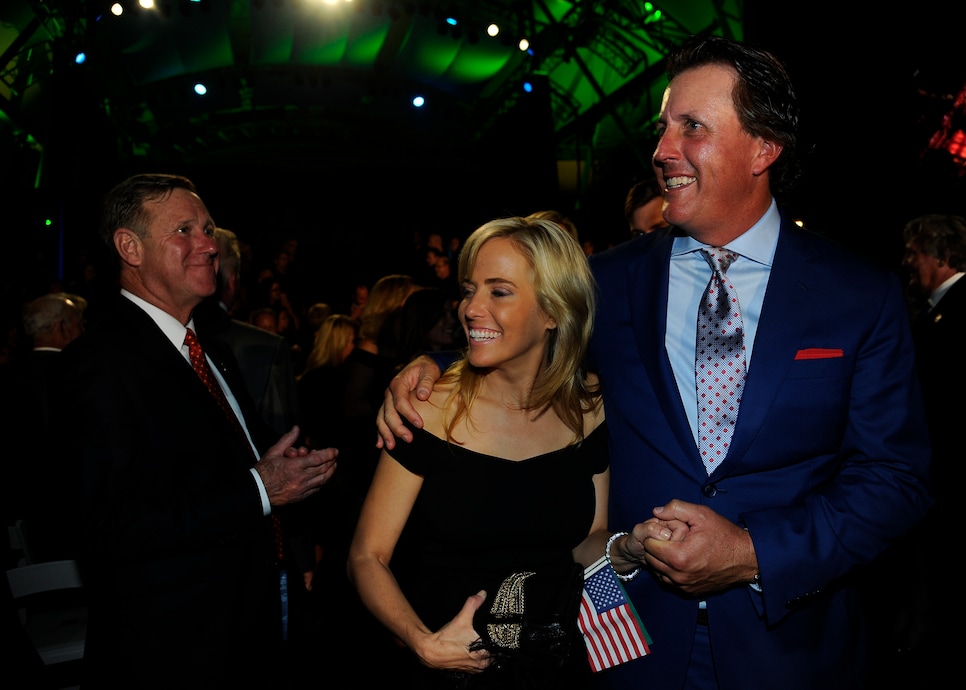 Regardless, we're pretty sure Phil is a fit with the owner based on their history of throwing a few bucks around on the course. Oh, to be a fly on the grillroom wall when these two trade tales—and deeds to houses. In fact, I think we may have found the next hit reality TV show: "Michael Jordan's Playground." OK, so we can work on the title, but this thing would be ratings gold. Until then (fingers crossed), here's everything else that's (still) happening in the world of golf.
Tiger's trash talk: Or rather, trash show-and-tell. Everyone is doing video calls these days, even the guys involved in The Match: Champions for Charity. So when Phil Mickelson taunted Tiger Woods with a green jacket photo, Tiger responded by getting the actual green jacket.
Perfect. And this thing is actually happening because we finally have a date (May 24), a venue (Medalist), and a format (a mix of best ball and alternate shot). As long as Phil doesn't have his playing interview with other members of The Grove that day, we should be good.
Joost Luiten: Congrats to the six-time European Tour winner for his unofficial victory in the BMW Indoor Invitational powered by Trackman. Eighteen tour pros teed it up at the Old Course on simulators and Joost came out on top thanks to splendid ball-striking and a lot of yelling at his golf ball:
We're also buying Lee Westwood's backyard:
Great reaction. And great white belt.
Joel Dahmen's course record: Congrats to the PGA Tour pro for firing a 58 at Mesa Country Club, including a 26 on the back nine. Dahmen was "only" two under through seven before going an absurd 12 under over the final 11 holes. Must be nice.
Speaking of nice, how about the 69 Chicago Cubs second baseman Ian Happ shot in the same group? Too bad he got dusted by ELEVEN shots. Don't quit your day job, Ian.
Joel Dahmen's social distancing: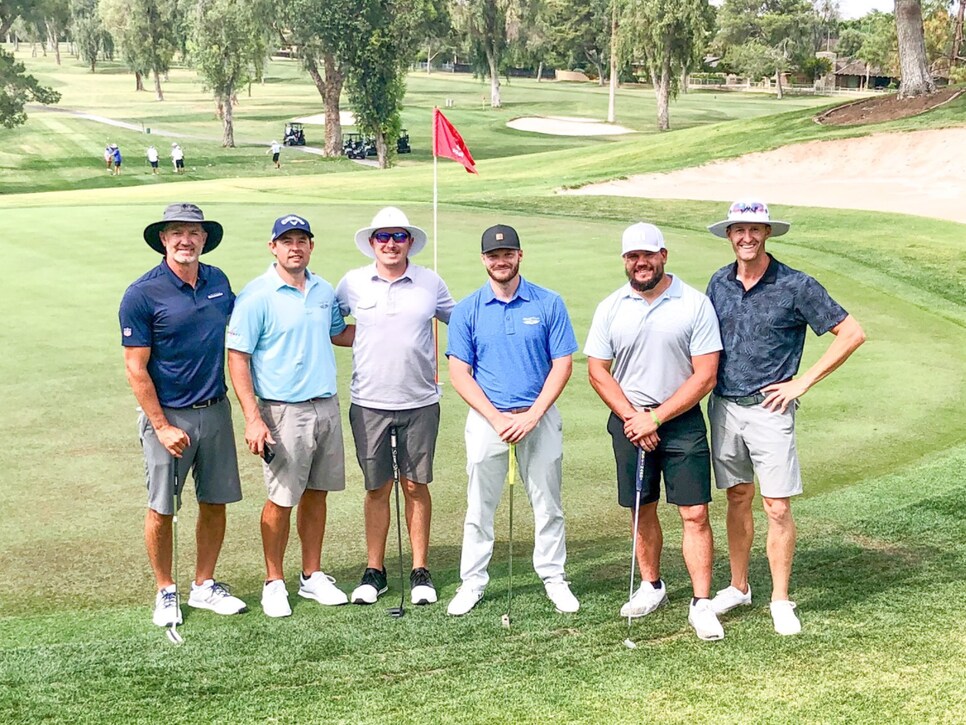 Guys, what happened to staying six feet apart?
Vijay Singh: The three-time major champ, who is No. 4 on the PGA Tour's all-time earnings list is listed in the field for the first event when play resumes. Considering Singh's reputation for a grueling schedule, that's not surprising. What is, though, is that the event is on the Korn Ferry Tour since Singh, a lifetime PGA Tour member, isn't qualified for the field at Colonial and there's no senior event that week.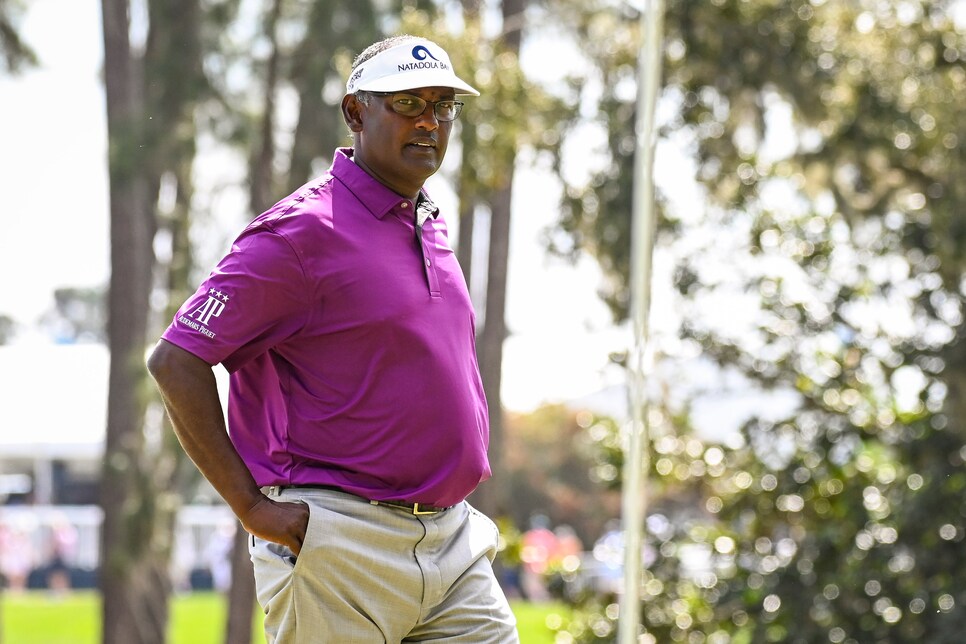 Needless to say, some tour pros are not happy about this, including Brady Schnell, who called Singh "selfish," a "piece of trash," and a "complete turd" before deleting those tweets, probably out of fear that Singh would sue him. While I'm not quite as fired up as Schnell—and I realize there are plenty of players like Phil Mickelson supporting Singh—I don't think a man who has made well north of $100 million in his career should be taking a spot, even if the event is in his backyard. At it's heart, the Korn Ferry is the developmental tour of the PGA Tour. I'm sorry, but it's no place for a 57-year-old.
Caddie tall tales: Last week we brought you a video from longtime looper Dave McNeilly in which he said he was drunk/hungover during Nick Price's record-setting 63 at the 1986 Masters. This week, we bring you Nick Price saying Dave was just pulling everyone's leg. "The only thing that's true about that whole 8-minute speech was the fact that I shot 63 that day," Price told me. "I told him, 'You should have written a book, David. You would have been right up there with J.K. Rowling.'" Seriously, Dave, if you're going to do that kind of stuff, please post it on April Fool's Day next time. Thanks.
This week would have been the PGA Championship, AKA the fourth major that's now the second major, but which could wind up being this year's first major. This is major. When it ever happens again. In the meantime, golf fans thankfully have the TaylorMade Driving Relief event this Sunday, a skins game matching up Rory McIlroy and Dustin Johnson vs. Rickie Fowler and Matthew Wolff. Considering it's been two months since we've seen live golf, this is major too.
Random tournament charity event fact: Rory and DJ have combined for the same number of major championships (5) as Rickie has PGA Tour titles. Oh, man, you know things are starting to return to normal when we start talking about Fowler's career win total!
RANDOM PROP BETS OF THE WEEK
—Vijay Singh cares what I or any other writer thinks about him: 1 MILLION-to-1 odds
—DJ will be keeping a running tab of skins in his head: 500,000-to-1 odds
—Phil and MJ play for more than what your foursome plays for: LOCK
What's sweeter than posing by the hole after making an ace? Posing by the hole with your significant other who just made an ace on the same hole as well. Not that I would know about either of those things, but this is pretty neat:
And they used the same club (7-iron) from the same tee (158 yards) while going back-to-back. Amazing. It should be noted these two aren't your typical hacking husband-wife duo with Steve a former president of the Wisconsin PGA Section and Carolyn a four-time Wisconsin Women's State Open champ. In any event, the couple that aces together, stays together. Congrats.
VIRAL VIDEO OF THE WEEK (TRICK-SHOT DIVISION)
VIRAL VIDEO OF THE WEEK (MUSIC DIVISION)
This medley of sports themes is brilliant. It's also really sad.
THIS WEEK IN TOUR PRO PUBLIC DISPLAYS OF AFFECTION
Aww. Of course, HV3's fellow PGA Tour pros had to heckle him.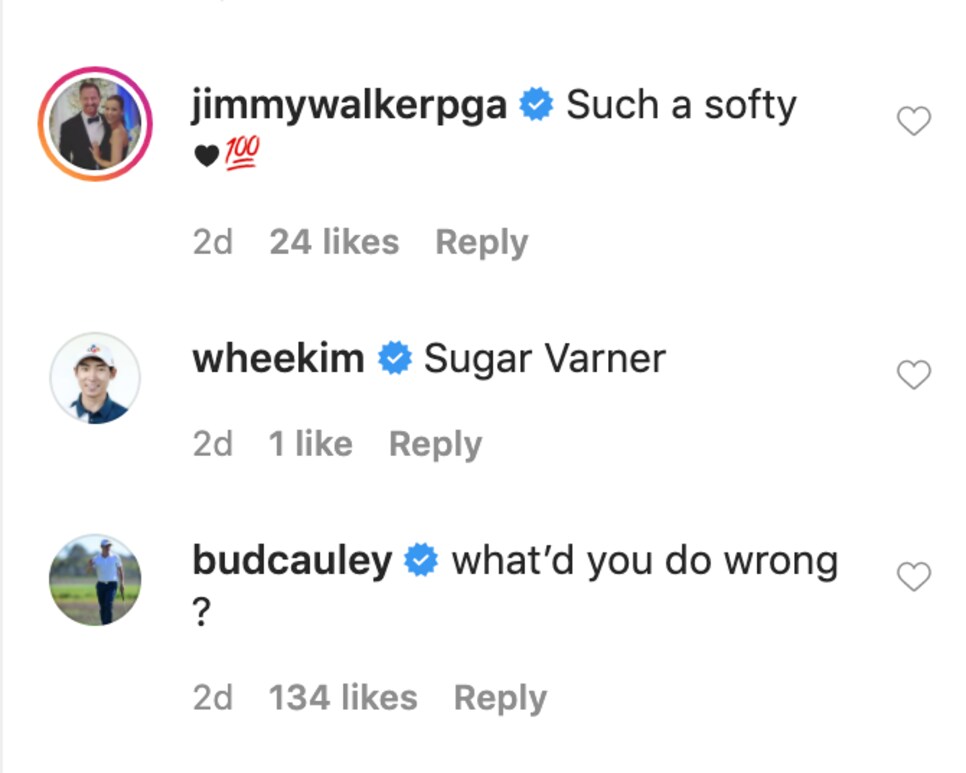 THIS WEEK IN OTHER GOLFERS GOLF MEDIA BEING QUARANTINED
Our Hally Leadbetter has resorted to doing play-by-play of household chores:
And the BBC's Andrew Cotter continues to go viral with his delightful dog videos:
"If I could spend one hour with Jordan Spieth, I'm absolutely convinced he'd be the number one player in the world." —Gary Player on SiriusXM PGA Tour Radio. Even for someone with nine majors, that's a bold claim.
Congrats to Pepperdine's Sahith Theegala and Furman's Natalie Srinivasan for winning the Fred Haskins Award and the Annika Award, respectively, as the male and female national college golfers of the year. Even though that year was obviously cut way short. . . . Congrats to Southern Hills for being awarded another PGA Championship—in 2030. You know, if all tournaments aren't played on simulators by then. . . . Michelle Wie says she's eying a return to golf at the U.S. Women's Open in December after giving birth to a first child this summer. This will really test the theory if you need a good night's sleep to play good golf. . . . And finally, I highly recommend HBO's "Bad Education." And not just because I'm a huge Jackman/Janney fan.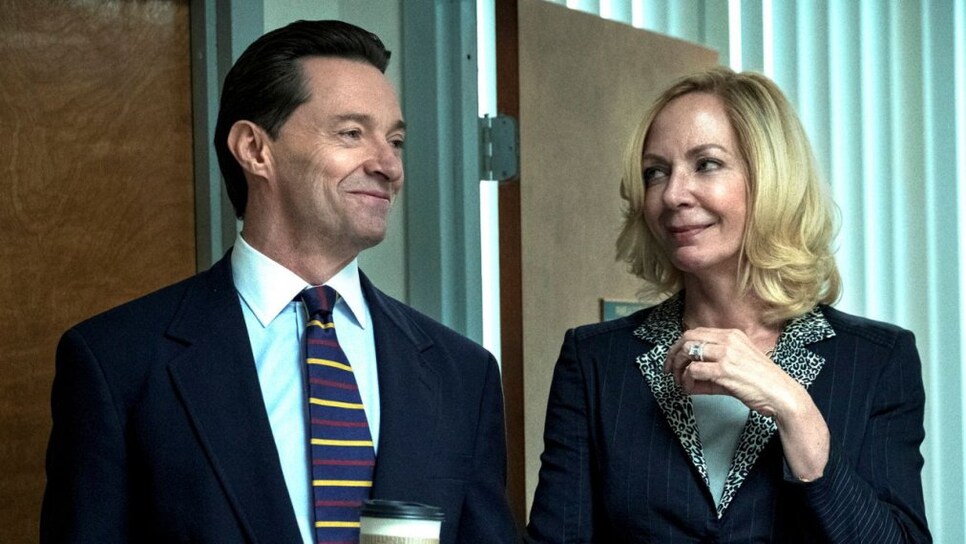 So give it a try. What else do you have to do?
RANDOM QUESTIONS TO PONDER
What would a World Ranking of simulator golf look like?
How much would it cost to join The Grove XXIII?
How much could Gary Player improve my golf game in an hour?