Rules
Why Phil Mickelson wasn't penalized under the rules when his ball moved in the pine straw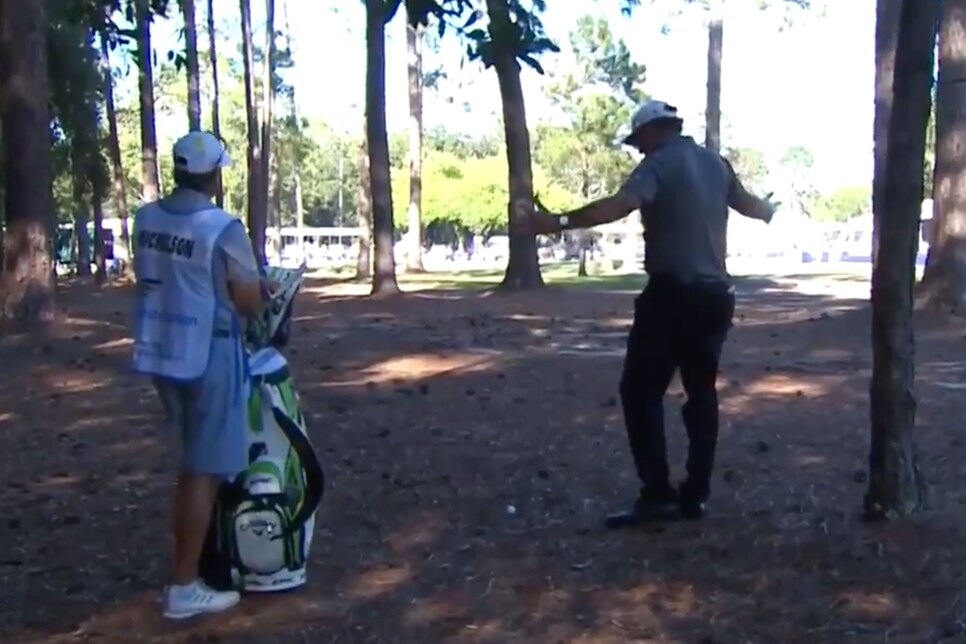 Standing on the tee at Timuquana Country Club in Jacksonville, Fla., with a one-shot lead over Miguel Angel Jimenez, Mickelson was desperately looking to find the fairway on the 440-yard hole. Instead, his drive went left of the fairway heading for a grove of trees. The ball would settle in some pine straw, but it looked far enough offline that Mickelson hit a provisional just in case the first one was lost.
Upon getting to the ball, Mickelson proceeds to do a little clean-up work around it, picking out pine cones and twigs that might become a problem when playing his second shot. After doing the house cleaning, Mickelson stood next to the ball and tried to visualize the shot he was going to play. It was then, however, that cameras visualized his ball rolling slightly in the pine straw.
Lefty saw it, too, given an exasperated shrug as he went to seek out a rules official. The question that needed to be asked: Did Mickelson cause the ball to move?
Under Rule 9.2, in place since 2019, a player in this situation is deemed to have caused the ball to move only if the player "was known or virtually certain to have caused it to move; otherwise, it is assumed that natural forces caused it to move."
In the conversation picked up on Golf Channel, the rules official essentially lays this out to Mickelson.
"OK, you're just going to have to determine if you caused the ball to move," the official said.
"Yeah, I know I didn't, but … because the stuff I moved wasn't around the ball. … I just didn't know what the new rule is."
Mickelson told the official that it was "a minute at least" between him moving the loose impediments and the ball moving.
"But you're just going to have to make that call whether you caused it to move," the official said.
Believing that he did not cause the ball to move, Mickelson then played his second shot, a punch out that landed just short of the green. Mickelson then proceeded to hit his third shot, a low check and spin pitch, to 18 inches and made par to keep his one-shot lead.
Two holes later, Mickelson made one last birdie to close out his third PGA Tour Champions victory in four career starts.