Monday Superlatives
Where does Phil Mickelson rank against the greatest olds in all of sports?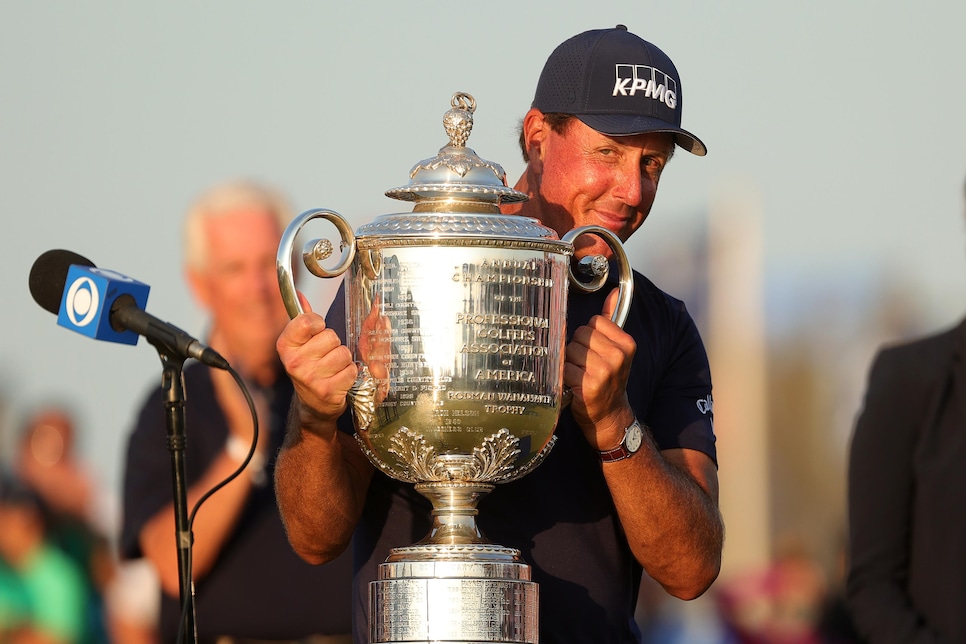 There are a lot of truly wild things I'll remember about this past weekend, from the beauty of Kiawah to the cool/dangerous crowd crush on 18 to the strange way the leaderboard seemed to part for Phil Mickelson, allowing him to play just okay and still win by two shots. (Mind-blowing-ish stat: of the 16 guys who finished t-8 or better, only three finished above par, and two of those three would have tied or beat Mickelson if they were just -1.) But the one thing I can't shake, and the one thing we're all talking about today, is the simple astounding fact of his age.
A 50-year-old just won a major.
I mean, 150+ years of this stuff, including Open Championships with roughly seven guys in the field, and this has never, ever happened before. It's impossible to make too much of this. His fitness, his skill, his (wavering) nerve, all of it allowed him to hold on for dear life and capture a tournament that is simply not made for men of his vintage. Add in the fact that he did it out of nowhere—he hasn't sniffed the top ten of even a minor tournament in nearly a year—and it has to be one of the greatest single feats in the history of sport. No exaggeration.
And it makes me wonder: Where does this compare against the other greatest old guy performers in sports history?
First, let's run down the list:
Tennis: Roger Federer. The problem with comparing sports to golf is that most sports that enjoy large-scale popularity involve lots of running, which means you're not going to find a 5o-year-old doing what Phil just did. But for our purposes, it's Fed, who won a slam at age 36 and came within a whisper of being the oldest major winner at Wimbledon 2019, or Ken Rosewall, who holds that title now but did it at the Australian Open in an era where the best players not from Australia mostly skipped it.
Football: Tom Brady. No question. He has now won two Super Bowls past age 40. It's ridiculous.
Baseball: Nolan Ryan. You could go with Barry Bonds here, but Bonds was cheating, and the fact is that Ryan led the league in strikeouts at age 42 (301!!!) and 43, led MLB in ERA at age 40, and had the best strikeout rate in the game at age 44. It's wild how long he lasted in a sport where pitchers absolutely do not keep their fastball much beyond their mid-30s.
Hockey: Gordie Howe. Come on. No other possibility. Dude retired from the NHL at age 52, and was scoring more than 100 points per season in the WHA (a league that was arguably just as good as the NHL and which eventually merged with them) at age 48. In his final season, he led the Hartford Whalers to the playoffs, and then, in 1997, just for kicks, he played a shift at age 7o in the IHL. Other than that novelty, this man played in five decades of professional hockey, and was good until the end.
Basketball: For now, this is probably Kareem-Abdul Jabbar, NBA Finals MVP at age 38 and all-time NBA points leader. Give LeBron about four more years, and it's probably him.
Soccer: No clue. Refuse to look it up. Sue me.
Based on those six guys, here are my rankings:
6. Kareem Abdul-Jabbar
5. Phil Mickelson
4. Roger Federer
3. Tom Brady
2. Nolan Ryan
1. Gordie Howe
Does Phil deserve to be higher? Maybe, and he can definitely get there if this is the start of a sustained run. Because of the out-of-nowhere nature of his PGA Championship win, though, I put him a tick below the guys who made or are making it happen on a regular basis past when their primes should have ended. with an even another PGA Tour win, Phil moves up to no. 4 on my list. Either way, he's already a legend among legends.
The (Other) Baddest Man of the Week: Trae Young
The Hawks are a perennial punching bag of a franchise, but they finally have a star with kind of ruthless swagger you need to punch your way through to something better. He's Trae Young, he always looks like he just finished taking a nap outdoors, and he is a legitimately scary basketball player. At Madison Square Garden in his opening round series against the Knicks, he had to listen to chants of "F--- Trae Young" all night, and responded by putting up 32 points, 10 assists, and seven boards. The highlight, though, came at the end:
The reaction to that game winner—"it's quiet as **** in here"—was tremendous:
And so was his walk back to the locker room, which was pure, undistilled cockiness of the kind that he absolutely deserved after that shot:
The great thing about Young is that his force-of-nature personality is going to make him a classic "love him or hate him" guy, and the way he interacted with the MSG crowd means game two is going to be off the charts. I can't wait.
The Baddest (Canadian) Man of the Week: Dillon Brooks
Ja Morant gets the lion's share of attention on the Memphis Grizzlies, and deservedly so, but Dillon Brooks has been lighting it up like crazy, and is the other main engine that drove Memphis to the playoffs and led them to a game one win over the no. 1 seed Utah Jazz. Also, as Charles Barkley discovered to his detriment, he's Canadian:
Look what this Canadian can do:
Pure theatre. Pure colour. Do me a favour and remember this man's name.