News
Newsmakers Of The Year No. 2: Phil Mickelson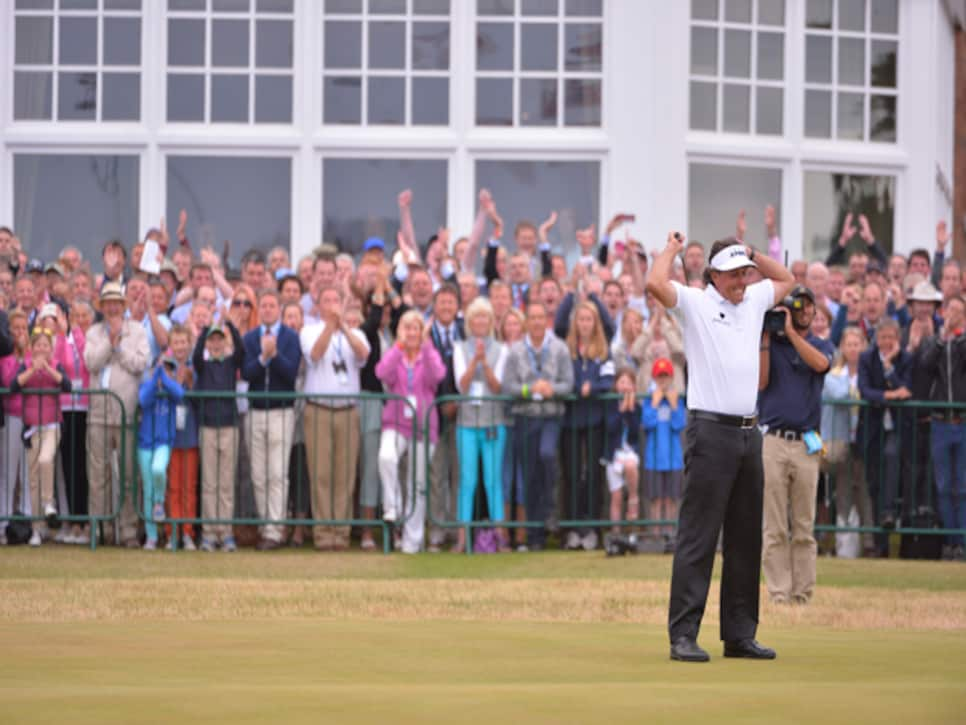 Golf had to be cruel -- again -- to Phil Mickelson before it could be kind.
How else to explain what happened to Lefty at this year's U.S. Open and British Open, the former where he experienced familiar disappointment and the latter where he enjoyed surprising success?
Over an erratic final nine holes at the U.S. Open at Merion GC, where he hit two wayward wedges after holing out on No. 10 with one of the five he carried and watched a wonderful chance to win slip away, it was not shaping up as the best of summers for Mickelson. Newly 43, his runner-up finish was his record sixth at this national championship (he was also second in 1999, 2002, 2004, 2006 and 2009) and he languished in the heartbreak for a couple of days afterward.
No one could blame him. While Justin Rose celebrated his first major victory, Mickelson was forced to lament again losing the tournament he covets most. This defeat didn't arrive with the sudden thud of the 72nd-hole double bogey at Winged Foot but may have been his most difficult.
"After losing the U.S. Open," he admitted, "it could easily have gone south, where I was so deflated and I had a hard time coming back."
But instead of an extended pity party, Mickelson, whose family has known real-life distress, found his form in an unlikely locale -- Great Britain, where his creative shotmaking had never paid off as many thought it should. On this July journey abroad, however, it did.
Mickelson tuned up for the British Open by winning the Aberdeen Asset Management Scottish Open in a playoff over Branden Grace at Castle Stuart GL. Then it was on to Muirfield, where a suddenly confident Mickelson had some mojo going into an event where he had seen scant return (just two top-10s in 19 appearances).
The old links was a dry, unforgiving test, one of the most fast-and-firm setups in recent Open history, and on its crispy turf Mickelson rose to the occasion. Through 54 holes he certainly wasn't the man to beat. That role belonged to Lee Westwood, still looking for his first major, who was a full five shots ahead of Mickelson going into Sunday. As Mickelson found out, though, shooting a five-under 66 on a difficult course can make up a lot of parched ground.
In the closing stretch, gone were the careless shots that cost him so dearly at Merion. Mickelson was resolute, birdieing the 13th and 14th holes, then saving a pivotal par at No. 16 with a seven-footer after his approach crawled unluckily off the green.
Taking a one-stroke lead to the 17th, Mickelson covered the 575-yard hole with what he called two of the best 3-woods of his life (and two putts) for a stress-reducing birdie. Another one at the home hole was icing on a cake that took 20 years to bake.
While the claret jug became the coolest show-and-tell object in America -- Phil let caddie Jim (Bones) Mackay bring it to the media tent at the PGA Championship so golf writers could have a close inspection -- there began a reassessment of Mickelson's already sublime Hall of Fame career.
By triumphing at the major he least expected to win, Mickelson has five major championships and is now just that long-sought U.S. Open away from a career Grand Slam. Were Mickelson to win at Pinehurst in 2014 -- scene of his first Open runner-up -- or at a subsequent U.S. Open, he would be only the sixth man to claim all four modern majors.
In a sport where the winds can shift dramatically, as Mickelson saw very clearly in 2013, that is rare air.