News
Phil Mickelson met the British media after his first round at Scottish Open, and the back-and-forth was predictably entertaining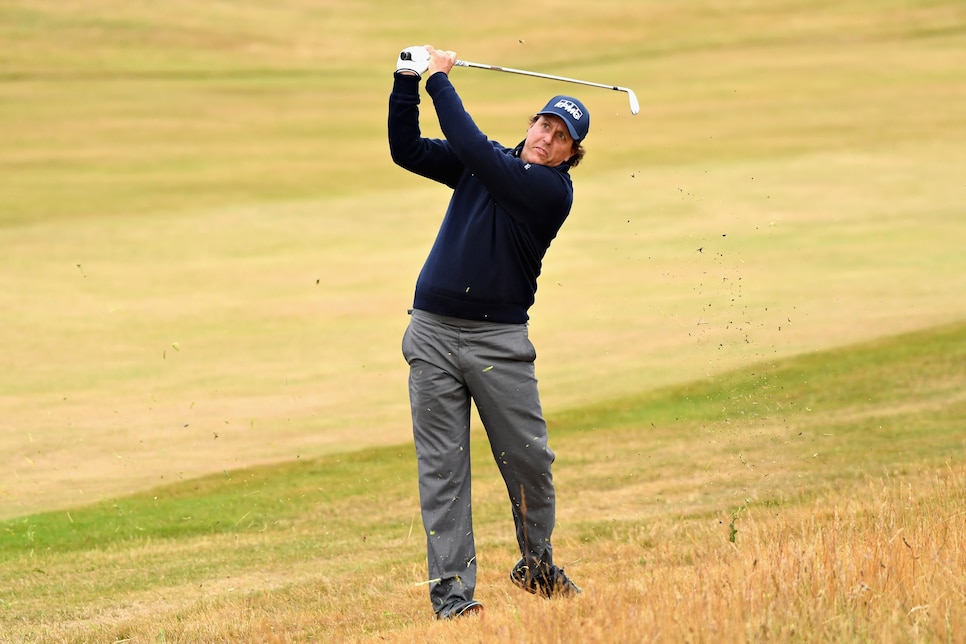 GULLANE, Scotland—They were waiting for him, and Phil Mickelson knew they would be there. Nearly one month on from his shenanigans aboard the 13th green at Shinnecock Hills, the British press pack still wanted to quiz golf's greatest-ever left-hander on just why he had knocked a moving ball back toward the hole.
To his credit, Mickelson started with a joke.
"I'm not going to answer any questions on my round today," he said after completing a level-par 70 on the opening day of the Scottish Open at Gullane. "But if you want to ask me about the U.S. Open fire away."
More seriously, Mickelson was also at pains to underline the fact that he had not spent the previous two days avoiding a get-together with the media.
"I've not been trying to dodge anybody these first few days," he continued. "I have been a little bit busy. I went over to Paris and played the Ryder Cup course. I was over at Carnoustie the last couple of days. I didn't get a practice round here. Just didn't have time."
"It's not been my best month, okay," he admitted. "I've had a rough month. I haven't been my best. So I'm working at trying to fix that. I made a big mistake and I wish I could take it back, but I can't. There's not much I can do about it now other than just try to act a little better."
That was never going to be enough, of course.
Next question: "American golfers always talk about how knowledgeable the British crowd is with respect to golf. With that in mind, are you worried that you may have to win them over again this week and next week?"
That seemed a little harsh. Especially for a player whose style of play has given so much pleasure to so many over the past 25 or so years. But, on the defensive, Mickelson was prepared to accelerate the already-speeding mea culpa.
"Throughout my career there have been a lot of times where I have had to be accountable for decisions I did not make," said Mickelson. "And the reason why this has actually been easier is that it was my own fault. So the backlash is my own fault. It's been much easier to deal with than the times where I have not been involved in the decisions and had to deal with those."
Things then got a little easier, the subject under discussion the fast-running nature of the Gullane links after a month of scorching Scottish weather—not a phrase you read too often. But the press are nothing if not persistent.
Next question: Do you think the backlash has been over the top?
"You have to be accountable for yourself," said Mickelson. "I do a lot of dumb stuff. I had that rules deal at Greenbrier last week. And last year at Greenbrier I picked up my ball in the middle of the fairway, marked it and cleaned it. I have these like just moments where I'm in a 'cloud.' I'm not really sure what I'm doing. I'm just going through the motions and not really aware of the moment. I've done that a bunch in my career. I keep doing stuff like that. That's the way my mind works."
Next question: "One of the confusing things for people is that you said after the round at the U.S. Open on Saturday that you thought about doing it a lot of times before, and that indicated that maybe it was premeditated what you did?"
Still in retreat, Mickelson remained conciliatory.
"Not only was I not great on the course, I was not great after the round, either," he admitted. "So it was just not a great day, and it was my birthday. I tend to do dumb stuff on my birthday. The way I show anger is not the traditionally accepted way, throwing clubs and berating the fans and marshals. I tend to be a little more passive aggressive in my actions, and that was kind of what I was doing."
Okay, one last question: "Were you angry at the USGA?"
"There was just a bunch of stuff. But I had to let that go. It took me a few days to kind of let it go.I have had mental lapses throughout my whole life. It's not like it's new. That was just one of the worst ones."
At last satisfied, the media moved off, leaving Mickelson to his traditional autograph-signing session. As ever, he signed every one. And at the end he got a round of applause. In Scotland at least, Phil's adoring public clearly remain loyal to their man. No matter what the press might have to say.