News
Phil Mickelson isn't too old to think he can't win another Masters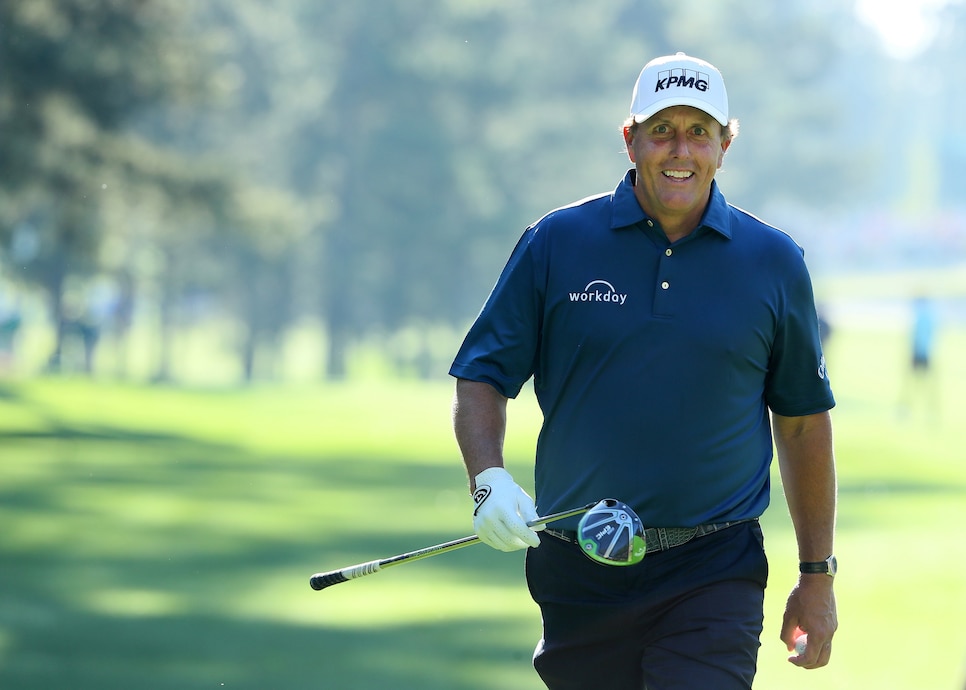 AUGUSTA, Ga. — No number in golf is more magical than 59.
Jack Nicklaus is responsible for that. His performance in the 1986 Masters, when he won his sixth green jacket and 18th major title at that age thanks to a dramatic final-round 65, is regarded as one of the most inspirational performances in the annals of the game.
Since then there haven't been many players who have reached that age and been considered a viable contender to win another major. But as he prepares to compete in his 25th Masters, Phil Mickelson, 46 in body but perpetually youthful in spirit, can't be dismissed.
In fact, it's no stretch to say that Mickelson is considered more of a threat at this age than Nicklaus was when he arrived for his 28th Masters start in '86. The Golden Bear's best finish to that point of the season was T-39, he'd missed three cuts, withdrawn from another event, and had broken 70 just three times.
Nicklaus doesn't disagree. "I would say that Phil has a lot better chance of winning this year than I did when I was 46," the Golden Bear assessed. "Going into the tournament, I had no expectations about winning, at all. But I would say Phil is far better prepared than I am from a playing standpoint. I don't think he's probably playing his best golf right now, but sometimes that changes very quickly. Honestly, age is not an issue to him. He's a big guy and he's a long guy and he's got a great short game. I wouldn't be a bit surprised to find him in contention."
Maybe Mickelson isn't playing his best, but Nicklaus is right that Lefty is farther ahead of the curve than he was 31 years ago.
Despite two hernia surgeries in the offseason, Mickelson has posted six top-10 finishes in nine starts this year and hasn't missed a cut. And last year, in the Open Championship and PGA Championship, his first two majors after his 46th birthday, he is a combined 20 under par. The lion's share of that scoring performance came via his remarkable effort at Royal Troon last July. Mickelson fired an opening-round 63, tying the major-championship record for 18 holes, and finished with a 17-under-par 267, which would have tied the lowest score in Open history had not Henrik Stenson shot 264 to beat him.
"I don't think much about age right now," the three-time Masters champion said Tuesday at Augusta National Golf Club. "I think that guys' careers are being extended a lot longer because of the way fitness has taken over. And it's not like I'm a pillar of fitness, but I spend a decent enough time to be able to physically perform and practice and play the way I'd like to play."
Mickelson pointed to the likes of two-time Masters winner Bernhard Langer, who last year at 58 played in Sunday's penultimate group, as one player who has remained competitive at Augusta. Fred Couples, the 1992 Masters champion, has finished in the top 20 in five of six Masters after turning 50.
It says something of Mickelson's level of play that the first question he fielded was related to Nicklaus's memorable triumph. That said, it remains to be seen if he can summon the game to win, given that his last victory was the 2013 Open Championship at Muirfield.
"I think the last year and a half I've worked really hard to get my game back to the level that I expect and the level that I've strived for," said the five-time major winner. "If I can play anywhere close to the way I played at the British Open last year and the Ryder Cup, I should be able to give myself a good opportunity for Sunday."
Tellingly, he expects to give himself a good opportunity come Sunday.
"I do expect to play well and to compete here and come out on top more so than any golf course because of the opportunity to recover and utilize my short game to salvage pars when I do hit a few wayward shots—which I've been known to do," said Mickelson, who missed the cut here two of the last three years while finishing T-2 in 2015. "Also, this course doesn't overly penalize you. It's just a definition of what a great golf course should be, and this course allows me the opportunity to not be perfect and still shoot a good number and compete, which is why I expect to do well here every year."
This year would be particularly serendipitous, however. Mickelson would pass Nicklaus as the oldest Masters champion and become just the fourth man to win at least four green jackets.
All while injecting just a little more magic into 46.