The Loop
In letting loose, Mickelson gives himself another shot at Augusta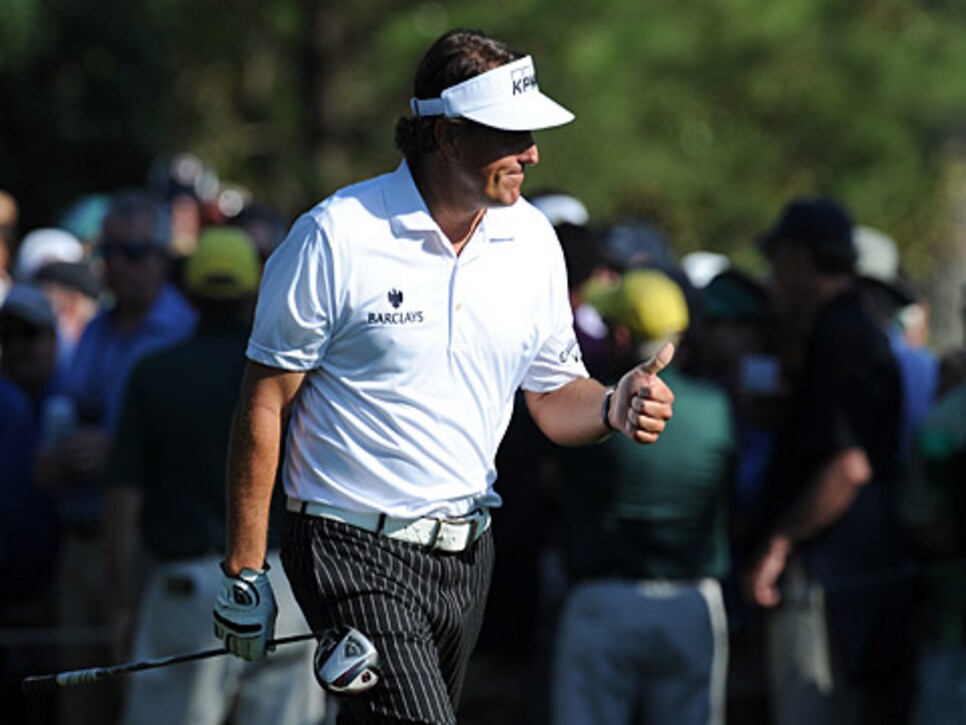 (Photo by Don Emmert/Getty Images)
AUGUSTA, Ga. -- Well, at least Phil Mickelson held up his end of the bargain. This was supposed to be the Masters when Rory McIlroy, Tiger Woods, Luke Donald and Lefty tangled on a Sunday afternoon at Augusta National. But of that glittering quartet, only Mickelson has a shot at the green jacket. And oh, how he got there. This was vintage Phil.
Lefty began the third round at two-under par -- three strokes off the lead of Jason Dufner and Fred Couples -- but climbed the leader board with nine consecutive pars on the front nine as many of the leaders imploded.
Then the Full Phil showed up on the back. He shot 30 to finish off a 66 and enter Sunday at eight-under par, one stroke behind Peter Hanson and a stroke ahead of Louis Oosthuizen.
"I just feel confident in the way I am playing, the way I am putting and the setting," Mickelson said about his attitude toward Sunday. "I just really love this golf course. It's still Saturday and you are still going to have to play some good golf on Sunday. But I just wanted to have a chance, and I do."
Phil birdied Nos. 10 and 12, and when he eagled the par-5 13th hole, he was tied for the lead at six-under par, the roars rippling through the far end of Amen Corner. Earlier in the week, Mickelson predicted there would be a "birdie fest" this week because of how soft and wet Augusta National was. It took him a while, but he finally got a seat at the table.
Lefty picked up another birdie on No. 15, hitting the kind of flop shot only he can hit. "There was a lot of risk in that shot," Mickelson said about hitting back toward the water. "But that's why I put the 64-degree wedge in the bag to hit that shot off these tights lies."
Mickelson closed with a birdie on No. 18, curling in another snake. "I'm putting probably better than I ever have," said Phil, who has spent a career making his share of bombs and missing more than his share of short ones.
"It was a beautiful day at Augusta National, perfect for scoring," Mickelson said. "No wind, soft greens and pins you could get to." But that was not the case for several of the other favorites. Donald, No. 1 in the World Ranking, stumbled to a 75 and was seven-over par. Woods grinded to a 72 to remain at three over, while McIlroy, who shot 80 on Sunday here last year while playing with a four-stroke lead, posted a 77.
That Mickelson is in the mix at all is remarkable considering he was four-over par through 14 holes of the first round. But he closed with two birdies to salvage a 74 and then got back in the tournament with a 68 on Friday. Since No. 14 on Thursday, Mickelson has played 40 holes at Augusta National in 12 under par.
"It's Thursday," Mickelson said when asked the key to having a chance to win, referring to the way he saved his first round. "At some point on this golf course I know I am going to get hot and make some birdies," he said. "But when that happens, I have to be in position to move up the leader board. The way I fought back on Thursday gave me that chance."
Earlier this year, when he opened his season at the Humana Challenge, and then a week later at the Farmers Insurance Open, Mickelson looked disinterested. It was as if he had shifted into career cruise control at the age of 41.
Lefty said at Humana there would be no more changes to his swing or to his putting style, admitting that trying the long putter last year was a search for a quick fix. He said that day in the desert that he was just going to play golf the way he played as a kid -- with feel and fun.
Then, a fortunate thing happened. He was paired with Woods in the final round of the AT&T Pebble Beach National Pro-Am. That was all it took to jumpstart the engine. Playing one of his best rounds in years, Mickelson The Kid closed with a 64 to win his 40th PGA Tour event.
What became clear that day by the Monterey Bay was that at this stage of his career, two things really motivate Mickelson, who goes into the World Golf Hall of Fame in May. He wants to win more majors, and he rather enjoys beating Woods, which he has done with great regularity the last five years or so.
Even years in Augusta have been good to Mickelson. He won here in 2004, '06 and '08 to go with his 2005 victory in the PGA Championship. A fourth green jacket would tie Mickelson with Arnold Palmer and Woods for second, behind the six owned by Jack Nicklaus. A fifth major would tie him with Byron Nelson and Seve Ballesteros on the all-time list.
With all that he has accomplished in his 20-year career, Mickelson is motivated now by his place in history, which until now has been as the second-best player of the Tiger Woods Era. A couple more majors and he will be listed among the best ever.
On Sunday at Augusta he'll have a chance to improve that standing, a chance that owes its opportunity to the way Mickelson failed to fold when things were going sideways on the first round. This is what that kid was dreaming about all along.