The Loop
Even in defeat, Mickelson at least makes it interesting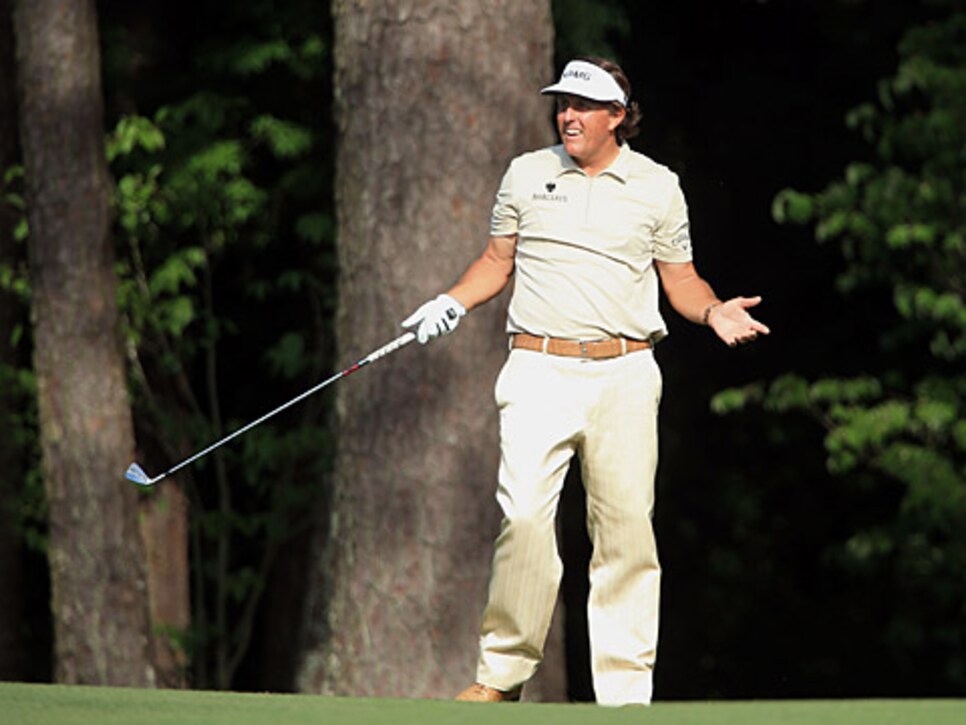 (Photo by David Cannon/Getty Images)
AUGUSTA, GA. - Jack Nicklaus may have been the greater winner, but Arnold Palmer was the more important golfer, a virtual one-man grow-the-game program through the sheer force of his personality. And while Tiger Woods may have dominated the last 15 years and inspired awe, Phil Mickelson won more hearts simply because his game was more akin to what the rest of us experience -- unpredictable and at times unfairly cruel, but always fun. That's why we play; that's why Lefty plays. Golf is supposed to be fun.
There have been more than enough wins -- 40 on the PGA Tour including the Masters three times and a PGA Championship -- to make Mickelson an easy first-ballot member of the World Golf Hall of Fame, to which he will be inducted in May. Still, the refrain that has been sung way too often in the soundtrack of Lefty's career contains the words "what if." And that's has a lot to do with how much fun Mickelson has had playing golf.
And still he has all those victories -- truly remarkable and utterly entertaining. No one had ever won the Masters with a triple bogey on their card, yet Mickelson had two during the four rounds at Augusta National and missed the playoff Sunday won by Bubba Watson over Louis Oosthuizen by only two strokes.
Think about that: Make one of those triples a par and Mickelson wins; make them both pars and he wins by four strokes. What if, what if, what if. Words that accompanied disappointments at Winged Foot, Pinehurst, Atlanta AC, Royal St. George's and the six times since 2001 he has finished in the top-five here without winning.
Mickelson, known for his roller-coaster rides across golf courses, was otherwise remarkably steady in this final round. He started the day one stroke behind Peter Hanson, made 14 pars and three birdies with that triple bogey the only blemish on his scorecard.
With Oosthuizen in the lead at 10-under par after making an albatross on No. 2, Mickelson stepped to tee on the 240-yard par-3 fourth hole two strokes behind and with the pin in a dangerous spot. "Tactically, what I try to do there is aim left of the pin and I try to hit ether the left edge or in the bunker or just left of the bunker where I'm chipping up the green, chipping up the slope," Mickelson said.
"If it goes into the people and stops right there, no problem," he said. "If it goes into the grand stand, no problem [because he'd get a free drop.] It hit the metal railing and shot into the trees. And not only was it unplayable, but I couldn't take an unplayable [because there was no place to drop the ball]. So I took the risk of trying to hit it a few times," including two swipes at it right-handed by Lefty.
Taking risks is what Mickelson's career has been all about. When he squandered his opportunity to win the U.S. Open at Winged Foot in 2006, he took the risk of hitting the driver off the tee instead of 3-wood on the final hole. Then, when he missed the fairway, he took the risk of trying to fade a 2-iron out of the rough instead of pitching out to 100 yards and trying to make an up-and-down par. He made double bogey and lost to Geoff Ogilvy.
As always, Mickelson soldiered on after the triple bogey on No. 4 on Sunday and got right back to work, chipping away, knowing that part of what makes Augusta National special is that anything can happen. He did shoot 30 on the back nine Saturday, after all. Eleven holes later, with a two-putt birdie on No. 15, he finally erased the triple and eventually closed with a 72 to be at eight-under-par 280, two strokes out of the playoff.
He got a stroke back with a birdie on the par-5 eighth hole and two more with two-putt birdies on the par-5s 13th and 15th holes. But Watson and Oosthuizen were rock solid coming in, with Bubba playing the final six holes four under par with four consecutive birdies starting at No.13, and Oosthuizen playing the last five holes two under.
"I had a fun day," Mickelson said after another near-miss in a major. "I had a fun opportunity on the back nine all the way through 17 holes where I could have birdied the last two and gotten into the playoff." And that pretty much has always been what golf has been for Mickelson -- fun.
"It's disappointing that I didn't grab that fourth green jacket," he said, "It's disappointing that I didn't make it happen on the back nine and get the putts to fall." But when you look back on it, you get the feeling that what Mickelson will remember is the fun and not the disappointment.
And that's also what anyone who watched him play Sunday -- or any day over the last 20 years - takes away from watching Mickelson. It's just fun. Lefty is the Arnie to Tiger's Jack. He may not be the best of his generation, but he's awfully close and has had an awful lot of fun along the way. Sounds like a winner from where I sit.