The Loop
Phil Mickelson at Bethpage Black remains 'the people's choice at the people's course'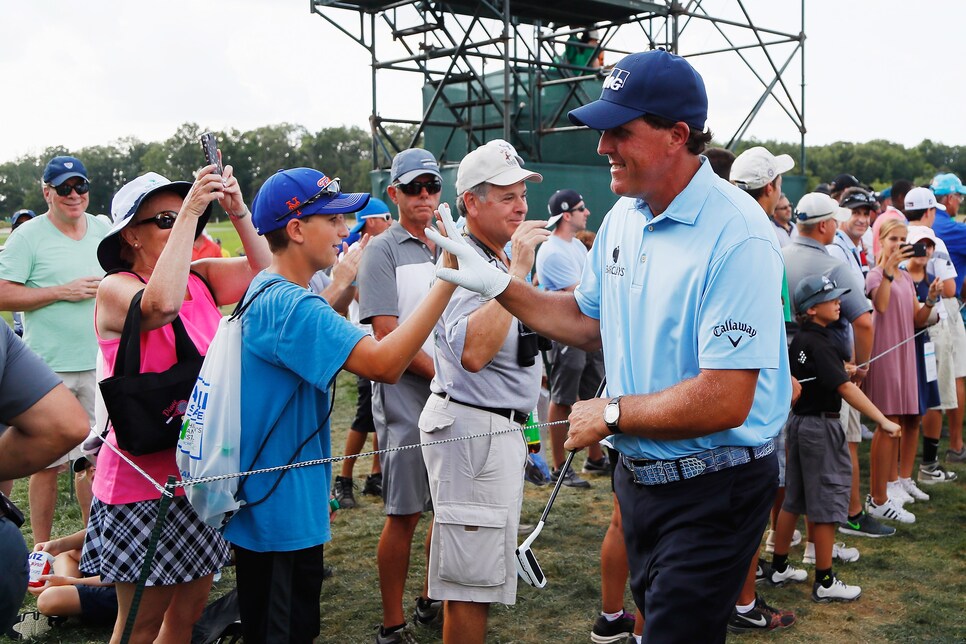 Stories of interest you might have missed…
"The leader of The Barclays was walking off the 13th green, having made an important birdie that brought him to 9 under par, and the crowd was going crazy. Not for Patrick Reed. The people were cheering their hearts out for Phil Mickelson, who just had made par to remain 1 over," Mark Herrmann of Newsday writes in this column.
"It kept going that way right to the clubhouse for Mickelson, the people's choice at the people's course. He has been a hero at Bethpage Black since the Long Island crowd spontaneously adopted him during the 2002 U.S. Open. He still is, even when he is closer to missing the cut than making a run, as he was Friday."
Brooke Henderson and the dandelions
"As many golf balls as Brooke Henderson has hit in her young life, the 18-year-old figures she may have hit more dandelions.
"'Every spring when the dandelions came up, my dad used to pay us a nickel to knock down all the dandelion heads and practice our swing,' said Henderson of a ploy her Pop used to get her and her older sister swinging.
"'What he didn't tell us was when we hit one the next day there'd be 50 others in the same spot. It helped me practice my swing. I got rich that way.'
Where have you gone, Shane Lowry?
Ireland's Shane Lowry might have seemed a virtual lock to make the European Ryder Cup after his runner-up finish to Dustin Johnson in the U.S. Open. But it's now anything but.
"His performances this year make Paul McGinley's words last October particularly prophetic.
"'It is just a word of caution for everybody jumping on the Shane expectation bandwagon, thinking he is just going to keep going this way. He has a lot of hurdles to jump next year,'" McGinley said.