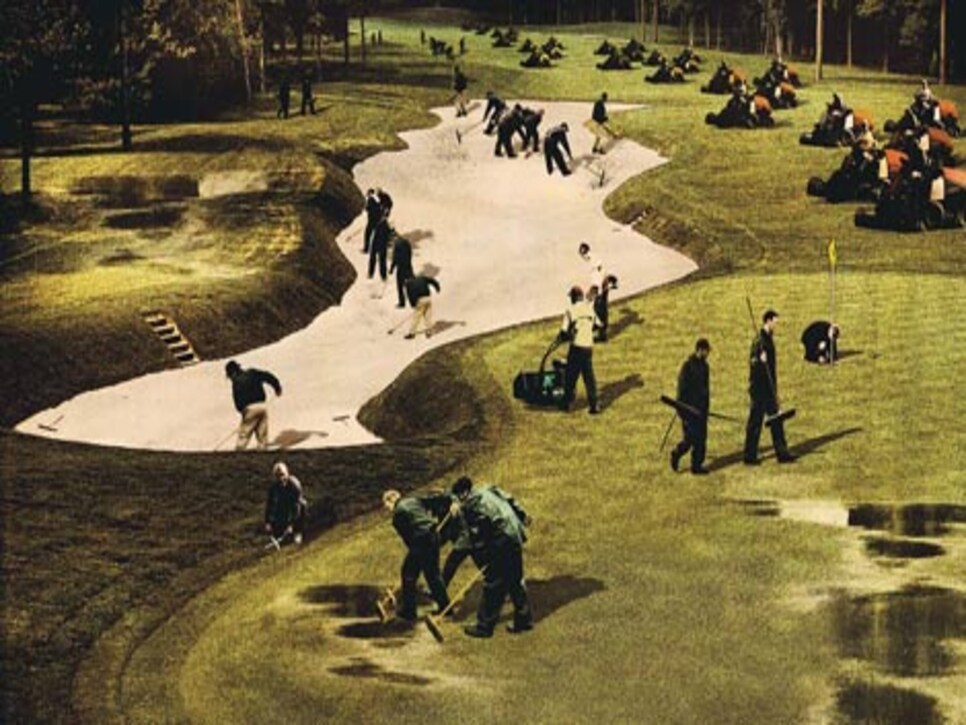 A week before 35-year-old Russell Myers took over as the superintendent at Southern Hills Country Club last September, the temperature in Tulsa, Okla., topped 100 degrees for three consecutive days. If it's like that again Aug. 9-12 during the PGA Championship, Myers will have to scramble just to keep his bent-grass greens alive—with the world's best players, and an international television audience, looking on.
Luckily he'll have a small army to help him. Will he be up to the task? Myers had spent the previous eight years at Card Sound Golf Club in Key Largo, Fla., a sleepy club with a pace more akin to Havana. The only stress at Card Sound was a periodic hurricane on the horizon. On those occasions, Myers would just pack up and head north.
There's no packing it in now. He's under fire, big-time, as the head superintendent of his first major championship.
But it'll be the 22nd championship he will have worked, counting tour events, the Masters, U.S. Opens, U.S. Amateurs and PGAs.
"I'm not too worried," Myers says. "I've done it all before. It's just that this time, I'll be in charge."
A colleague calls Myers, "the king of the volunteers," one of a new breed who finds time each year to help out at tournaments far from home, just for the experience. Forget the Carl Spackler image. This group earns six figures a year, has a weather radar in one hand, a walkie-talkie in the other, a college degree in a back pocket and, when called upon, can mobilize a Normandy Invasion.
In the weeks before the PGA, Myers will have to help coordinate companies installing bleachers, hospitality tents, skyboxes, television towers, portable toilets and concession stands, making sure no one damages the course. Come tournament week, he needs the course in optimum shape for three practice and four championship rounds. Then there are the last-minute demands. A television crew might want tree limbs removed instead of repositioning a camera. Or a PGA official might want a mature tree planted overnight to keep golfers from taking a shortcut. (In the 1965 PGA, Laurel Valley superintendent Paul Erath famously quit at the start of the championship in protest over such a demand.)
Besides the full-time maintenance crew at Southern Hills (52 people), Myers will rely on a volunteer group that will include head superintendents from other major-championship sites: John Zimmers of Oakmont (this year's U.S. Open); Eric Greytok, formerly of Winged Foot (last year's U.S. Open); Craig Currier of Bethpage (2002 U.S. Open, and Myers' college roommate); Paul B. Latshaw, formerly of Oak Hill (2003 PGA, and son of legendary superintendent Paul R. Latshaw); Matt Shaffer of Merion (2005 U.S. Amateur); Mark Michaud of Shinnecock Hills (2004 U.S. Open); Jim Roney of Saucon Valley (2009 U.S. Women's Open); and many others.
Together they'll engage in golf's version of an Amish barn-raising party. The guy handling a hose lightly watering a green might be a $200,000-a-year superintendent from some classic club. Or he might be the guy lugging the hose around for the guy who's watering the green. There are no prima donnas in this volunteer pool.
The volunteer-superintendents build into their contracts the right to take time off, even during a club's peak playing season, specifically to work at major events. It's in each club's best interest that they do so, particularly if the club hopes to host a major someday.
It's the senior Paul Latshaw, 66, whom most credit with perfecting, if not inventing, the idea of the volunteer-superintendent. Latshaw's first major was the 1978 PGA at Oakmont. He had a small crew, so he put out the word he could use some volunteers. Seven guys showed up.
Latshaw prepped Oakmont again for the 1983 U.S. Open, then moved on to Augusta National, where his predecessor, Billy Fuller, had established a slightly larger pool of 20-plus volunteers. Latshaw started depending on what he now calls "the Latshaw Fraternity," guys who had trained under him, guys who had trained under guys who had trained under him, and so on.
They responded by the dozens and worked their tails off, year after year. Later, when they got great jobs of their own, they never forgot one another. The network blossomed to the point where some clubs can count on 130 volunteer-superintendents or more. Myers, who considers himself part of the fraternity because he has worked events under Paul's son, will have 100 volunteers helping him at Southern Hills; that's the most he can house in local dormitories during the PGA.
"Working a tournament is one of the best things you can do," Latshaw says. "You'll see turf at its peak getting beaten up as bad as it's ever going to get beaten."
Latshaw's fraternity gained notoriety at the 1997 U.S. Open at Congressional, where volunteers hand-mowed all the bent-grass fairways with walking green mowers that week. It was perceived as overkill, but the fairway mowers were damaging the rough with each turn of direction, so he decided to use walking mowers that could turn more precisely.
Latshaw calculated he needed 24 mowers and operators, so he put out the word. Fraternity members showed up with their own greens mowers, started about 4:30 each morning, were off the course by the first tee time at 7 a.m., then headed back out in late afternoons. It was exhausting work, especially for superintendents used to desk jobs. But no one complained.
Myers plans something similar at this year's PGA because Kerry Haigh, managing director of tournaments for the PGA of America, wants to bring fairway bunkers more into play by eliminating the strip of rough that usually exists between fairway and bunker. So Myers will mow the Bermuda-grass fairways right to the edges of bunkers, making shots "pour" into bunkers. Because it's impossible to get too close to bunkers with normal fairway mowers without collapsing their edges, Myers will have volunteers hand-mow the small portions of each fairway that run alongside bunkers.
Myers also has 24 giant electric fans to cool the temperature of his greens during the PGA. They'll likely run during the day and at night during the practice rounds, but he has suggested they could also be used periodically during the tournament. He'd rather not "syringe" greens, to avoid the controversy that developed at the 2004 U.S. Open at Shinnecock, where some players complained that the light watering of greens during play unfairly altered putting characteristics.
Blowing air across grass wouldn't alter the speed of any putting surface, Myers says, adding that the fans could be stored under bleachers, retrieved, positioned, plugged in, then removed and stored within 15 minutes, if play could be halted for that long. Haigh has made no final decision on the suggestion but doubts he'll approve the use of the fans during play, even though a legion of volunteers will be available to speed the process.
Hand-mowing fairways and cooling greens (whether by fan or water hose) are time-consuming, grunt-labor tasks. Can a volunteer opt out of such an assignment? Not if Latshaw Rules apply. The senior Latshaw says his rules were simple: "Plan on spending the whole week, accept whatever job I give you and expect to do it all week."
Not all volunteers are assigned exhausting jobs. Some are held in reserve for potential emergencies. Dave Ward, who prepared Olympia Fields near Chicago for the 2003 U.S. Open, stockpiled extra chain saws, hoses, pumps, shovels and sand, just in case a terrible storm hit.
But one thing he hadn't planned on was frost. Eleven days before the Open, on June 1, temperatures dipped below freezing. The grass stopped growing. Ward, an honorary member of the Latshaw fraternity because of past volunteer service, was able to call several friends for advice. They told him not to worry. It took time for the turf to start growing again—there were record-low scores during the first two days of that Open—but by the weekend, Ward had the rough at the depths and the greens at the speed the U.S. Golf Association wanted.
Eric Greytok, only 28 years old when he handled the 2000 U.S. Open at Pebble Beach, remembers a fog delay during opening day that required a massive reshuffling of manpower and tee times. His volunteers, including Ward, worked even later than normal because of the weather delay.
"The most fun I've ever had in this profession was at the 2000 Open," says Ward. "I was mowing the 18th green at Pebble Beach at 10:30 at night. There was just enough moisture on the grass that I could see my path."
At Thursday's opening round of the 2003 PGA at Oak Hill, a large portion of the Northeast was hit by a power outage. That took even Paul B. Latshaw by surprise. "The previous winter we had considered every possible disaster, from flood to famine to lightning and fire," he says. "But we never considered a blackout."
Latshaw and the volunteers first had to find small generators and get them to the merchandise tents, to keep the all-important cash registers ringing. Then it was on to food-service vendors to keep refrigerated food cold. Then they had to attend to network television's computers and carts. At 2 a.m., Latshaw was wiring together a temporary system to charge radios and carts when the power was restored.
There's a true camaraderie that develops in this network of volunteer-superintendents.
"It sounds crazy," says Greytok, who moved from Pebble Beach to Winged Foot in 2001, "but when I heard about the 2006 Open, I got excited, mainly because I was going to see all my friends and we were all going to be able to hang out in one spot."
Each major event has an air-conditioned hospitality tent specifically for these volunteers, providing hot meals, cots, closed-circuit television coverage and real-time scoring. Head superintendents try to outdo one another in extra amenities. At Olympia Fields, Ward offered deep-dish Chicago-style pizza one day, a local brand of ice cream another day and a local-brewery beer bash on the Sunday evening after the final round. For this year's PGA Championship, Myers is bringing in several Golden Tee video golf games to entertain the troops.
During down time, some volunteers just sit and talk with one another about their jobs, getting tips, suggestions and ideas. Most never get to see the tournament to conclusion. After their Sunday-morning duties, they rush off to the airport to be back at their regular jobs on Monday morning.
A successful major championship can be lucrative. His fraternity credits the senior Latshaw for being the Arnold Palmer of their profession, making today's big salaries possible.
Latshaw made $30,000 at Oakmont in 1978 and took the Augusta job in 1983 for $50,000, but as his reputation grew, so did his pay. He earned his first $100,000 salary at Wilmington (Del.) Country Club in 1990, and signed for $200,000 when he took over the Winged Foot job in 1999. But after organizing a massive tree-removal program, which resulted in the USGA awarding Winged Foot's West Course the 2006 Open, Latshaw decided, at age 61, to leave the Open preparation to a younger generation.
Today, a superintendent at a major can earn a big salary and bigger bonus. One prominent superintendent on the East Coast received a bonus of $250,000 after his major went off with no complications. The biggest bonus Latshaw ever received was $30,000, after the U.S. Open at Congressional. "And they had to review everything first, to make sure it had been a successful Open," he says with a laugh.
Do volunteers resent that the man in charge gets a big payday for their labor? The ones we talked to don't, because they know, sooner or later, their time will come. "On the Sunday night after the final round [of the 2003 PGA], I told my wife, 'I think it's time to move on,' " the younger Latshaw says. "Sure enough, within a week, I got the offer to take over Muirfield Village in Ohio. It was a bit more money, but honestly, I took it because I'd always wanted to work for Mr. Nicklaus."
Not every major has a happy ending. Ward says he received few thank-yous from his club's membership after the U.S. Open at Olympia Fields and was told he might want to look elsewhere before his contract expired in April. So he took the job growing in and then maintaining a new public course, Coyote Run in Flossmoor (built from the abandoned Cherry Hills Country Club, the course on which he'd grown up), even though his salary dropped to $80,000 from $170,000. But it was next door, so his family wasn't disrupted. He left on his own terms, and finds he's now much happier.
"Some guys thrive on national championships. I find I don't miss it," Ward says. After the Open at Winged Foot's West Course last summer, Greytok spent months, with a far smaller crew, reclaiming the club's equally strong East Course, which had been turned into parking lots and hospitality tents for the championship. "The Open wasn't over for me until Sept. 23," he says, "the day we got the East Course back up and running."
This spring, Greytok left Winged Foot for a job in Oregon, growing in the Tom Doak-designed Wicked Pony Golf Club. "It was purely a lifestyle change," he says. "My wife and I are committed to raising our kids in a smaller, more intimate atmosphere. As for majors, I don't think I'll ever miss it. I accomplished what I wanted to. It's a lot of work. I can still volunteer for a week, have some laughs, get my fill and go home and think, You know, I'm so glad I walked away from all that."
John Szklinski, whose departure last year as superintendent at Southern Hills led to the hiring of Myers, is now at Charlotte (N.C.) Country Club, completing a restoration of the course that will host the 2010 U.S. Women's Amateur. He struggled with his decision to leave Southern Hills less than a year before this year's PGA.
"It was a great opportunity in Charlotte," Szklinski says. "It not only benefited my career, it benefited my family. It was a decision based upon love."
Among those not able to join Myers' volunteer pool at this year's PGA Championship is Candice Combs, superintendent of the South Course at San Diego's Torrey Pines. She'll become the first female superintendent to handle a major championship when Torrey Pines hosts the U.S. Open next year, but because she's technically not the head superintendent, it's a distinction that might carry an asterisk.
Her boss, the head man, is Mark Woodward, who started at Torrey Pines in early 2005, after his term as president of the Golf Course Superintendents Association of America ended. He's now the Golf Operations Manager for all of San Diego's municipal courses.
Woodward has never volunteered at a major, although he and Combs have been to tournaments to observe operations. Woodward is busy organizing his volunteer crew for 2008, arranging for discount housing and finding companies to donate meals. He plans to adopt conditions very similar to the Latshaw Rules for volunteers and suspects some of Latshaw's fraternity will sign up.
Paul Latshaw recalls that during the '97 Open, one superintendent from a big-time club overslept one morning and had to hitchhike from the housing complex to Congressional. He showed up hours late, tears rolling down his cheeks, begging forgiveness for having let Latshaw and the team down.
Such is the sense of obligation felt by most volunteer-superintendents.