PGA Championship
PGA Championship 2022: Rory McIlroy once again plays down to the expectations of his critics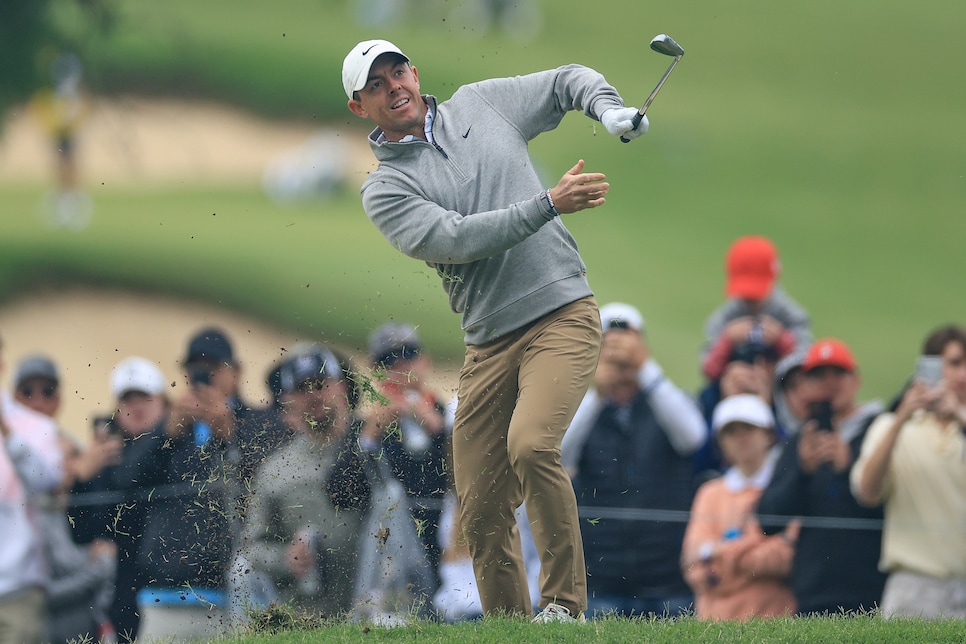 Rory McIlroy plays his second shot on the first hole during the final round of the 2022 PGA.
David Cannon
TULSA — If you're looking for a lingering image from Rory McIlroy's Sunday at the PGA Championship, you could do worse than the space outside the locker room at Southern Hills, where he strode past a group of journalists, trailed by his agent, bound for the parking lot. After a two-under-par 68 that wasn't nearly good enough, he didn't want to talk, and who could blame him? What was left to say? This was the latest in a slew of major missed opportunities, and while he's been one to take his medicine and deal thoughtfully with the press, even in the aftermath of disappointment, this one was apparently just a little too much to take with forbearance. So he marched, face avowedly neutral, leaving us to wonder how he might react behind the tinted window, when the door closed.
There's a phenomenon that seems to be increasingly common, and it's one we'll call "cynical prediction." It's a simple defense mechanism. If you sense that an outcome you don't like is imminent, you simply predict it, thereby theoretically shielding yourself from the full brunt of disappointment. You pretend this is armor, that your certainty means you care less than you do.
Apply it to McIlroy, and the prediction coming into Sunday was simple. He took the lead with a brilliant 65 on Thursday. But as has become all too typical, he seemed almost magnetically repelled by the top of the leaderboard at a major and spent Friday and Saturday, and then eventually Sunday, fading away. All of which led to this week's cynical prediction: Just like at the Masters, McIlroy would make a run on the front nine while it was safe, while he was many shots behind the leaders, but as soon as the notion of him winning began to seem possible, he'd make a bogey and resume his fade.
Here's the problem, though: The cynical prediction doesn't work as intended. It's a poor shield against reality, and being right doesn't blunt the sting. The pains of being a Rory fan, as social media demonstrated time and again on Sunday, are just as poignant.
In the media center at Southern Hills, birdies are marked on the big digital scoreboard with red circles. So it was no surprise to see the first red circle for McIlroy come on the second hole, after a 15-footer found the cup. Then another circle. Then another. Then another. By the completion of the fifth hole, he was four under on the round, five shots off Mito Pereira's lead, and threatening. Pereira, though, who had never been in a situation remotely as pressure packed as this, could easily fade. He did fade. Which meant McIlroy was, perhaps, really just a shot or two off the lead.
This was the moment: Things felt real.
Which meant it was time for the next moment in the script that allows for no improvisation. Rory obliged: He missed the green on the long par-3 sixth, hit a woeful chip that ended 20 feet from the hole, and two-putted for bogey. Act Two had begun.
By the time he reached the turn, he came in at 32, still with plenty of hope. For the next nine holes, on a calm, accessible back nine, his approach game and his putting game, so sharp on the front, abandoned him by turns. It was a tale of squandered opportunities, one hole after another.
On 10, a beautiful, towering drive put him 144 yards from the hole, but his approach left him 50 feet from the hole. No birdie. On 11, the par 3, his approach came nowhere near the back pin location. No birdie. On 12, a jaw-dropping 361-yard drive left him an approach of just 92 yards over a creek, but the best he could do was 14 feet on the approach. No birdie. On 13, a par 5, he picked the worst time to hit a bad drive, pinning himself behind a tree and making it impossible to reach in two. This time, though, his approach was solid, stopping 10 feet from the hole, but his putt wouldn't fall. No birdie. On 14, a solid par on a tough par 3. On 15, a missed 13-footer. On 16, another brilliant drive, another poor approach, and a putt from the fringe that lipped out. No birdie, no birdie, no birdie.
When the putt on 16 caromed around the cup and refused to fall, he twisted his body and stared off into the distance. There was a lot in that stare, or at least it was possible to imagine there was. Eight years of frustration, of not being at quite the same cutthroat competitive level you need. Eight years of being near the promised land, but never there.
By that point, his fate was clear. The leaders were too far ahead, and something in him seemed to sag and concede. He cut a lonely figure pacing up the fairway on 17, and when his pitch didn't check before the downslope past the pin, his string of 10 straight pars came to an end. He saved a half-hearted par on the last, signed his scorecard as fast as he could and fled the media who weren't quite bold enough to insist ... they knew how that would go.
By the time he left the course, the five-under total he reached after Thursday's round would have been enough for second place. Pereira was desperately holding off his challengers, and if you closed your eyes, you could almost imagine an alternate reality where McIlroy was one of them. It was desperately, agonizingly close, just like it had been before and perhaps just like it will be again. But somewhere in Oklahoma, away from Southern Hills, McIlroy would be looking out a car window and facing the familiar dismal truth.
Is McIlroy a little like us, at least remotely, at least at a great distance? It's as good an explanation as any for why he inspires a deeper kind of support among his fans, and why the rhyming history of his second professional act has been so dispiriting. If so—if there's a tendril of connection that's still palpable—he'll be wondering what we're wondering: Are there some patterns that won't break? And are there some questions without an answer?
MORE PGA CHAMPIONSHIP COVERAGE FROM GOLF DIGEST