Still Crazy After All These Years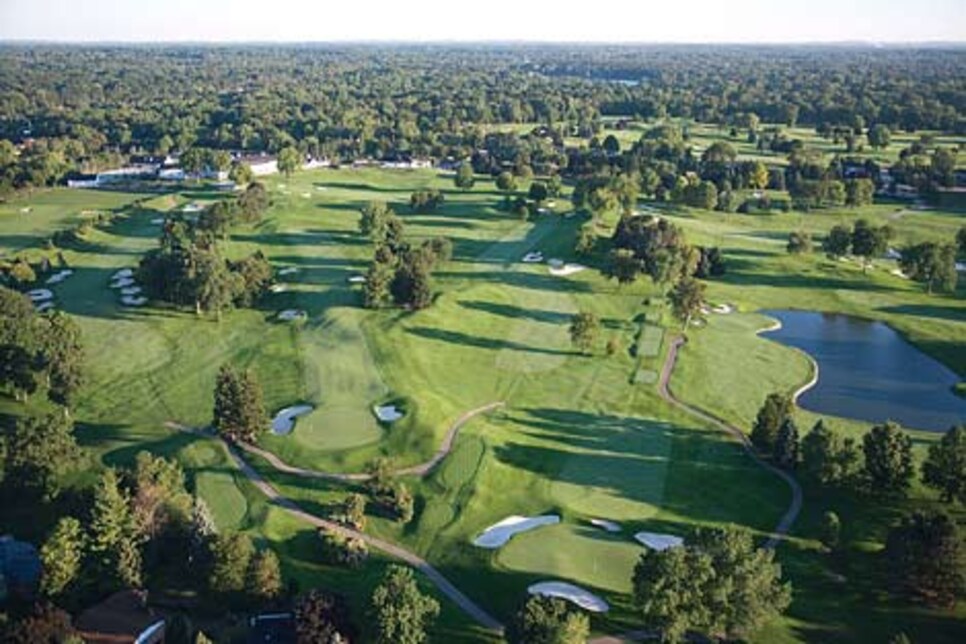 The 238-yard 17th hole (right foreground) is one example of Oakland Hills' difficult greens.
Oakland Hills Country Club
Bloomfield Township / Michigan
For those who think technology has ruined America's championship golf courses, we give you the South Course at Oakland Hills: unfazed, unflinching and unflappable in the face of everything every golfer has thrown at it.
Sure, there are some new back tees on the South Course for this year's PGA Championship, and a few new bunkers. But unlike, say, Augusta National, which has been transmogrified into something that Jack, Arnie and Gary barely recognize, Oakland Hills, in suburban Detroit, still looks and plays the same as it did when Nicklaus won a U.S. Senior Open there in 1991 (when no one managed even-par 280 for the regulation 72 holes), when Palmer won a Senior Open there in 1981 (when only two golfers broke par in any round all week), and when Gary Player won the PGA there in 1972 (launching a Hail Mary 9-iron shot over willows and the pond on 16 to within four feet). The willows, by the way, withered away and have been removed.
Heck, if Ben Hogan were still alive, he'd even recognize present-day Oakland Hills. Its design is hardly different from the way it was when he won the 1951 U.S. Open (finishing with a 67, one of only two rounds under par for the week) and purportedly dubbed it The Monster.
Although 57 years later the Motor City Monster might appear a lot tamer, lacking the ankle-deep hayfield rough and ragged, rugged-looking bunkers of '51, it is anything but tame. That's because Oakland Hills has hardly messed with its greens since before Hogan's time. They're the grandest, most glorious set of putting surfaces ever to give the world's best golfers fits of frustration. Oakland Hills is the home of rainbow putts with 25 feet of break, of grass bowls with flagsticks on their rims, of multiple humps and ridges that turn players into pretzels trying to figure out the line.
Older generations might look at the extreme banks and slopes on these greens and compare them to miniature ski slopes or bicycle velodromes. Today's generation would likely compare the contours to halfpipes of a snowboard park.
Nicklaus has called them "the toughest set of greens we play in major-championship golf."
Paul Azinger, this year's U.S. Ryder Cup captain, thinks they're "more difficult than Augusta National's."
The late Al Watrous, who served as pro at Oakland Hills for decades, always said, "When you reach the green, that's when the game begins."
"The plateaus and ledges on our greens make for good risk-reward situations," says Pat Croswell, Oakland Hills' pro since 1987. "They make people play for pars."
Back in '51, Hogan was so leery of the green on the ninth (a par 3, now 257 yards) that he seriously considered laying up and chipping to the flag. Tom Lehman, after tying the competitive course record with a 65 in the 1996 U.S. Open, said the course had a lot of "crazy" greens, and the one on the par-3 13th "is pretty obnoxious."
One sportswriter at that event, sympathizing with players who struggled with putts, labeled the surfaces "carnival golf" and "bush-league greens."
When a set of greens evokes those sorts of responses, a course is usually 1 up on the field before any championship starts. The big question is, which architect is responsible for playing mind games with the world's best golfers?
As an amateur in the 1961 U.S. Open (won by Gene Littler at one over), Nicklaus not only charted every yardage at Oakland Hills but charted every contour on every green. He has always considered them Donald Ross greens.
"When he designed Oakland Hills," says Nicklaus, "Donald Ross used plateaus to define different areas where you can position the flag each day. If you hit your shot to the proper plateau, you're going to have a great chance of making the putt. If you miss that defined area, you might have a hell of a time two-putting."
But Ross first opened Oakland Hills in 1917. Surely his greens have been plowed up and redone by other architects many times since then? Well, Ross remodeled the course before the 1937 U.S. Open, elevating some greens and lowering others. Then, in 1947, Ross did a set of plans to remodel the course again, this time for the '51 Open, but he died in 1948. (Other than expanding some greens back to pre-World War II dimensions, he hadn't planned any extraordinary changes to the greens.)
The job went to Robert Trent Jones, whose work made him the target of Hogan's wrath. Trent capitalized on that notoriety with countless self-promoting interviews. To hear him talk, he had transformed the layout. In truth, he'd done far less.
The par-3 13th, for instance, was pretty much the same for the '51 Open (and for this year's PGA) as it was for the '37 Open, with its ice-cream-scoop green encircled by bunkers. All Trent did was elevate the two rear bunkers for visibility and add one tiny pot bunker in the grass face of a big bunker on the front right. Over the years, countless fans have been led to believe the nasty little 13th was the handiwork of the devilish Robert Trent Jones. Let the record be clear: It's a devilish Donald Ross hole.
Before the '51 Open, the club wouldn't let Jones rip into many greens. Trent later wrote, "The remodeling of Oakland Hills called for stringent steps to counter the advantages of power golf which threatened to make such a venerable course obsolete. It was an assignment which had to be done . . . without any wholesale changes to its greens. The greens, fortunately, were of such size and of such strong contour, generally, as to preclude any need for restructuring . . . "
Trent Jones totally reconstructed only two greens for the '51 Open, the one on the par-4 seventh (now 449 yards), which he relocated (and rebuilt again years later) and the one on the far side of a pond on the 406-yard 16th. Over the next quarter-century, as consulting architect, Trent would soften corners of a few other greens for new flagstick positions.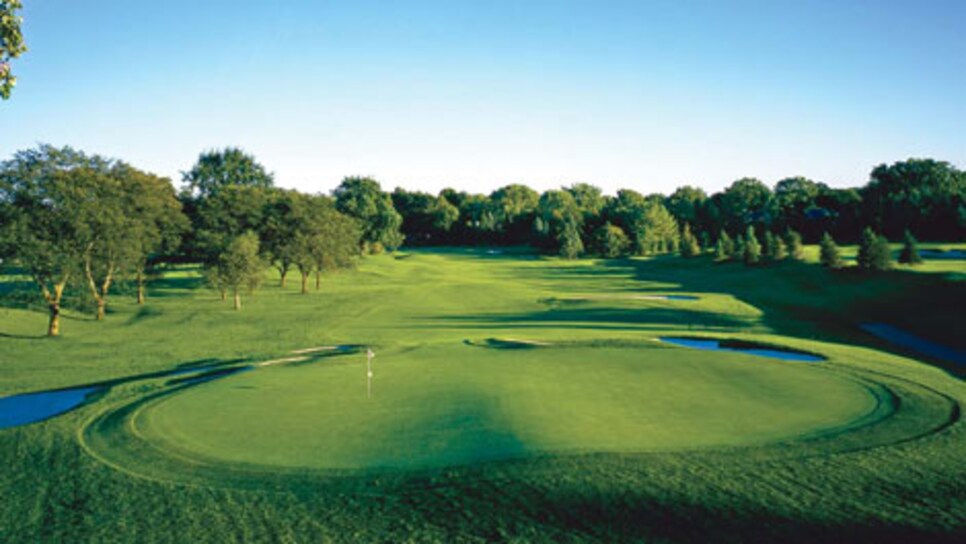 Trent's big contribution to Oakland Hills was pinching in many fairways with flanks of bunkers. Hogan was the first of many critics to blast him for taking away favorable angles from which to attack treacherous pin positions.
If the pin was far left, Hogan wanted to approach it from the far right of the fairway, and vice versa. But Trent's bunkers prevented that. Trent's response was that players could still hit it close to the pins from the center of fairways using fades and draws.
Prior to the '96 Open, architect Arthur Hills modified four greens very slightly in search of additional pin positions along the edges. Most recently, Rees Jones (younger son of Trent Jones) touched up the bunkering but didn't touch the greens. On the 498-yard, par-4 18th, the far-left fairway bunker (from which Lehman couldn't reach the 72nd green in 1996, made bogey and lost by one) now has an even steeper "exit face." There's also a nasty new bunker on the right side of the fairway, 320 yards from the tee, as deep and inescapable as any on the course.
Rees added one wrinkle to his father's 16th by replacing a back-right bunker with a new cove of the adjacent pond, turning the right side of the putting surface into a daunting peninsula, a Sunday pin placement if there ever were one.
In 1979, then-course superintendent Ted Woehrle dropped a bombshell that hardly anyone heard. He insisted there were only seven original Ross greens left: the first, second, third, ninth, 10th, 13th and 18th. (We think he miscounted. The 14th green, which slopes front to back, had been untouched since 1937, according to photos and descriptions of that era.) Woehrle added that his predecessor, Howard Jones (not Robert Trent Jones), rebuilt the fifth, eighth, 11th, 12th, 15th and 17th greens in the 1960s.
If greenkeeper Jones did rebuild those six greens (there's no documentary evidence that he did), he clearly tried to duplicate the old contours, because all of those greens look much as they did in photos from the '51 Open, and even from the '37 Open. So the preponderance of evidence supports the idea that Oakland Hills' greens are mostly Donald Ross originals, with maybe a few added wings or tongues for new flag locations. They might well be the most dramatic set of Ross greens still in existence.
Of course, 1979 was the only time tour pros really got the best of Oakland Hills, with 66 subpar rounds during the PGA Championship that year, nine players breaking 280 and David Graham beating Ben Crenshaw on the third hole of sudden death after the two had tied at eight-under-par 272.
But it's the aftermath of that birdiefest that's important. The members of Oakland Hills didn't panic, didn't demand the course be bulldozed into something more formidable. The course had been saturated with rain before the championship, so it was soft and defenseless that week. They knew once it dried out, Oakland Hills would return to form. And it did. That's why the Oakland Hills of today is the same course it has been since almost the beginning. Still fearsome, still feared.