Equipment
PGA Tour Stats: The numbers say these five players (and the irons they use) should be in the hunt at the Tour Championship
Proficiency in a particular PGA Tour stat has proven to be a requisite for those winning the Tour Championship, and that happens to be greens in regulation. Although we admit ranking in the top 10 when there are only 30 players in the field isn't too impressive of an achievement, only one winner of the Tour Championship since 2002 has ranked outside the top 10 in greens in regulation for the week that they won (the answer to that particular trivia question is Bill Haas in 2011). With that in mind, we take a look at the five players in the Tour Championship who rank the highest in greens in regulation, and the irons they'll be wielding at East Lake Golf Club.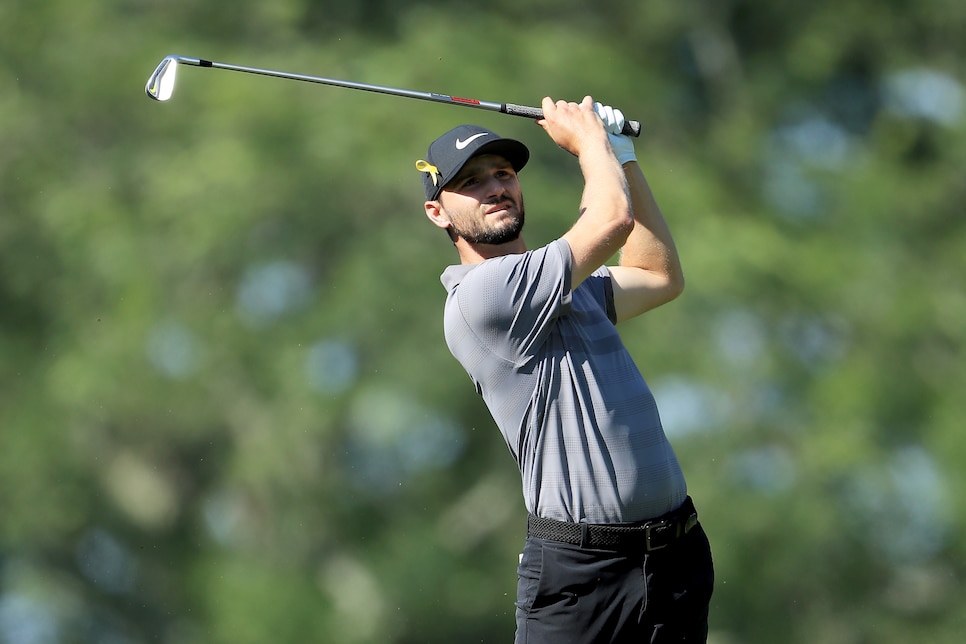 Player: Kyle Stanley
Greens in regulation: 71.37 percent
Irons (4-5): Titleist 718 CB; (6-PW): Nike Vapor Pro Combo
A year after finishing second in greens in regulation, Kyle Stanley ranks third in the same stat entering this year's Tour Championship—where he shot an opening-round 64 to take the 18-hole lead in 2017. Stanley employs a split set of irons, using Titleist's 718 CB model—a forged cavity-back with a 17-4 stainless-steel face insert with tungsten in the heel and toe areas for forgiveness—for his long irons and his old Nike Vapor Pro Combo irons for the remainder of his set.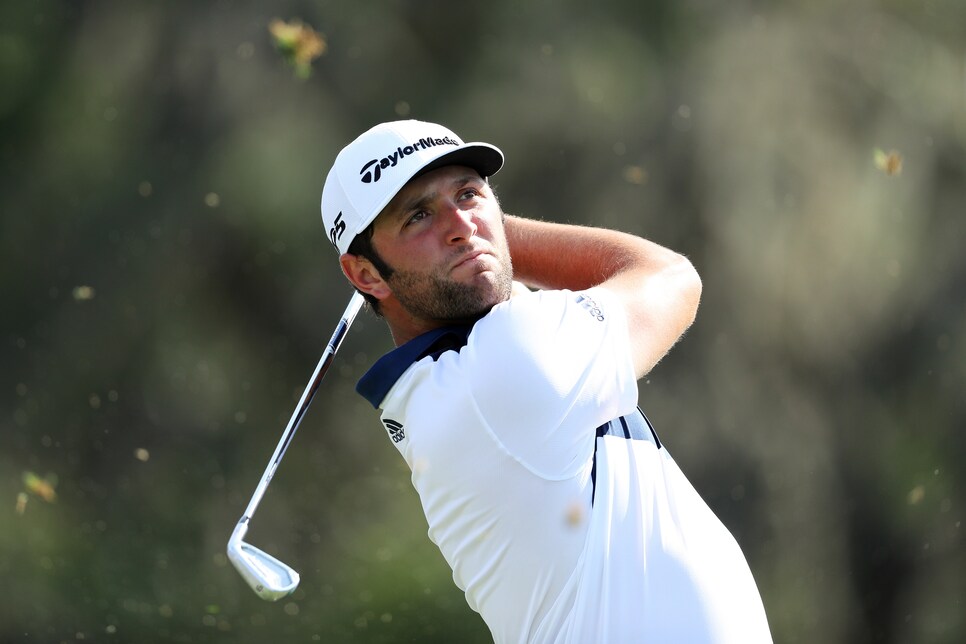 Player: Jon Rahm
Greens in regulation: 70.83 percent
Irons (4): TaylorMade RSi UDI; (4-PW): TaylorMade P750
Rahm has a pair of 4-irons in his bag, but one of them, a TaylorMade RSi UDI is actually more of a 3-iron. The rest of Rahm's iron set is the company's P750 model. The clubs are three-quarters of an inch longer and 2 degrees upright. When asked by Golf Digest why he liked the cavity-back club, Rahm said, "It's the forgiveness. I played musclebacks most of my career because I thought it was cool. But when I tried these irons it was just a lot easier, a lot more comfortable. When you're in the fairway and you know that even if you don't hit it perfect it's still pretty much going to carry the same distance, that's nice."
Player: Gary Woodland
Greens in regulation: 70.82 percent
Irons (4-9): Titleist 716 MB; (PW): Titleist Vokey SM7
Gary Woodland is known as a bomber off the tee, but that prodigious length (no worse than 13th in distance any of the previous six seasons) has also allowed him to hit more greens. Woodland carries a set of Titleist irons that contains Titleist's Vokey SM7 for his pitching wedge and the company's 716 model of its muscleback blade MB iron.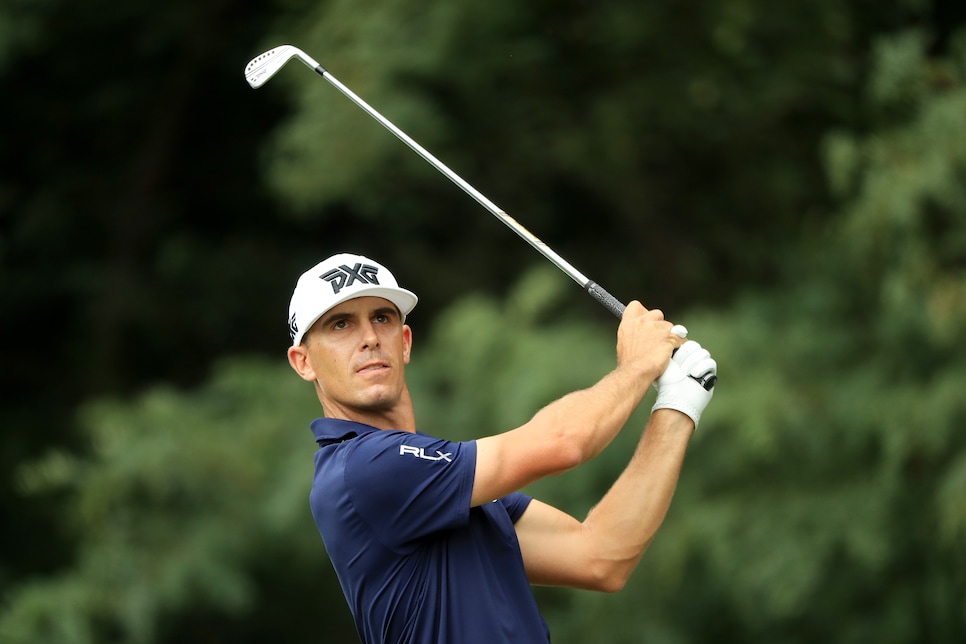 Player: Billy Horschel
Greens in regulation: 70.80 percent
Irons (3, 5-PW): PXG 0311T Gen2
Billy Horschel was an early adopter to PXG and quickly moved into the company's new Gen2 version of its 0311T irons. Three years in the making, the irons boast a new polymer material that replaces the TPE material that filled the hollow clubheads of the original PXG irons. The company also redesigned the internal face perimeter with a cutout design that enhanced the functional face area, boosting speed and forgiveness. Other enhancements include an improved sole geometry and a switch from S25C steel to 8620 carbon steel for better aesthetics over time. The face remains HT1770 Maraging Steel face and is an ultra-thin 58/1000ths of an inch, or slightly thicker than a dime. For Horschel, it all added up to a solid season on his approaches to the green.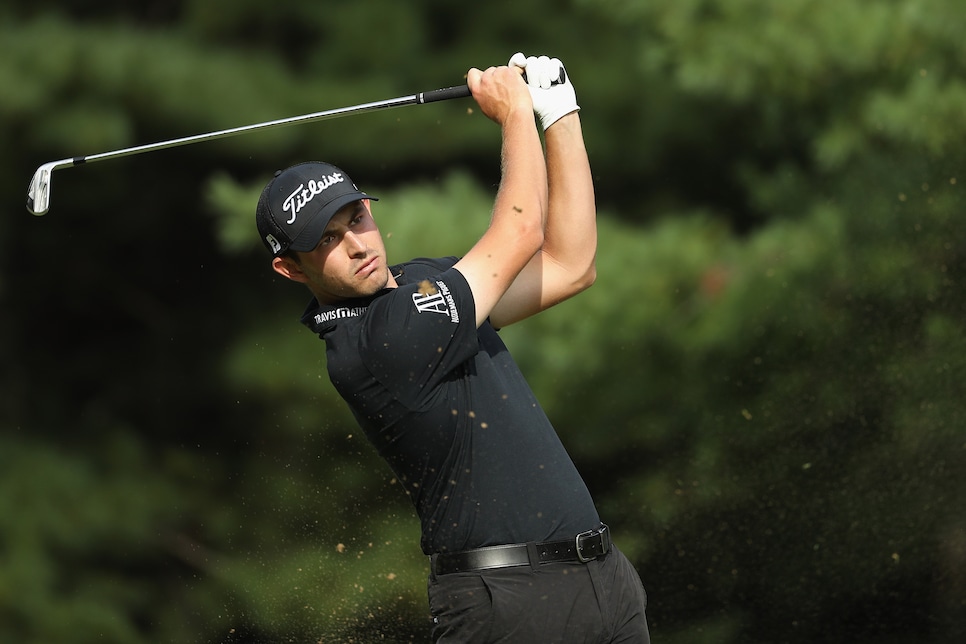 Player: Patrick Cantlay
Greens in regulation: 70.59 percent
Irons: (4-PW): Titleist 718 AP2
Although he used Titleist's 716 AP2 irons to win the 2017 Shriners Hospitals for Children Open in Las Vegas, Patrick Cantlay has enjoyed continued success after switching to the company's 718 version of the club. On the 718 a steel body is forged to a face insert made from the same steel. This allows for a thin face that improves long- and middle-iron distance. The set then switches to a 1025 carbon-steel body and face insert for the 7-iron. The 8-iron through pitching wedge use a forged 1025 carbon-steel face and body. Two densities of tungsten in the heel and toe provide stability on the 3- through 7-irons.