The Loop
PGA Tour pros speak out, Rory McIlroy's cycling rep stalls, and Tiger takes on the role of swing coach
Welcome to another edition of The Grind. This is normally a fun space reserved for often frivolous things happening in the world of golf, but recent events are too devastating to ignore. I wish I had the words to help heal people during these troubling times, but I wanted to at least pass along some powerful pieces written by others. Long Drive champ Maurice Allen shared with Golf Digest what it's like to be a black man in a predominantly white sport. Golf Channel's Damon Hack wrote a beautiful essay about his experience as a black man in golf media. Golfweek's Eamon Lynch—no stranger to persecution as a gay man—pointed out that golf seems to finally be speaking out on social issues. And our Editor-in-Chief Jerry Tarde pledged to be more vocal on such matters and to better promote inclusivity in a sport that unfortunately doesn't have the best record when dealing with minorities.
My pledge is to do the same. I'm proud to work for a company, Discovery, that faded to black for eight minutes and 46 seconds—the same amount of time a former police officer kneeled on George Floyd's neck—across all 19 of its U.S. brands on Tuesday night. But I'm also well aware that we need to keep the conversation going if we are ever to promote real change. Whether its peaceful protests, donating money, or having serious conversations, let's all try to do better. And with that, let's try to talk about some golf.
Mic'd up players: The European Tour announced its restart will begin with a six-tournament UK Swing beginning July 22. Also beginning then will be a new policy in which players in featured TV groups will be mic'd up. "It really comes down to how open you are, how creative you are and how your players want to embrace change," Euro tour chief executive Keith Pelley told BBC Sport. "This is the time for us to do some things completely differently." Couldn't agree more. Well done. Just please make sure to put a mic on Eddie Pepperell at all times.
Annika Sorenstam: Arguably the GOAT of the women's game, Sorenstam stepped up by pledging $50,000 to struggling Symetra Tour players. Well done. The 10-time major champ was also named as a U.S. Women's Open ambassador for the 75th anniversary of the tournament, which was to be played this week, but will take place in December instead. Oh yeah, she also was this week's guest on the Golf Digest Podcast, where I enjoyed talking to her about her career and pickleball. Please have a listen:
PGA Tour University: The tour unveiled a new program that will reward the top college golfers (in their fourth or fifth years) by guaranteeing the top five ranked players status on the Korn Ferry Tour for the remainder of the season once the college season ends. This will give young golfers a better chance of playing their way onto the PGA Tour or Korn Ferry Tour for the following season. It also incentivizes staying in school, which will make parents everywhere happy. And speaking of college golf …
The Wake Forest team bus: Yes, I'm a Wake alum, but even the most objective observer would say this bad boy is sweet:
Imagine going on a golf trip in that thing? Hmm … My golf trip is in Pinehurst this August and the college golf season will be on a break … Guys, did I mention I went to Wake?
Vijay Singh's WD: It turns out, the three-time major champ and fourth all-time money earner in PGA Tour history won't play in a Korn Ferry Tour event after all. Good. But we're not giving Singh much credit for having a change of heart, because it appears he would not have gotten a spot in the field by the time the tournament started. In any event, the 57-year-old will not be taking someone else's spot on the PGA Tour's developmental circuit.
Canceled John Deere Classic: The PGA Tour restart will sadly not include this major of the Midwest, informally known as the Steve Stricker, Zach Johnson and friends Invitational. It's too bad it won't be played this year, but it's also understandable. In the meantime, the tour is looking to replace the event by holding back-to-back tournaments at Muirfield Village with the Memorial scheduled for the week after. We're guessing golfers won't be too upset about spending two week's at Jack's place considering that golf course—and those glorious-looking milkshakes.
Rory's Peloton prowess: McIlroy's cycling reputation took a bit of a hit when he finished fourth out of eight in ESPN's first Peloton Pro-Athlete All-Star Race. And while getting dusted by an Olympic medal winning swimmer (Matt Grevers) is nothing to be ashamed of, McIlroy got beat by former NFL player and former Monday Night Football analyst Booger McFarland. "Since I can't beat Rory McIlroy on the golf course," Booger said before the race, "my one goal for today is to prove that golfers aren't athletes." While we wouldn't go that far, it wasn't a great showing by our guys.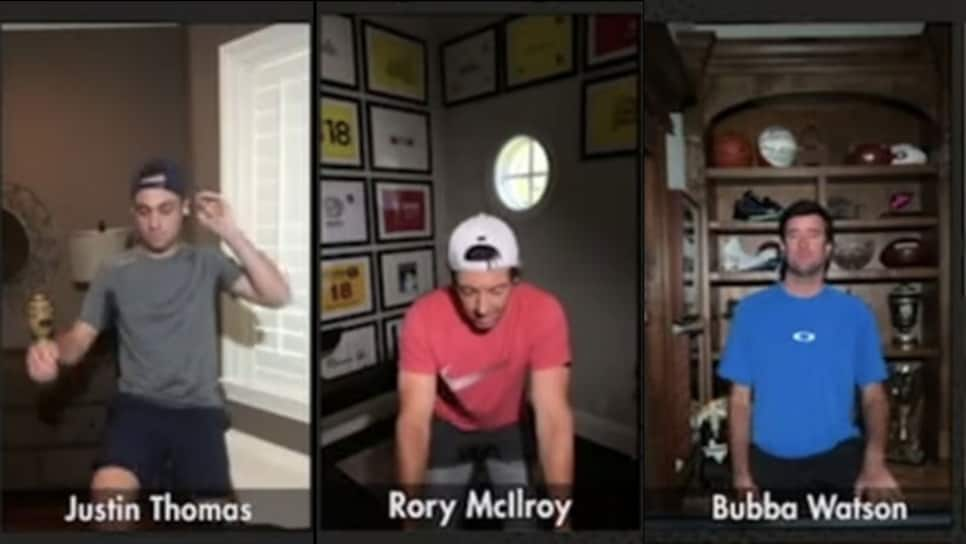 Bubba Watson was sixth and Justin Thomas finished in last place. JT! Pick up the pace! You're a young man! Props to Morgan Pressel, though, for finishing second on the women's side. See? Golfers are athletes!
CBS will air the final round of the 2012 Memorial on Sunday. Unfortunately, I missed the end because I was boarding a flight back from a wedding in New Orleans after drinking a few too many hurricanes, but that was a good one. Two words: Flop shot. Sorry, four words: Tiger Woods flop shot.
Random tournament fact: This will be the last weekend (hopefully) without live golf for a while. Thank goodness.
RANDOM PROP BETS OF THE WEEK
—I would survive drinking that many hurricanes now: 1 MILLION-to-1 odds
—Michael Jordan/Steph Curry will be play in the next The Match: 2-to-3 odds (Actual odds, co-favorites)
—Larry David would be a more entertaining choice: LOCK
Two golfers broke 70 on Streamsong Black—and lost by a combined 19 shots to European Tour pro Sam Horsfield, who shot 59 on the par 73:
These guys are good. Hey, if the European Tour is looking for a new motto while it revamps, that one is available.
The greatest golfer of all time is also the biggest golf nerd of all time. We saw that evidenced again when Tiger Woods watched the swings of several amateurs for this enjoyable—and instructional—Golf Digest piece:
THIS WEEK IN TOUR PRO PUBLIC DISPLAYS OF AFFECTION SOLIDARITY
Perhaps more than any other time ever, pro golfers spoke out about social injustice amid national protests following the tragic killing of George Floyd. Players like Tiger Woods and Harold Varner III released statements:
And others like Phil Mickelson, Brooks Koepka, and Justin Thomas joined the social media #BlackoutTuesday campaign:
As awful as these recent events have been, it's nice to see the game's stars taking a stance and spreading awareness. Let's hope they keep it up.
THIS WEEK IN CELEBRITY GOLFERS
Congrats to Fox Sports' Joel Klatt on making his first-ever hole-in-one. I guess. Kidding. Sort of.
"I don't know the avenue to fix this. But I do know that calling someone an idiot, saying they're stupid, making fun of them for their belief or their vision or how they feel, that's mean. That's it. It's so simple. That's just mean. So don't be mean. Think, maybe take a step back. Process, empathize, do something to at least see their—and if you don't agree, don't agree, go away. I literally think I learned 75 percent of all this in pre-school. Treat people the way you want to be treated. If you don't have something nice to say, don't say it." —Max Homa. Well said.
Sahith Theegala, who won the Fred Haskins Award as the nation's top collegiate golfer last month, fired a 62 in his first round as a pro—on the Outlaw Tour. Not exactly how other past POYs like Tiger and Phil started their pro careers, but 2020 is not exactly your normal year, either. … Speaking of 62s, Tiger Woods moved up from No. 11 to No. 8 in Forbes' annual highest paid athletes list with earnings of $62.3 million. Of course, when you've been ranked No. 1 a dozen(!) times, this isn't all that exciting. … And finally, it's been a tough couple months, but I recently got a nice pick-me-up when my favorite artist gave a shout-out to my daughter, who I have already trained well when it comes to music.
Thanks, Ben. You're the GOAT.
RANDOM QUESTIONS TO PONDER
Why isn't Ben Folds more famous?
What would Tiger's career earnings be on the Outlaw Tour?
What would Tiger say about my golf swing?