The Loop
Update: PGA Tour denies Dustin Johnson suspension; players express concern for him
AKRON, Ohio -- News of Dustin Johnson's leave of absence from the PGA Tour sent ripples through the field at the WGC-Bridgestone Invitational for a second straight day.
On Thursday Johnson announced that he was taking the leave "to seek professional help for personal challenges I have faced," he said in a statement. On Friday, Golf.com, citing one unnamed source, reported that Johnson failed his third drug test and a second for cocaine.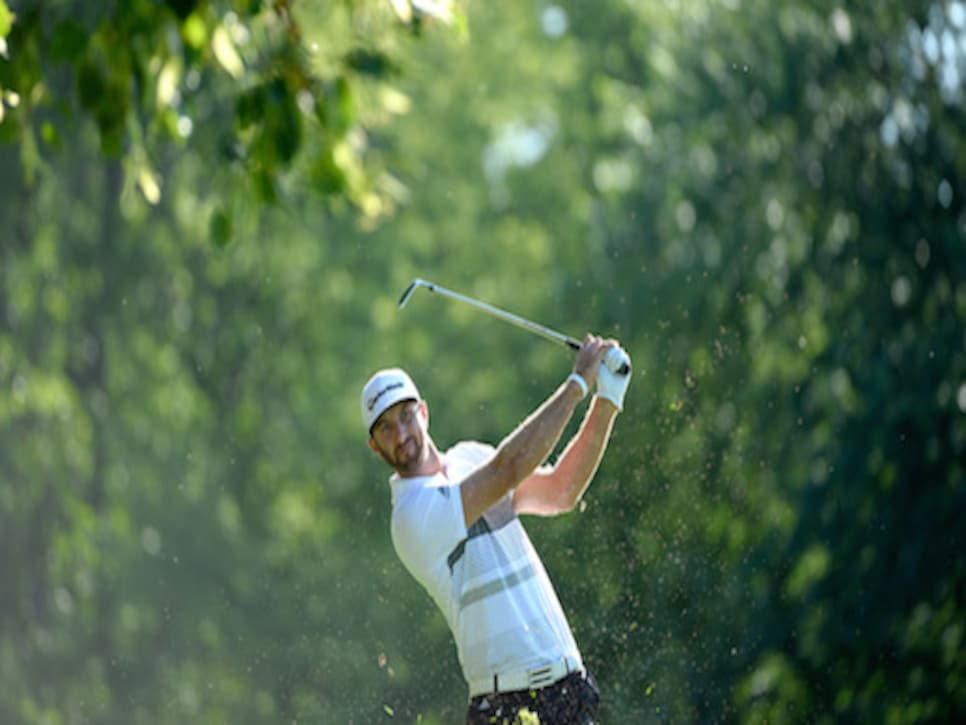 Dustin Johnson at the RBC Canadian Open last week (Getty Images photo)
The Tour, however, issued a statement around 6 p.m. EDT saying Johnson had not been suspended. "With regard to media reports that Dustin Johnson has been suspended by the PGA Tour, this is to clarify that Mr. Johnson has taken a voluntary leave of absence and is not under a suspension from the PGA Tour," the statement read.
Johnson is in the midst of a strong season that includes a win, two seconds and seven top-10 finishes. He missed the cut last week at the RBC Canadian Open. On Monday he withdrew from this week's WGC-Bridgestone Invitational, and on Thursday he announced, via his agent, that he would be skipping the PGA Championship and the Ryder Cup, for which he was a certain qualifier for the U.S. team.
He also will miss the FedExCup playoffs. He is ranked fourth in the season-long points standings.
Regardless of Johnson's reason for withdrawing from competitive golf, his peers on Friday expressed genuine concern for his well-being.
"I said yesterday that I just hope he figures out whatever he needs to do, whatever it is," said Masters champion Bubba Watson after shooting even-par 70 at Firestone CC. "You know, personal reasons … I don't really care what it is; it's not my business. It's personal. I said a prayer for him last night, and I will say another prayer for him tonight that he's OK."
Rickie Fowler, who had read a portion of the Golf.com story, said Johnson, a neighbor of his in Jupiter, Fla., "obviously faces some challenges in his personal life. Of course I'm worried about him. You never want to see a friend of yours struggle."
Jim Furyk added that whatever the loss to golf and to the U.S. Ryder Cup team with Johnson's extended absence were secondary concerns. "I'm concerned about him," Furyk said. "He's obviously a tremendous talent, but what is he … 30? He's going to be fine from a golf standpoint when he returns. When you take that much time off and announce that far out that you're not playing, then it must be something important, so in that regard it's good for him to step away. You get the other things in your life in order first, the important things, and let golf take care of itself."
Matt Kuchar said he reached out to Johnson Friday morning before the latest story hit. "I sent him a text that basically said sorry you're not going to be around for awhile and I hope you're OK. Let me know if I can help. It was as simple as that. I don't expect to hear back, but I wanted him to know that we care."