Rules
Tour pro out in Palmetto after calling a 10-stroke penalty on himself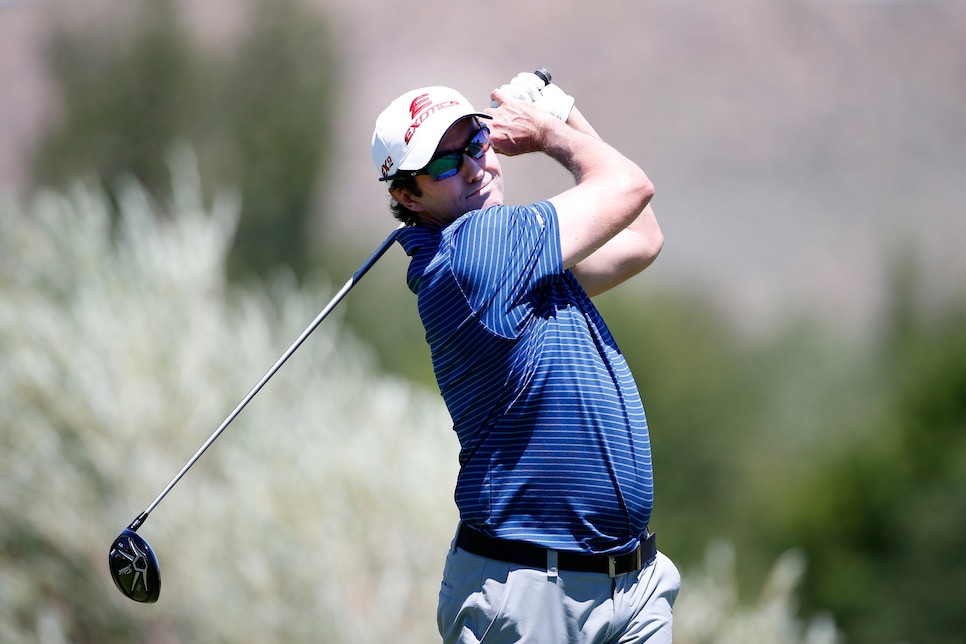 It was the strangest and most innocent of mistakes, but no matter how unintentional the error was, it didn't help the bottom line on Mark Hensby's result in the Palmetto Championship at Congaree.
In the first round on Thursday, Hensby suffered an eye-popping 10-stroke penalty that he called on himself for using the wrong ball. How that happened is the bizarre part. On the putting green, Hensby was rolling balls with another player, Pat Perez, nearby. At some point, Hensby accidentally picked up Perez's ball. Then during the round, after Hensby hit a shot into the water on No. 4, he grabbed a new ball from his bag, and it turned out to be Perez's.
Hensby told PGATour.com that on the eighth hole he noticed a small dot on the Titelist ball that he hadn't seen before. He didn't know what it was, so he asked his playing partners, who said that signified a low-spin ball. Henley doesn't play that version, so he realized something was wrong. It wasn't until later that he'd do enough detective work to find out it was Perez's ball.
"If you look at both balls it's hard to know the difference," Hensby told PGATour.com. "It's not like one is black and one is red. They're both black, but one has a small dot on it and one doesn't. Unfortunately, I didn't notice that. I'm glad he didn't use mine."
After the discovery, Hensby notified a tour official. By rule, Hensby was assessed a two-stroke penalty for each hole that he used the ball. It cost him 10 shots. Playing in only his second PGA Tour event in three and a half years, Hensby eventually shot 84 and withdrew from the tournament.
"After I got the penalty, obviously it was tough from that point on, and it was a shame because I knew my tournament was over," said Hensby, 49, who got into the field late as an alternate.
Hensby was involved in a high-profile suspension case by the PGA Tour in 2017. Late that year, he was suspended for one year by the tour for violating the circuit's Anti-Doping Policy. The tour said he failed to provide a drug test sample after being notified to give one at the Sanderson Farms Championship in October 2017. In the aftermath, Hensby told Golf Digest that he had gone to the bathroom on the 17th hole and told officials he couldn't immediately provide a urine sample. He said he was told that he wasn't required to stay.
Hensby ultimately accepted the punishment. "Don't get me wrong, a year is a long time, but they have rules," he said.