News
PGA Tour investigating Bryson for using a compass, pro's follow-through goes viral and another W for Bubba: What you missed this weekend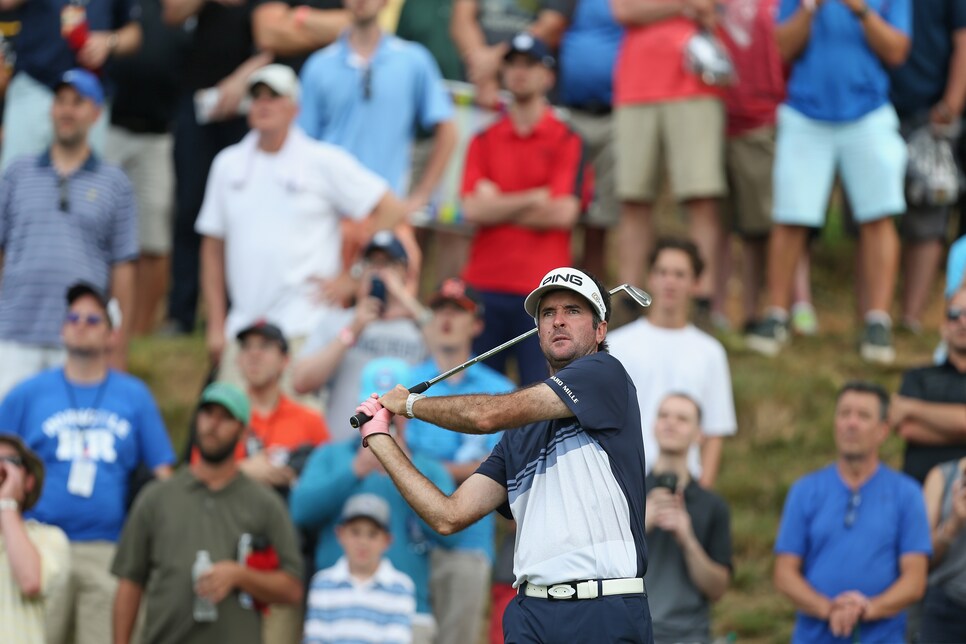 Welcome to the Dew Sweeper, your one-stop shop to catch up on the weekend action from the golf world. From the professional tours, trending news, social-media headlines and upcoming events, here's every golf-related thing you need to know for the morning of June 25.
Watson's revival continues
In February, Bubba Watson was ranked 117th in the world. His standing has improved slightly ever since.
Beginning Sunday six shots behind Paul Casey, Watson turned in a seven-under 63, capped by a near hole-out on the 72nd for eagle, to capture the Travelers Championship.
"It's absolutely amazing," said Watson, who won the event for the third time in his career. "I can't really put it into words. [The Travelers] is almost like a second home. The fans here, the sponsor here, everybody treats me so good. To do this in front of this huge crowd, pretty special. Hitting some of those shots, especially the shot on 18 downwind, it was very difficult. Somehow pulling it off, and that's what we all try to do on Sundays, pull off the amazing shot."
The win, his third of the year, adds another layer to Watson's unexpected turnaround. It was around this time in 2016 that the two-time Masters champ began to struggle, leading to his omission from the Ryder Cup team despite ranking seventh in the world. He became something of a non-entity the following campaign, failing to advance to the third round of the playoffs. It seemed Watson's competitive days were kaput.
"Seemed" being the operative word. With the Travelers in tow, Watson now is third in the FedEx Cup, 13th in the OWGR and a lock for the American squad in Paris. He'll be turning 40 this fall, but 2018 has proved Bubba has plenty left in the tank.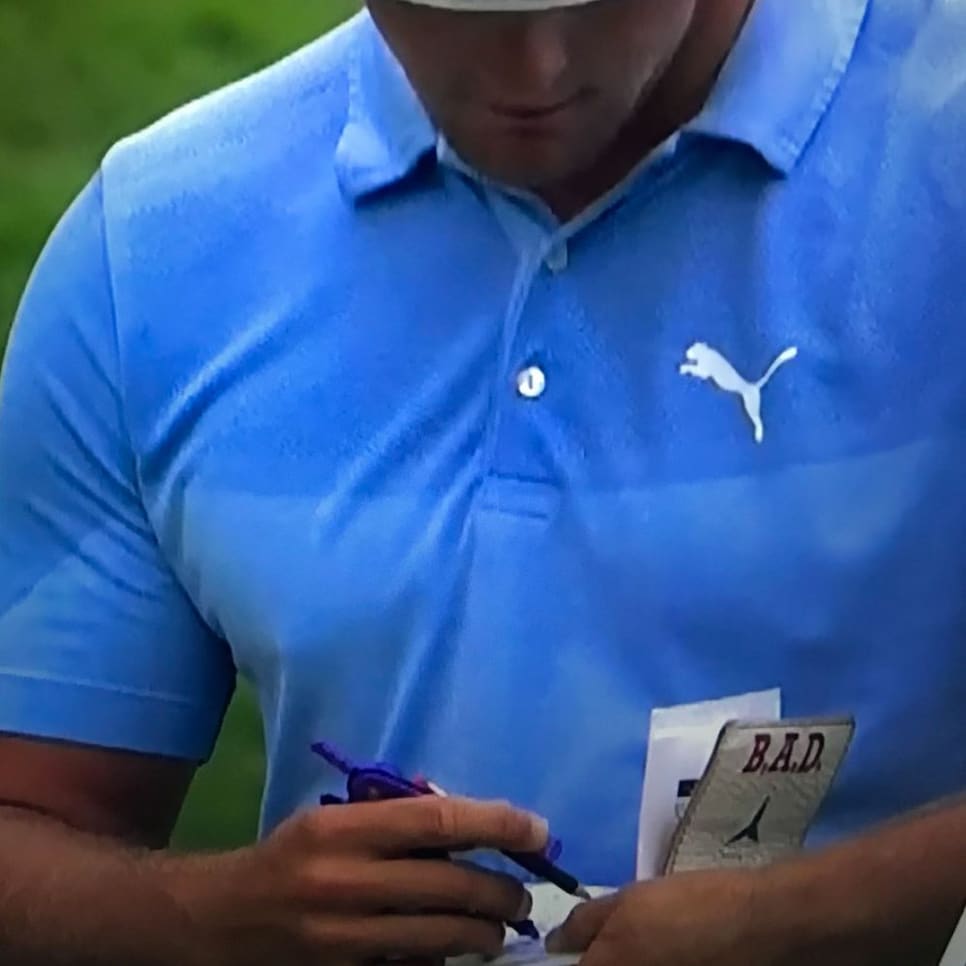 Tour investigating Bryson's compass
As taught in elementary school and confirmed on Wikipedia, compasses are navigational instruments. In Bryson DeChambeau's case, it navigated the fledgling star into controversy.
Cameras caught DeChambeau using the piloting tool during the third round of the Travelers Championship. Like all things in the DeChambeau canon, reaction spanned the gamut: amazement, appreciation, education, skepticism, derision. According to DeChambeau, the PGA Tour felt the need to weigh in as well, with an official telling the former U.S. Amateur and NCAA champ that the compass might be against the rules.
"They said we just want to let you know we're investigating this device and seeing if it's allowable or not," DeChambeau said after firing a final-round 68. "It wouldn't be the first time this has happened."
DeChambeau said he uses it to double-check hole locations. It seems to be working: the 24-year-old logged his fifth top-10 in his last nine starts.
"It's been used for a long, long time," DeChambeau continued. "People are saying it's an unusual device, that's at least what the tour's saying.
"It's funny people take notice when you start playing well."
Galileo was excommunicated for proving heliocentrism, Zweig blackballed for the quark model, Rhazes blinded for his medical teachings. Society always fails to recognize genius.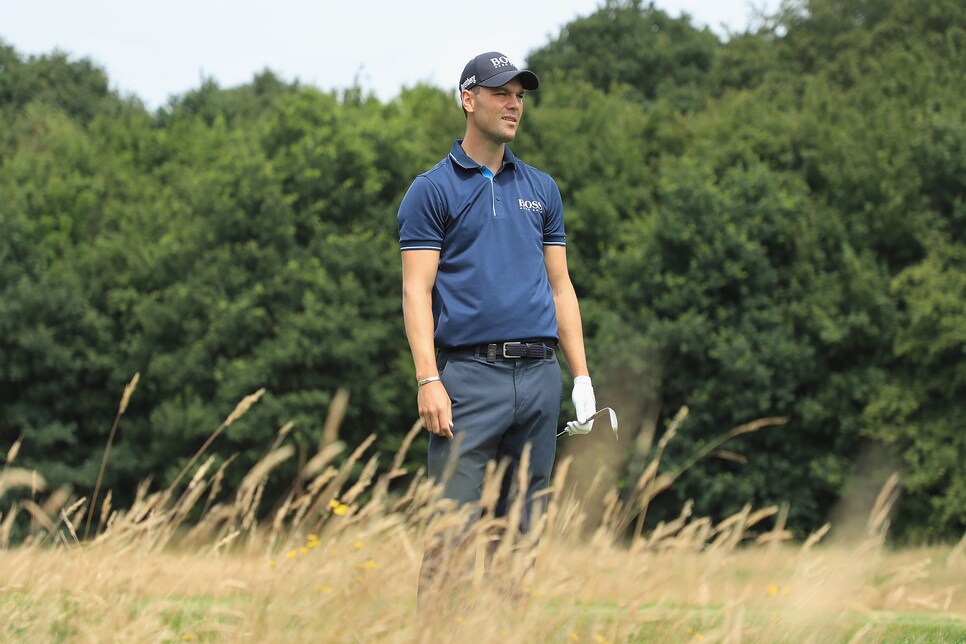 Matthew Lewis/Getty Images
Martin Kaymer hasn't found the winner's circle since his triumph at Pinehurst in 2014. The former World No. 1 was in line to end the streak at the BMW International Open, entering the final day tied for the lead. Unfortunately for Kaymer, his wedge, and Matt Wallace, had other intentions.
Wallace posted a bogey-free 65 to jump into the driver's seat at Golf Club Gut Laerchenhof, leaving Kaymer one back with two holes to go. Following a perfect drive on the 17th, Kaymer badly thinned his approach and failed to get up-and-down from the rough, giving the tournament to the 28-year-old Wallace.
"I have worked hard for this," Wallace said, who won earlier this year at the Indian Open. "I believe I can do it. I want to go further, I want to keep building on this. Obviously this gives me a lot of confidence to go on and play well, and I want to kick on and hopefully do this in the bigger events from now on. This is great, this is a step in the right direction. We'll keep working hard to bigger and better things."
Wallace went out in style, carding five birdies on the back nine to beat Kaymer, Mikko Korhonen and Thorbjorn Olesen by one.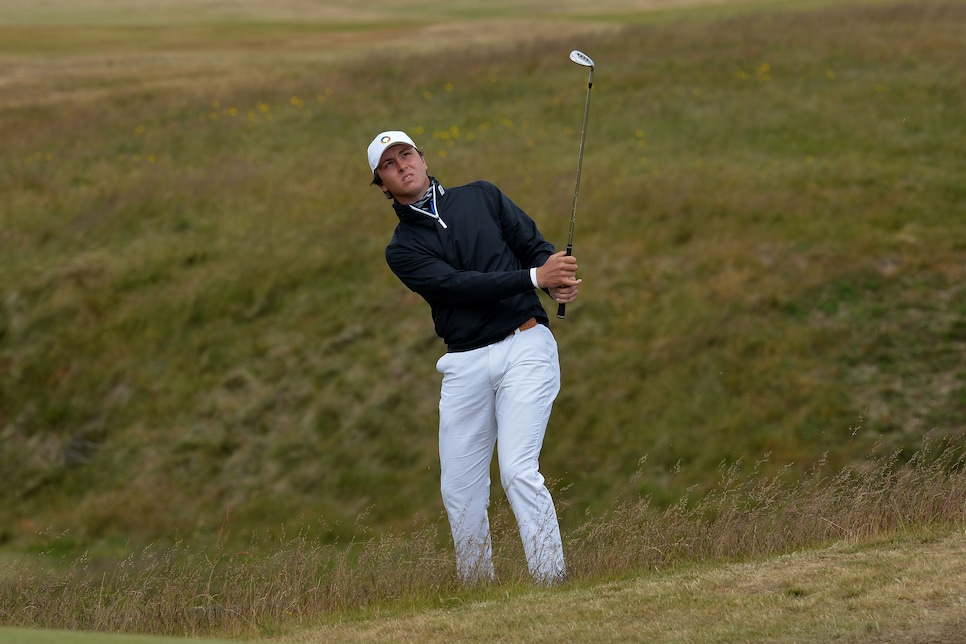 Ernie's nephew makes history
Jovan Rebula earned a spot in this year's Open Championship. That he'll get to play with family is pretty neat, too.
Rebula defeated Robin Dawson at Royal Aberdeen on Sunday to win the British Amateur. The 20-year-old, who plays his college golf at Auburn, is the first South African to win the tournament in 52 years. The victory bestows invitations to the Masters and U.S. Open, as well as a spot in the Carnoustie field in three weeks. Also appearing at the Open will be two-time winner Ernie Els, who happens to be Rebula's uncle.
"We have a very tight relationship," said Rebula of Els. "He's always motivating me. He just said go out and have some fun and grab the opportunity with both hands. You've got this opportunity only once and it will open doors for you. He's awesome. Just a great human being."
We're guessing Rebula has locked up his partner for the practice rounds.
The best follow-through in golf
Save your cries of Louis Oosthuizen or Adam Scott. The sweetest swing in golf belongs to Ho-sung Choi.
If you've heard of Choi, you're lying. The 44-year-old, who plays most of his golf on the Japan Tour, entered this week outside the world's top 600. That didn't stop him from stealing the sport's heart at the Korean Open. In contention throughout the tournament earned Choi airtime, a platform that introduced this follow-through—and we do mean follow-through—to the world:
Lest you think this was a one-off hack, feast your eyes on this fan-made compilation:
It's like Ben Hogan and Happy Gilmore had a love child.
Sadly, Choi missed out on one of the tournament's Open exemptions. However, in one of those rare instances that shows the Internet is not totally a soulless vacuum, there's a petition to get Choi a special invite to Carnoustie. In the off chance you're reading this Martin Slumbers, do the right thing. In Scotland, golf is the game of the people. And the people, in Angus and around the world, need their champion.
You are using an unsupported version of Internet Explorer. Please upgrade to Internet Explorer 11 or use a different web browser.