LIV Golf
PGA Tour countersues LIV Golf over anticompetitive behavior, alleges Mickelson and DeChambeau recruited for Saudi-backed circuit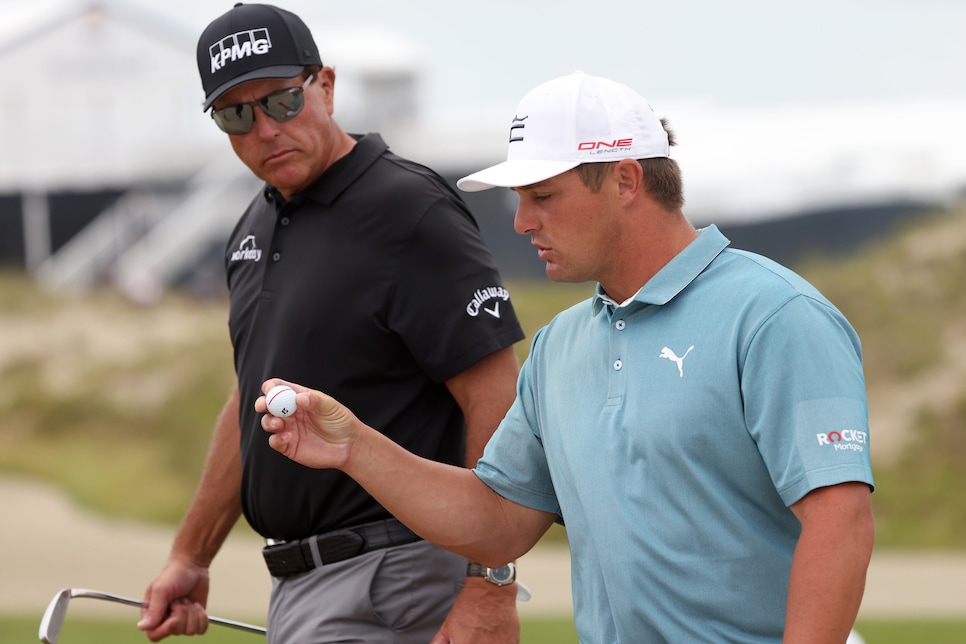 In a Wednesday night filing, the tour asserts that the case is not about unfair competition—"if anyone is competing unfairly, it is LIV, not the tour"—and accuses the LIV-backed lawsuit as a "cynical effort to avoid competition and to freeride off of the tour's investment in the development of professional golf."
In the tour's 72-page filing in the Northern District of California San Jose division, it charges that its counterclaim arises out of LIV Golf's "tortious inducement of numerous, repeated breaches of contract" by former PGA Tour members, including Phil Mickelson and Bryson DeChambeau, and that LIV Golf is nothing more than a sportswashing effort by Saudi Arabia to further the cause of the Saudi Public Investment Fund's Vision 2030 initiatives.
The tour also accuses LIV of inducing Mickelson and DeChambeau to recruit fellow tour members to join the fledgling league.
In the original antitrust lawsuit filed in August, 11 LIV Golf players alleged that the purpose of their suit was to "strike down the PGA Tour's anticompetitive rules and practices that prevent these independent-contractor golfers from playing when and where they choose." However, in its response Wednesday, the tour argues it is LIV Golf's business play and player agreements demonstrate this claim is "fiction."
"Golfers who join LIV must sign long-term exclusive contracts that require them to participate in all LIV events and prohibit them from playing in any tour events occurring in the same week as any LIV event [or any conflicting event whatsoever]," reads the counter. "LIV's statements regarding golfer freedom are a thinly veiled public relations ploy concocted to disparage the tour and deflect criticism from LIV's own restrictive business model."
Among the tour's reasoning is that LIV requires players to compete in every event on its schedule, that players have surrendered their promotional rights to LIV, that players have requirements to show up to its marketing and sponsor events and that players can't respond to interviews or media appearances without LIV's blessing. Any existing player sponsors also must be introduced to LIV, and that players must wear LIV-branded apparel.
Additionally, the tour accuses LIV Golf of a coordinated campaign of "ongoing interference" with contracts between the tour and players strictly so LIV can convince a court to alter the tour's structure to benefit LIV at the expense of the tour.
As for the wish of outcome, the tour is seeking to be awarded for "damages suffered as a result of LIV's tortious interference with the tour's contracts with LIV players including any lost profits, damages to reputational and brand harm, costs, punitive damages, reasonable attorneys' fees and pre-suit costs."
Eight of the 11 LIV Golf players who filed the original suit against the PGA Tour have dropped out—including Mickelson, whose name headlines the lawsuit—with only DeChambeau, Matt Jones and Peter Uihlein remaining, although LIV Golf joined the lawsuit weeks after it was originally filed. Sources told Golf Digest the tour didn't originally countersue as it didn't want to battle its former players, but the addition of LIV into the suit, coupled with many of the aforementioned players withdrawing their names, opened this litigious avenue.
The PGA Tour scored an early victory against LIV Golf when a U.S. District Court denied a motion in August from three LIV Golf members—Talor Gooch, Hudson Swafford and Jones—seeking to participate in the FedEx Cup Playoffs.
A tentative date for summary judgment in the antitrust case is set for July 23, 2023, where the tour will likely seek to dismiss the case. The trial date expected to begin on Jan. 8, 2024.