FedEx Cup Playoffs
Storm delays transform Tour Championship finale from a sprint to marathon for $18 million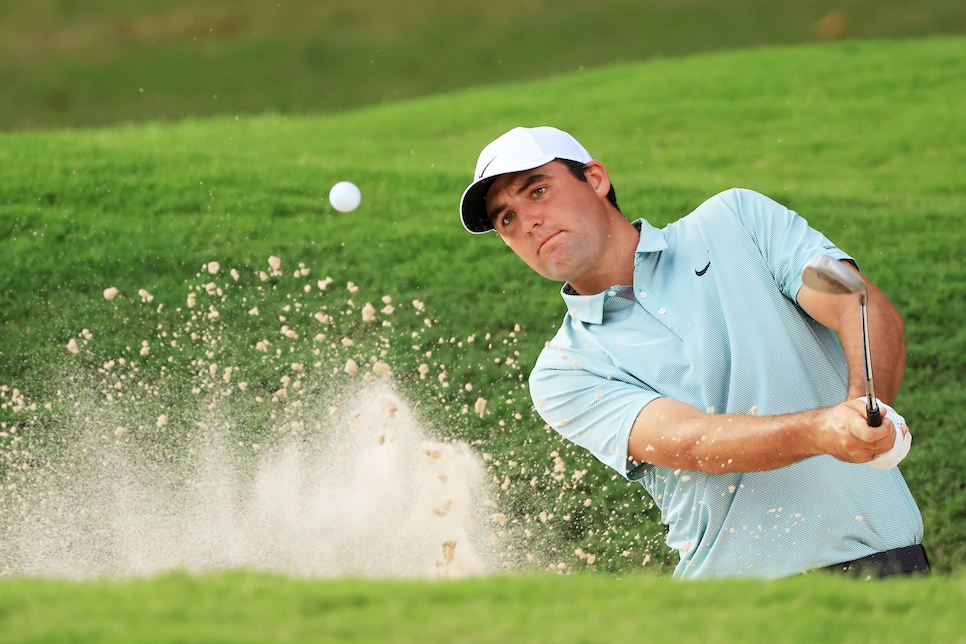 Scottie Scheffler plays a shot from a bunker on the 11th hole during the third round of the Tour Championship.
GETTYIMAGES/Sam Greenwood
ATLANTA — The only thing Scottie Scheffler was confused about on Saturday evening was the order in which he was to have dinner and go to bed before playing the last 23½ holes of his epic PGA Tour season. The actual golf seems pretty straightforward. The FedEx Cup leader, at 19 under par, held a one-shot lead over playing partner Xander Schauffele when play was suspended because of bad weather as Scheffler prepared to hit his approach into the 13th hole of the third round of the Tour Championship.
"I'll just go home and get some sleep and food … sorry, food and then sleep," the World No. 1 said when asked how he will prepare for Sunday at East Lake Golf Club. Scheffler, Schauffele and 12 others will finish their third rounds beginning from 9:45 a.m. ET on Sunday. Final-round tee times will then run from 11:16 a.m. to 1:50 p.m.
"In the morning I'll go through my normal warmup like it's a regular tee time," Scheffler said.
Play was suspended at 6:36 p.m. by a second set of storms that dampened the day, and one could argue it was good timing for Scheffler, even though he said "it definitely stinks and nobody wants to deal with that." He was struggling to get his game going, sitting only even par on his round thanks to a birdie at No. 8 and a bogey at the par-3 11th.
"At the end of the day, it's still a golf tournament and I've been in some intense situations this year, the Masters definitely being one of them and the other three [victories]," said Scheffler, whose wins include earning his first green jacket at Augusta, the WM Phoenix Open, Arnold Palmer Invitational and WGC-Dell Match Play. "The start-stop [nature] of the Match Play would definitely be something that would be similar to tomorrow. But I've got a good routine that I go through in between rounds, and it looks like we'll have a bit of a buffer."
While Scheffler and Schauffele (who is one under for the round) are at 19 under and 18 under, respectively, Sungjae Im is only three shots off the pace and still has four holes left in his third round. Then there's Rory McIlroy, the two-time FedEx Cup winner, also in the mix.
The Northern Irishman delivered perhaps the biggest injection of excitement on Saturday when he mixed four birdies, an eagle and a bogey to be five under through 16 holes. McIlroy's eagle came at the par-5 sixth, where he hit a stunning second shot from 196 yards to two feet. He was 15 under and standing on the 17th when the siren sounded.
Lurking one shot behind McIlroy is a stellar group featuring 2017 FedEx Cup winner Justin Thomas, Sepp Straka, Jon Rahm and defending FedEx Cup champion Patrick Cantlay.