PGA Tour
Our 2022 PGA Tour end-of-season awards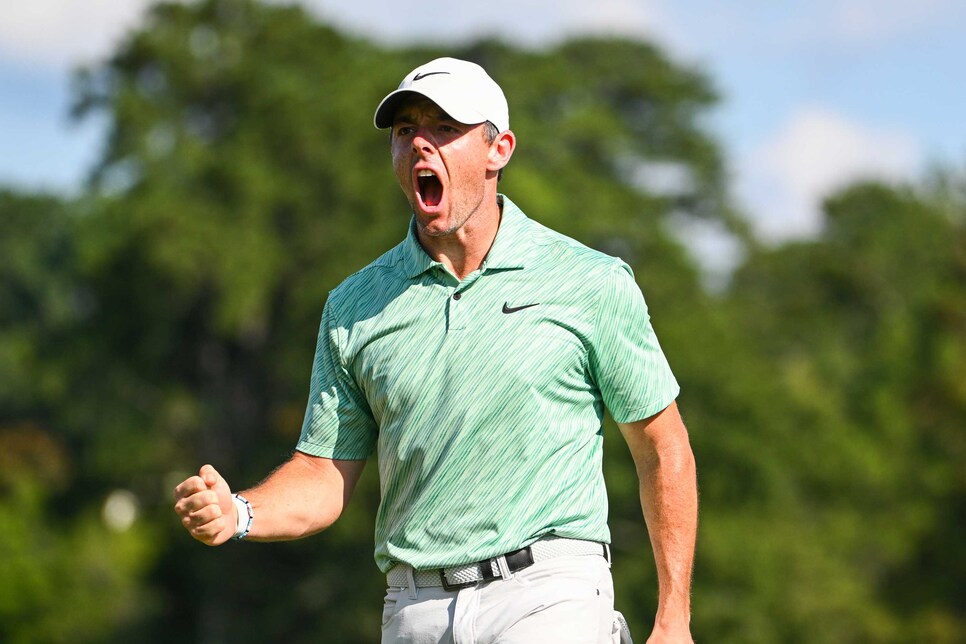 The PGA Tour season has come to a close, and given all the existential angst that surrounded this year, it feels like the sport needs to take a collective cigarette break. But before you light that heater and this season falls into the past, let's hand out awards for the 2022 campaign:
Locals pooh-poohed it as the shot that was required from that spot; still, for Cameron Smith to burn the edge of the Road Hole bunker with the Open on the line takes a special type of conviction mixed with a little bit of crazy, and the eight-footer he cleaned up to clinch the claret jug was just as gutsy. Perhaps more impressive was the approach shot on the 72nd hole of the U.S. Open from Matt Fitzpatrick. Standing 15 away from his ball at The Country Club, it appeared the only outcome was bad and Fitz was merely trying not to make it worse. Instead he hit the shot of his life from the sand to win the national championship. While we're here, Justin Thomas' 3-wood landing on the 17th green during his three-hole playoff against Will Zalatoris was not short on gumption. However the award goes to Hideki Matsuyama, for while the stakes were much, much lower, his 3-wood from 276 yards to the three feet in sudden death to win the Sony Open was as filthy as it gets.
Phil Mickelson's comments. Comments being plural. Mickelson wasn't totally wrong with some of his gripes towards the PGA Tour, and some of those were validated by the changes announced last week at the Tour Championship. But rather than being diplomatic or democratic (perhaps because he was already out the door), Mickelson came off like a man with a personal vendetta by attempting to take a flamethrower to the tour only to burn himself and his reputation in the process.
Best Rory Sabbatini Outfit of the Year
This is a cheat category, because every answer is the right answer. There was this gem from Hawaii, where Sabbatini taped out a sponsor on his hat: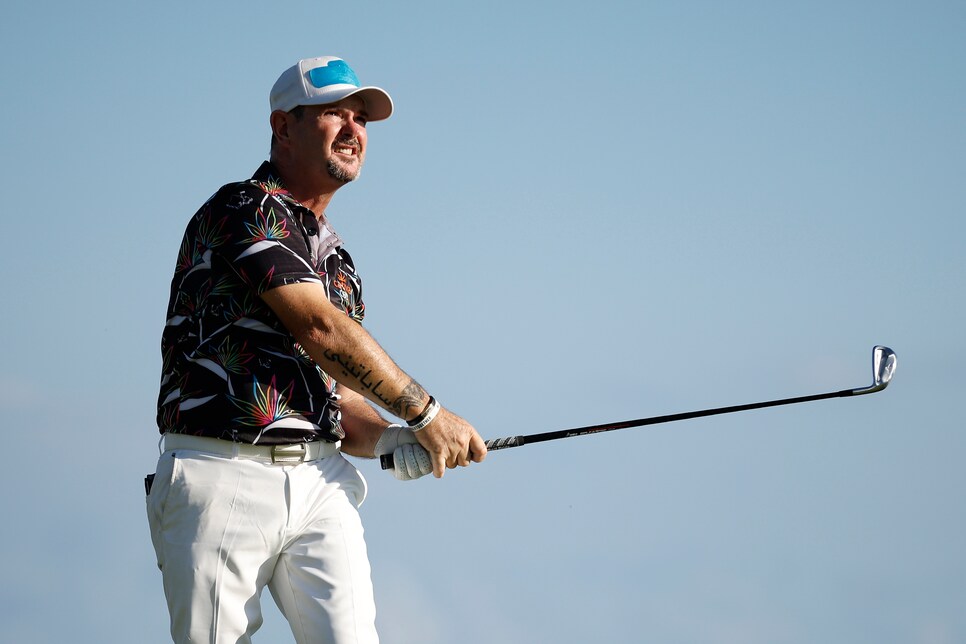 Or from San Diego, with a floral shirt, dotted with what appear to be neon Skittles logos, covered up by a sleeveless jacket. It's a look that screams, "I should have looked at the weather forecast and now I'm dropping $250 in the pro shop to stay warm."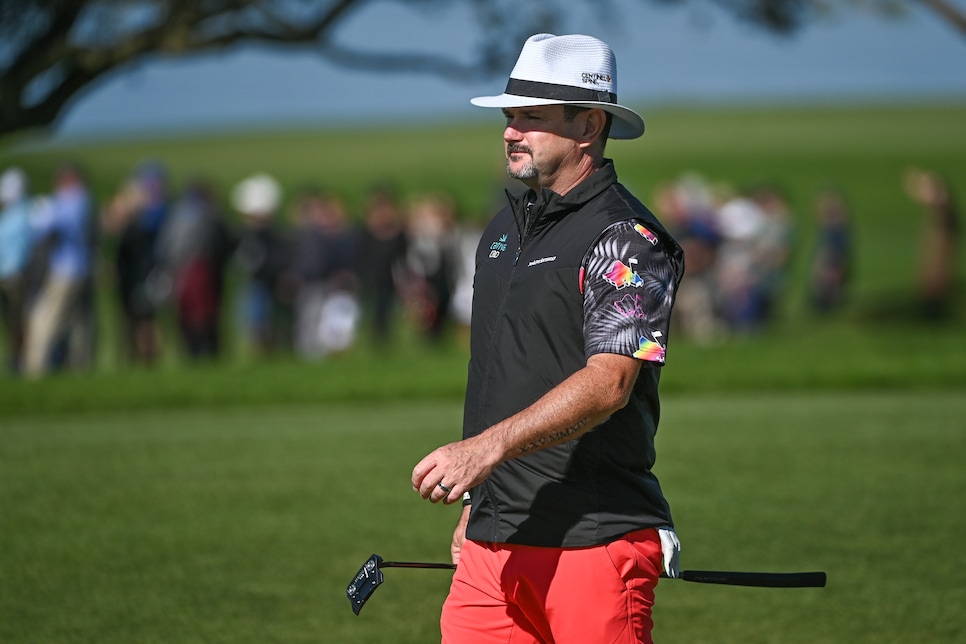 But our personal favorite is this ensemble, which is ostensibly from the Wells Fargo Classic but might really be from a successful quail hunt in Slovakia: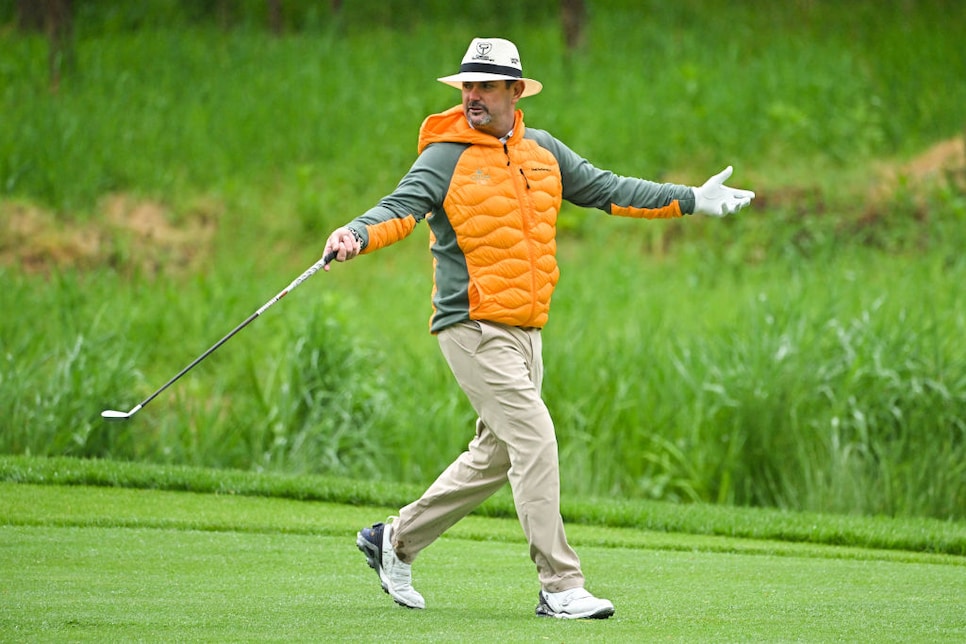 Luckily, thanks to a loophole, Sabbatini retained his card next season. Can't wait to see his fall fashion line.
For all the drama inflected by the battle between the tour and LIV Golf, there have been moments of levity. None more so than one of LIV Golf's lawyers referring to the FedEx Cup as "the Super Bowl of golf" during a court hearing to try to allow three LIV players to compete in the FedEx Cup Playoffs. Sadly the tour did not oblige with banners canvased with said quote during its postseason events.
Rules Dispute of the Year
There's no shortage of worthy candidates, but two stand above the rest. In second place is Dylan Frittelli who tried, and failed, to convince a rules official he deserved relief from his ball finishing inside a tree because of a burrowing animal, and as dumb as that sounds the conversation was delightful:
Frittelli: "OK but if that hole goes five feet under the trees and my ball's still five feet under the tree and I can't reach it then you don't get relief?"
Rules official: "That's correct. Because you can't make an argument that you might be able to play the shot."
Frittelli: "I understand, but if this burrowing hole goes down another six feet and you've seen it go in that hole and it's keeping the hole, you can't play it, you still don't get relief?"
Rules Official: "That's correct."
Frittelli: "Are you sure about that?"
Rules official: "I'm positive."
Frittelli: "So if there's an ant hill…"
Rules Official: "You're inside the tree."
But the award goes to Daniel Berger, who got into a testy exchange with Viktor Hovland and Joel Dahmen regarding a drop on the 16th hole at TPC Sawgrass during the final round of the weather-wrecked Players Championship. Berger was unhappy where Hovland and Dahmen believed his ball had crossed into the pond and asserted he should drop farther up, only to have Hovland reply, "I'm not really OK with [the drop] being up there." We're never one to take sides on matters like these, but if Hovland—the least confrontational player on tour—has a problem with your drop, it's a bad drop.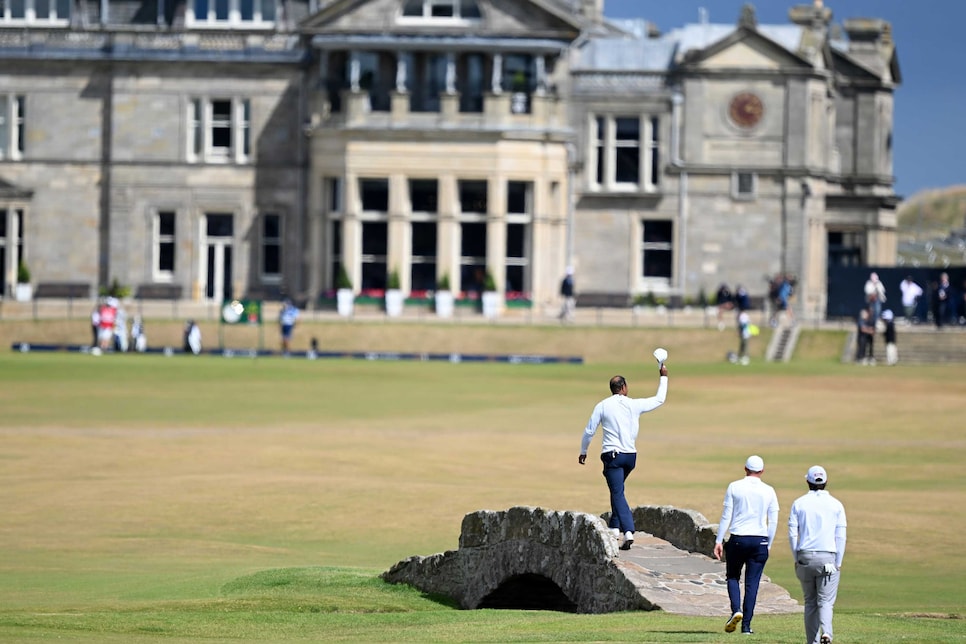 The choices are 1) A battered and bruised Tiger Woods battling like hell on Friday to make the cut at the PGA Championship, something that for as big as it was wasn't given its proper due and 2) Woods crossing the Swilcan Bridge for possibly the last time as a competitive player, with a hat tip from Rory McIlroy bringing Tiger to tears. The latter is the mawkish pick, but St. Andrews is one of those places where it's OK to get sentimental, making it the right pick.
Player-Caddie Conversation of the Year
Let's just rename this the Spieth-Greller Award, because all the candidates for this prize involved Jordan Spieth and Michael Greller. Our favorite was this exchange at Colonial, with Spieth in a precarious spot and Greller doing his best to convince Spieth to take his medicine. Spieth saw something Greller didn't, probably because Greller believes in the laws of gravity. "I just don't see it Jordan," Greller says, to which Spieth replied, "What don't you see?" before explaining how he was going to turn a golf ball into a magic bullet. Take a guess what happens next:
All that was missing was Greller muttering, "I'm getting too old for this."
Unluckiest Player of the Year
It was both a stellar showing in his sophomore season for Will Zalatoris—leading the tour in SG/approach and SG/tee-to-green while bagging $10 million for his efforts—yet also a season that could have been so much more. He lost twice in playoffs at the PGA Championship and Farmers Insurance Open and a putt to send the U.S. Open into overtime looked right the entire way until it wasn't. Zalatoris did earn his first career tour win (in a playoff, no less) at the FedEx St. Jude Championship but the luster didn't last as he pulled out mid-competition at the following week's BMW Championship with injury that also kept him out of the Tour Championship, costing Zalatoris some serious money, and the upcoming Presidents Cup. His future remains bright, yet with three shots keeping him from a four-win, two-major campaign, 2022 has an air of what-if for the Wake Forest product.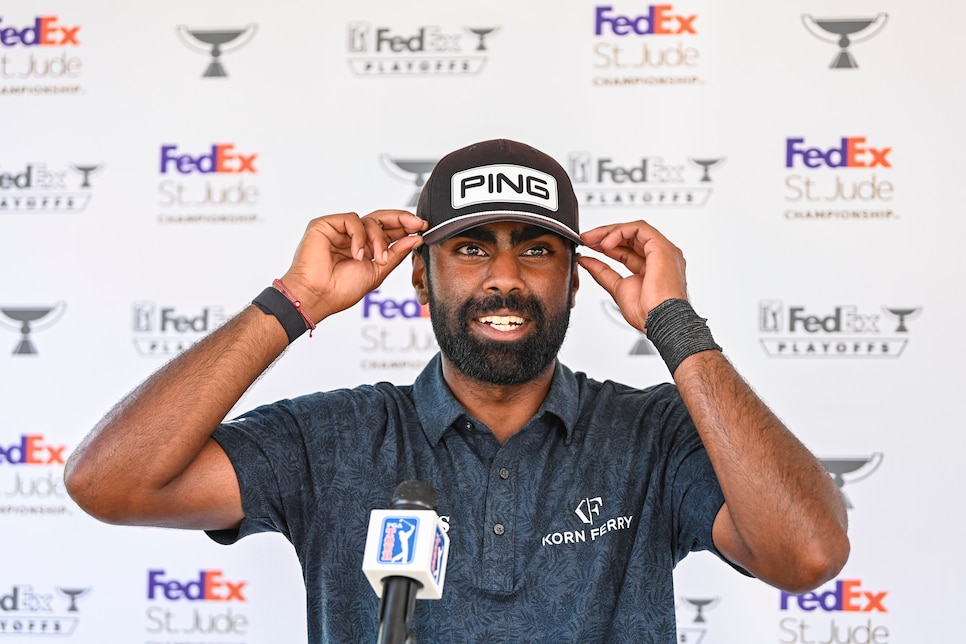 In theory this could go to Scottie Scheffler, who won his first career tour event at the WM Phoenix Open and kept on going, and the Rookie of the Year goes to Cam Young without question. But our breakout pick is Sahith Theegala, the 2020 Haskins Award winner who became an instant fan favorite and solidifies that standing everytime he tees it up. There are a ton of tour folks rooting for Theegala, for they see what we see: the rare breed whose talent and potential are only surpassed by a magnetic personality. Every year there's always a new "next big thing," and rarely do those labels come to fruition. We say that to say this: Theegala is the real deal, and if he goes far he has the power and reach to bring the sport along for the ride.
Bryson DeChambeau majored in physics at SMU, and apparently that degree does not require business or economic courses. That's the only explanation for DeChambeau's pizza joint-LIV Golf analogy, a comparison that sounded like Bryson knew where he was going only to lose direction halfway through so he pulled out a map but kept talking as he tried to figure out where he was at. Though it is unclear if the pizza in question was deep dish or thin crust, what is clear is that Joel Dahmen decided to have some fun at Bryson's expense, serving this delightful pie to social media:
Let this be a reminder that Dahmen and caddie Geno Bonnalie are national treasures and need to be protected as such.

Disappointment of the Year
It's a testament to Jon Rahm that a season featuring a win and eight top-10s, along with finishing seventh in strokes gained, could be considered a letdown. But those are the standards of stardom, and after reaching the top of the game last year (highlighted by capturing the U.S. Open and being a tour de force at the Ryder Cup), this season was a small step back. After finishing no worse than T-8 at all four majors in 2021, he failed to place in the top 10 in the Big Four in 2022. Two of his four top-five finishes on tour came in January, he went from great (eighth in SG/approach) to good (38th) with his irons and a normally reliable short game went south (143rd around-the-green). Conversely, if you had to pick which player has the brightest future, Rahm—only 27—is the wise choice, and expected him to answer with vigor in 2023.
We thought Rory vs. Norman qualified as a feud, but that relationship is more along the lines of the connection shared by a linebacker and tackling dummy. We could go with Kevin Na and Grayson Murray, which started when Murray tweeted that Na's pace was getting old and Na responded "U missing cuts is getting old!" and we would go further but frankly this is making us miss the good old days of Brooks against Bryson. So our default choice is Scheffler against his sweater vest, which was the only thing that got in the Texan's way in 2022.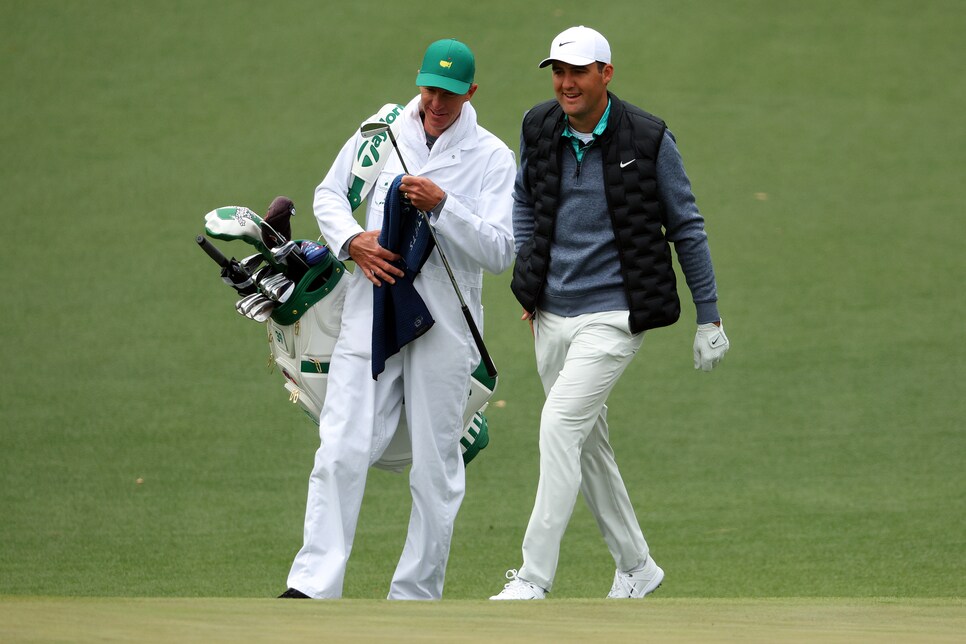 The Open had the perfect script except it forgot to write the ending. The Tour Championship had a solid finish but the first three days were devoid of juice. The RBC Canadian Open, featuring a final-round standoff between McIlroy, Thomas and Tony Finau was darn good entertainment. But start to finish, the winner is the U.S. Open. After years of worry of what this tournament is supposed to be and how it's supposed to achieve an increasingly-challenging aspiration, The Country Club in Brookline turned this U.S. Open into a real U.S. Open, mucking up scorecards and breaking psyches and doing so in a way that was not nefarious or artificial. More importantly at a time when the sport has never felt more divided, the U.S. Open gave us a show that doubled as a palette cleanser. Golf is supposed to be a diversion from life's woes, not a reminder of them, at the U.S. Open lived up to that promise.
This honor goes to Ryan Brehm, who used his lone start on a minor medical exemption to play in the Puerto Rico Open before heading back to the Korn Ferry Tour. Only the 38-year-old—whose best tour finish before that Sunday was a T-11—never returned to the feeder circuit, turning his 11th-hour bid into a tour card thanks to a final-round 67 to win the event by six with his wife on the bag.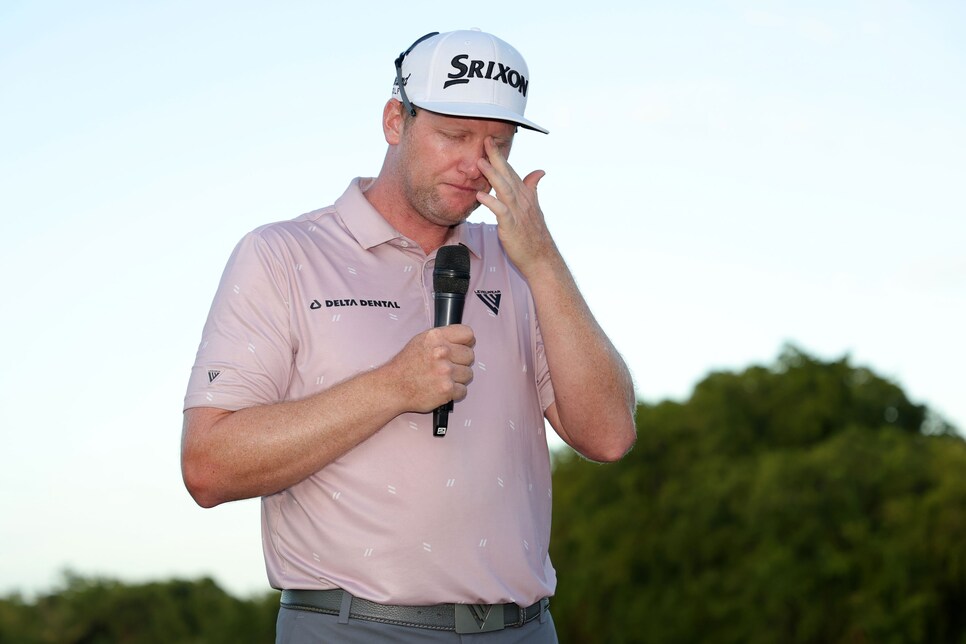 No debate here. Four wins, highlighted by donning the green jacket. Four runner-ups, one of which came at the U.S. Open. He rose to World No. 1 in the OWGR, a position which he's held since late March, and pocketed close to $25 million (not counting some likely PIP cash). Some may say he simply rode a heater, but the totality of his work indicates Scottie Scheffler is going to be a bad, bad man for some time.
Rory McIlroy was willing to put himself on the line every week because he believed in what he was fighting for. That courage, along with his vision that spurred wholesale changes to the tour's operations, might have single-handedly helped the PGA Tour weather the storm. And he did so while reinserting himself as the most consistently great player in the game. Yes, the major drought continues. But what McIlroy did this season will reverberate longer than any victory could.