News
The Best And The Worst Of My Soon-To-Be 52 PGAs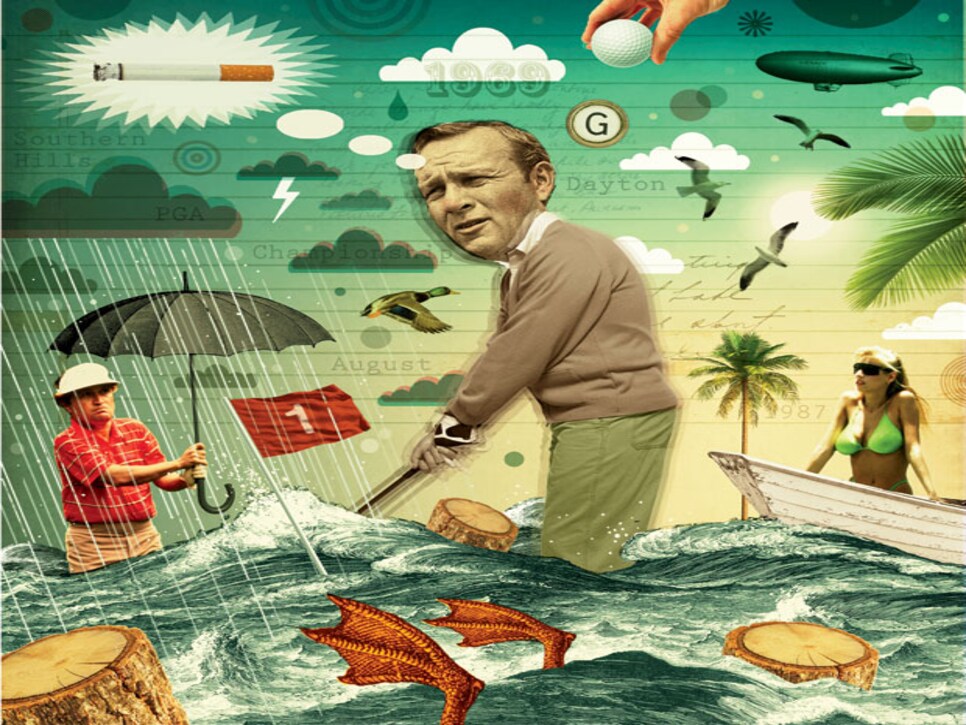 Illustration: Michael Waraska; Palmer: AP Photo; Floyd: Augusta National/Getty Images; Woman In Bikini: Phil Sheldon/Popperfoto/Getty Images
Going through my old money clips the other day, I realized I've covered every PGA Championship from 1961 on with the exception of 1963. So Oak Hill in August will be my 52nd PGA and 220th major, including one as a kid. Though I'm sorry I missed covering the PGA's quaint match-play years, which ended after 1957, I still have a collection of ecstasies and agonies to share with you.
GIVING UP CIGARETTES MAY BE HAZARDOUS TO YOUR GOLF GAME
Arnold Palmer tried to quit smoking and shot 82 in the 1969 PGA at NCR in Dayton. A friend told him, "You gave up smoking and golf the same week."
BEST DESCRIPTION FOR RAIN
Here's the Southwest term for the kind of overnight rain before Raymond Floyd won at Southern Hills in 1982: "Duck-drownin' stump-floater." Raymond shot a first-round 63 with nine consecutive 3s from the sixth through the 14th holes.
That would be the young lady in the lime-green bikini who commandeered a boat to get to the floating scoreboard at the 18th hole on the first day at PGA National in 1987. If only Twitter and Instagram had been around then.
The square-grooves controversy was in full swing before the 1977 PGA at Pebble Beach, requiring the first club check that anyone could remember since the 1948 U.S. Open. A bunch of players submitted irons for testing, only to find them a fraction wide. An hour before his first-round tee time, Tom Watson was heard saying, "Anybody got any clubs? I'll take anything." After a set was delivered, Watson hit a total of eight practice shots with them and was so flustered he shot a 68.
HOW TO WD THE WEISKOPF WAY
It was drizzling during the second round at Tanglewood in 1974 when Tom Weiskopf arrived at the 16th green. By one count, Tom managed to nine-putt, occasionally holding his putter upside down. "I'm injured, and I quit," he announced to an official. When he was asked, "What's your injury?" Tom replied, "I'm 25 over."
THE SHORT-PANTS REBELLION
There was a time when caddies couldn't wear shorts. At the 1996 PGA at Valhalla, more than one caddie showed up in shorts to protest the insufferable climate in Louisville, but they were informed they could either put on long pants or be escorted from the course. The incident brought to mind a day many years ago on the Monterey Peninsula. My wife and I were privileged to be taken to lunch at exclusive old Cypress Point. But because one of the lady club members in our group was wearing a designer pantsuit, we were denied admittance to the dining room. No slacks allowed. And it didn't matter to the maitre d' that there was hardly anyone else in the room, or that the woman happened to be the heiress to one of America's vast fortunes. "Give me a moment," she said to the maitre d'. Whereupon she disappeared briefly, then returned without her "slacks" on but with her raincoat tied around her waist. "Will this do?" she said, rather acidly, to the maitre d'. "That will do nicely, madam," he said. Thus we dined.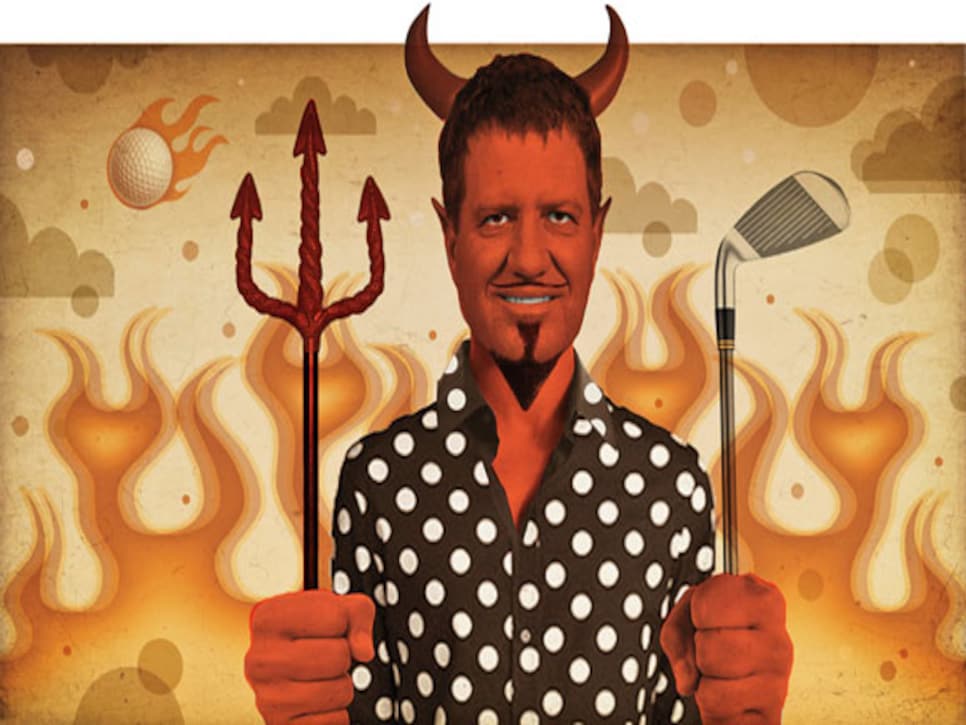 The polka dot that Steve Elkington wore at Baltusrol in 2005. I take it back: It didn't look as much like something Joan Crawford sold on eBay as it did Ron Turcotte's silks when he was up on Secretariat.
YOU CAN NEVER FOOL YOUR WIFE
Barbara Nicklaus, after Jack's 79 in the first round at Oakmont in 1978: "He even walked sloppy."
Name the only four players who won the NCAA and the PGA. Answer: Jack Nicklaus (Ohio State), John Mahaffey (Houston), Phil Mickelson (Arizona State) and Tiger Woods (Stanford).
The PGA has been played in every month but January, March and April. It was played in February in 1971 at the original PGA National to avoid Florida's hottest months. Jack Nicklaus won, and his house guest for the week, Gary Player, tied for fourth. Saturday night, they watched "Mannix" together. Maybe one of these years Tiger and Phil can watch cartoons together.
Paul Azinger, after winning at Inverness in 1993: "Twelve years ago, I'd never broken 70, and I couldn't break 80 two days in a row."
Ed Dougherty, asked at the 1975 PGA at Firestone if he had ever been on a leader board before: "Yeah, at Westchester I made four birdies in a row, but then I started going bad, so while one guy was still putting up the Y, another guy was taking down the D."
BEST COURSES TO HOST THE PGA
The usual suspects: Oakmont, Southern Hills, Oakland Hills. Lee Trevino said this about Oakmont at the 1978 PGA: "The only way you can stop a ball around here is to call a policeman." Jack Nicklaus was overheated at Southern Hills—one of the few places where he never won a major—in 1982: "I'm not sure I could play well at Southern Hills if it were air-conditioned," Jack said. Then there was Paul Goydos reviewing Oakland Hills' renovation for the 2008 PGA: "If you had Rees Jones re-do Scrabble," Paul said, "he'd leave out all the vowels."
I gave Tommy Bolt the award at Olympia Fields during the 1961 PGA after he was suspended indefinitely—it lasted two weeks—for using "vulgar and abusive language." Part of his rant: "Man, everybody cusses. I cuss, sure. But I cuss myself, don't you see? If they suspend everybody out here who cusses, they ain't gonna have nobody left on the tour but the folks who do the suspendin.' "
Bruce Crampton, in 1975 at Firestone, after finishing second to Jack Nicklaus for the fourth time in a major: "We all suffer from human deficiencies. Jack just suffers from fewer of them."
Andres Romero, explaining a 78 at Oakland Hills after making a quadruple-bogey 8 at the 16th hole in 2008: "I was disconcentrated the rest of the round."
Nicklaus almost won a sixth PGA at Riviera in 1983, shooting a final-round 66 to finish a stroke behind Hal Sutton. A win would have given Nicklaus a spot on the 1983 Ryder Cup team—he also happened to be the captain—but maybe it's a good thing that Jack didn't bump Tom Watson. All Tom did was go 4-1, giving Jack's team a 14½-13½ victory.
Vijay Singh won a playoff in 2004 at Whistling Straits after a final-round 76, which was the highest last round by the winner of any major since 1938, when Reg Whitcombe won the British Open with a 78 in a storm that blew down the exhibition tent at Sandwich.
In 1993 at Inverness, 75 players holed out something or other from off the green 110 times over the four days. Darrell Kestner, a club pro, holed a 225-yard 5-wood for the first double eagle in PGA Championship history. All this inspired a bumper sticker that I planned to market: HONK IF YOU DIDN'T HOLE OUT A SHOT AT INVERNESS.
When Larry Nelson won his third major, in 1987 at PGA National, I wrote as follows: "A month before the championship the greens were struggling in the humidity to be 80 percent bent and 20 percent Bermuda, but then they were kidnapped by a strange fungus. By tournament time they were 80 percent dirt, 10 percent wire and 10 percent herpes."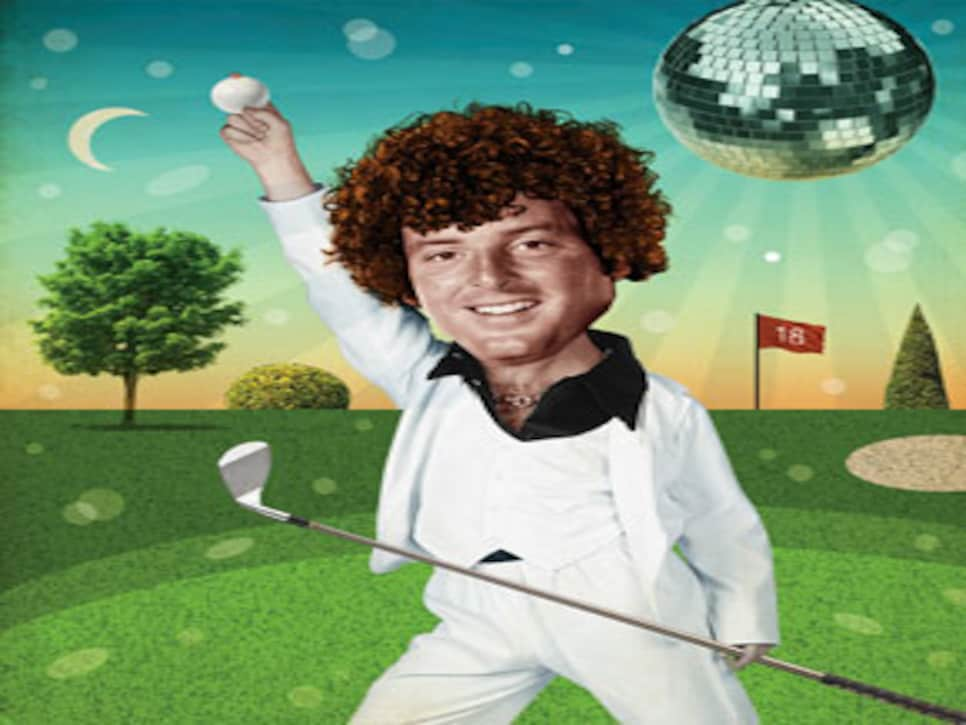 Photo: Brian Morgan/Getty Images
Fuzzy Zoeller showed off a new hairdo while finishing second to Larry Nelson in 1981 at Atlanta Athletic Club. "I've seen more hair on the back of my dog," Jerry Pate told him in the locker room before the final round, to which Fuzzy replied, "Yeah? How about you? Ever seen a bald-headed dog?"
WOODY AUSTIN USED TO BE A BANK TELLER?
Woody Austin, after Tiger Woods' second-round 63 at Southern Hills in 2007: "I outplayed him on Friday, but he beat me by seven shots...I don't get it."
Having finished my story on Al Geiberger winning at Firestone in 1966, I was asleep in my hotel room when an editor woke me up with the news that I needed to make an insert: Tony Lema and his wife, Betty, had been killed in the crash of a private plane on a golf course in Illinois.
During the 1995 PGA at Riviera, there was a rumor that O.J. Simpson's handicap at the club had been mysteriously lowered over the past year of his incarceration. Pranksters had apparently been punching in low scores for him on the golf-shop computer, thereby establishing that he was now a 4 instead of a golfer whose handicap ranged from 10 to 16. Surely that was punishment enough.
AMMUNITION FOR THE DONALD ROSS SOCIETY
Tom Weiskopf, after George and Tom Fazio renovated Oak Hill before the 1980 PGA: "I'm going to start an organization called the Classic Golf Course Preservation Society. Members get to carry loaded guns in case they see anybody touching a Donald Ross course." Added Lee Trevino, who had won the U.S. Open at Oak Hill in 1968: "I just feel sorry for the members. They have to play Oak Hill all year long."
Here's what I wrote after Tiger won the 2000 PGA at Valhalla for his third major win of the year: "Since Tiger is much bigger and stronger than Ben was, he's far longer off the tee and all through the bag. Being more powerful, Tiger is likewise more accomplished out of the rough. He's also a far superior putter, and just about the best reader of greens who has ever come along. Tiger might even have a narrow edge at chipping and bunker play. However, I have to say that if I wanted one of them to get the driver in the fairway for me, and get the second shot on the green for me—for my life—Ben would still have to hit them."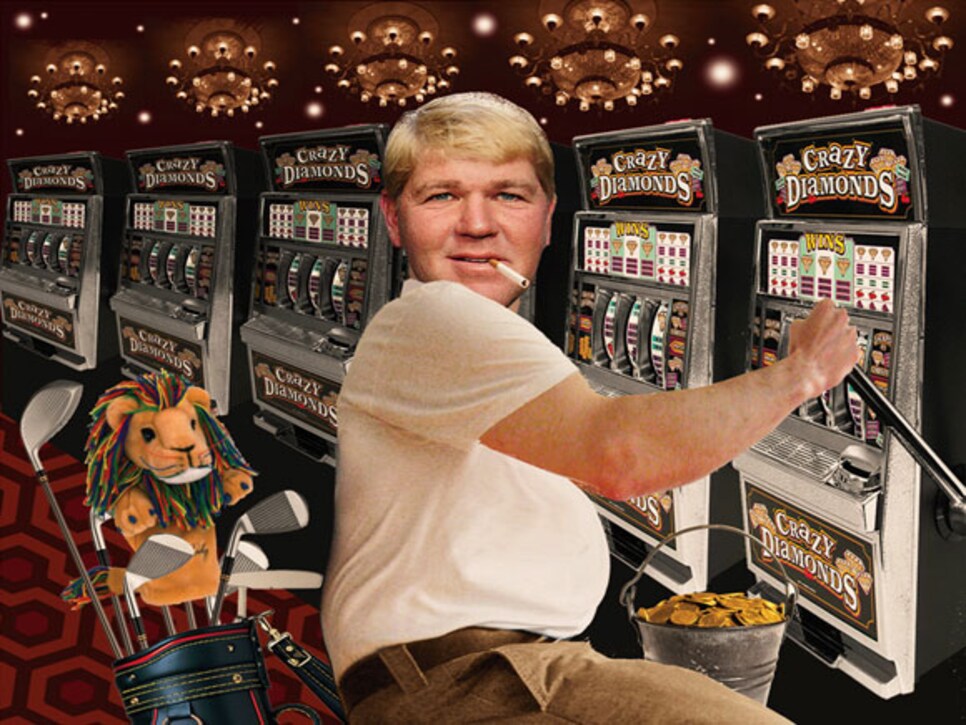 JOHN DALY'S IDEA OF TOURNAMENT PREPARATION
Long John skipped practice rounds at Southern Hills in 2007. "I've been playing the slots at Cherokee Casino," John said before a first-round 67 and three 73s. He added this about sport psychologists: "You gotta be insane to listen to all our s---."
Greg Norman holds the title, although some of it was his doing. Still, it's not easy to lose two PGAs on the same course, Inverness. First, Bob Tway holed out a bunker shot to beat him on the last hole in 1986. (As I wrote at the time after Greg went 65-68-69-76: "Since Toledo, Ohio, is one of those fun towns where you go to buy a Jeep or get your spark plugs changed, it was probably fitting that Greg Norman finally leaked enough oil to let Bob Tway become the PGA champion.") Seven years later, in 1993, Greg was tied by Paul Azinger, then rimmed out a four-foot putt on the second sudden-death hole to lose again. Of course, Greg is a member of an exclusive club. He joins Craig Wood, Arnold Palmer and Jack Nicklaus as the only guys to be a runner-up in all four majors. Another Grand Slam deal.
Big John, after winning the 1991 PGA at Crooked Stick: "I'm not gonna become a jerk. If I become a jerk, I'll quit golf."
There have been 94 PGA Championships, and 34 of them have been won by guys who never won another major, or have yet to. In the modern age, the PGA leads the league in this category. On the flip side, happily, Walter Hagen (five), Jack Nicklaus (five), Tiger Woods (four), Gene Sarazen (three), Sam Snead (three), Byron Nelson (two), Ben Hogan (two) and Lee Trevino (two) have won 26 among them.
GETTING THE ANGLE ON A STORY
Tom Place of the PGA Tour after the press tent was built on a slope at Tanglewood in 1974: "This is the first time you'll have to play a downhill break to get to your typewriter."
The press-room hotel in 2001 at Atlanta, which became known as the Pig Pen Plaza, was scheduled to be demolished the day after the tournament for a new building. So when we called the front desk to say something wasn't working, nothing would happen. No air conditioning, test pattern only on the TV, phone not working, no room service: my Grand Slam. The name of the hotel was the Four Points, which made me ask, "Four points out of 10?"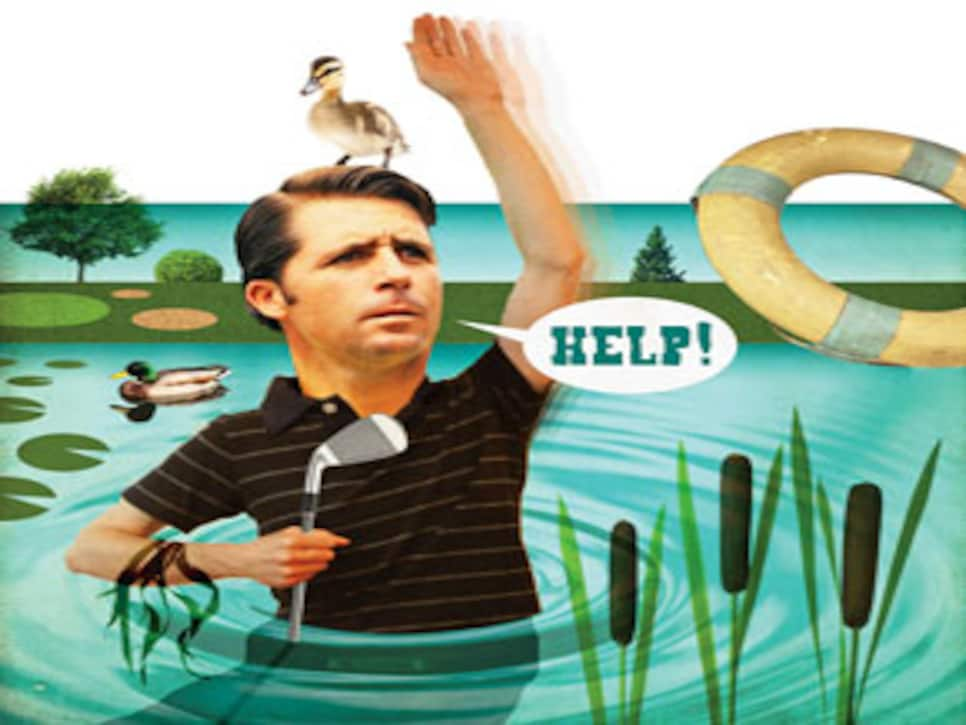 Photo: Augusta National/Getty Images
The Dustin Johnson bunker thing at Whistling Straits three years ago.
Gary Player was accidentally pushed into a lake in a rush of autograph seekers at Congressional in 1976. "Why didn't you jump in and save me?" Player asked his caddie, Rabbit Dyer, who replied, "I can't swim."
MOST MEANINGFUL PGA, MEDIA-WISE
When Jack Nicklaus won his 14th major (counting two U.S. Amateurs) to pass Bobby Jones at Canterbury in 1973, Jack was also given credit for passing Walter Hagen with 12 pro majors to The Haig's 11. I had to break the news to Jack that Hagen actually won 16, the Western Open having been a major in his day. To which Jack grinned and said, "Let me up, will you?"
Has to be 45-year-old Jerry Barber at Olympia Fields in 1961. Three monsters on the last three holes of regulation—20 feet for birdie, 40 feet for par and 60 feet for birdie—got him a tie with Don January, who had been rehearsing his victory speech. Then Barber did it again in the playoff to win with a 67 to January's 68. Barber also tied Gene Sarazen as shortest PGA winner at 5-feet-5½.
SECOND-BEST PUTTING EXHIBITION
David Graham out-putting Ben Crenshaw, of all people, over three holes of their playoff in 1979 at Oakland Hills. Overlooked is the fact that Graham double-bogeyed the 72nd hole but still shot a 65.
FIRST ROMAN NUMERAL TO WIN A MAJOR
Davis Love III, 1997 PGA at Winged Foot.
Lee had a way of handling Jack, and it happened again in the 1974 PGA at Tanglewood. There was a moment of confusion after Jack birdied the fifth hole in the final round but accidentally put his putter in Lee's bag and couldn't find it when they got to the sixth green. "Jack tried to give me two there," Trevino laughed. "I said, 'Hey, man, you're tryin' to give me 15 clubs and a two-shot penalty. Tell you what, I'll take the two if you promise me you won't use that thing the rest of the round.' "
BEST RUNAWAY, STROKE PLAY
Last year at Kiawah, where Rory McIlroy won by eight, topping Jack Nicklaus winning by seven strokes over Andy Bean at Oak Hill in 1980, which was another landmark for Jack. That week he became the third player to win the U.S. Open and PGA in the same year. Gene Sarazen had done it in 1922 and Ben Hogan in 1948. Tiger Woods would make it a foursome in 2000.
BEST RUNAWAY IN A MATCH-PLAY FINAL
Paul Runyan giving Sam Snead a chipping and putting lesson at Shawnee-on-Delaware in 1938 to win the final, 8 and 7. First prize: $1,100.
Sam Snead, at 62, finished in a tie for third behind Lee Trevino and Jack Nicklaus at Tanglewood in 1974. It was no fluke: Two years before, at 60, Sam finished with a 69 at Oakland Hills to tie for fourth.
The 1977 PGA at Pebble Beach served up the first sudden-death playoff in majors history. It was sad to see 47-year-old Gene Littler stumble to a closing 76 and allow Lanny Wadkins to tie him. But in the locker room before the playoff, Lanny took the cocktail out of my hand, saying, "Gimme some of that," and went out to win on the third hole. The record book might not show it, but I'll always credit myself with an assist.