The Loop
PGA Championship: Is Bubba the bomber a bad bet?
Bubba Watson's ability to bomb it is tempered by a tendency to bomb out, which in major championships renders him an uncomfortable bet outside the friendly confines of Augusta National and the Masters.
The Old Course at St. Andrews seemed a perfect fit for his long game and imagination, yet he missed the cut in the British Open. Ditto Chambers Bay and the U.S. Open.
On deck is the PGA Championship at Whistling Straits, and everything is in alignment for him to make a significant run at a third major.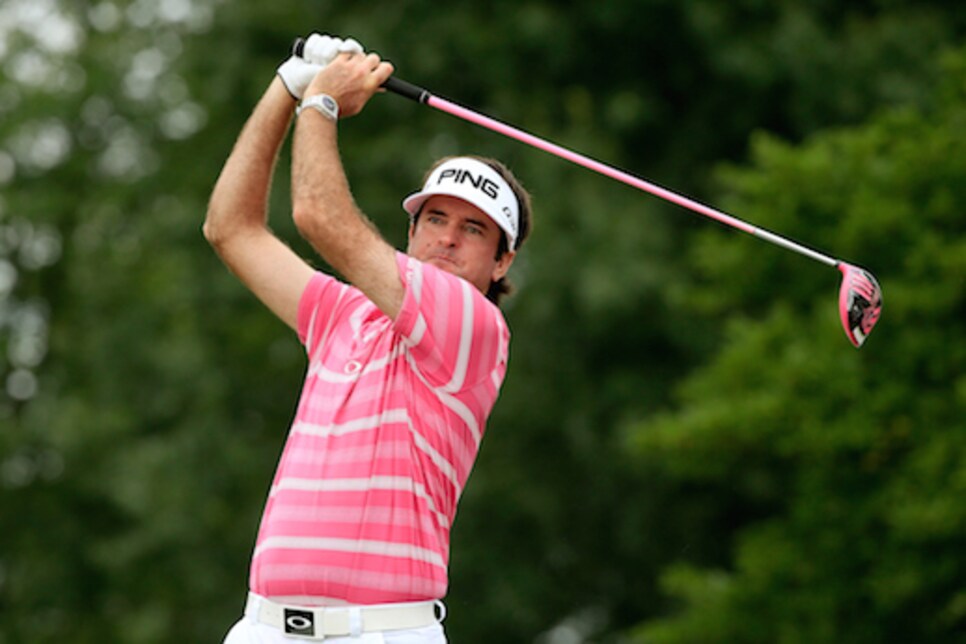 He has good memories of the place, finishing second in a playoff to Martin Kaymer the last time it was held there, in 2010. His current form suggests he'll be in the vicinity of the lead late on Sunday afternoon: He finished second in the WGC-Bridgestone Invitational on Sunday, his first start since finishing second in the Canadian Open two weeks earlier. He has a victory, two seconds and a 13th in his last five starts and has won twice in 2015.
What's not to like about his chances? Well, there's this: In 31 starts in major championships, Watson has only four top 10s and has missed the cut 12 times.
When the inevitable miscues occur on difficult major championship courses, Watson tends to get frustrated and his focus drifts. "If you've ever played golf, we're all mental," he said at the Travelers Championship. Me and Teddy [Scott, his caddie] talk about it. How do you get better? You have to focus on the golf course."
Yet when you see driving distances such as those he had on Firestone Country Club on the par 4s and 5s at Firestone Country Club on Sunday (note the Tweet below), you see a built-in advantage on which he does not seem to capitalize enough given the quality of the other parts of his game. Does he even know how good he is? and
"My whole goal in my career was to get 10 wins," he said after recording his eighth at the Travelers Championship. "I felt like in this day and age with the talent level all across the world that 10 is a big number to get. Tiger Woods raised the bar for everybody, and I think that around the world they've raised the bar. So it makes it tougher to win.
"So 10 was always a big number. If you have double digit wins this day and age, I think that's pretty good."
It is pretty good, for those of lesser talents. For Watson, it ought to be a half-milestone, at minimum. At 15 to 1 odds at Whistling Straits, if talent were the only consideration, he'd be worth the risk.
Maybe he still is, but his enigmatic nature says to proceed cautiously.