Bryson
PGA Championship 2021: The one thing Bryson DeChambeau can't control is what controls this tournament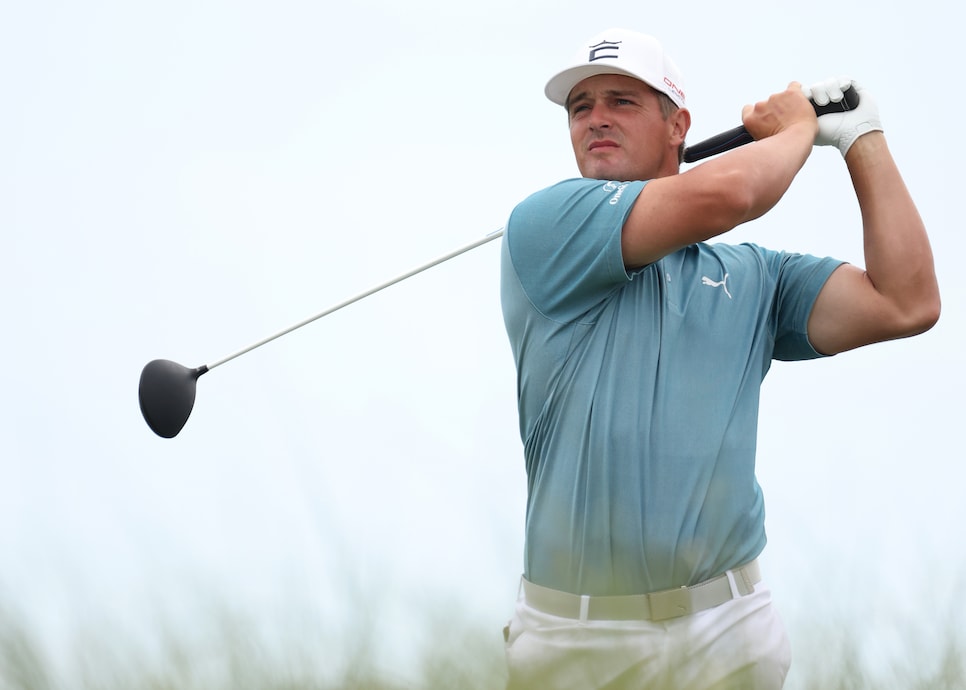 Bryson DeChambeau plays his shot from the 11th tee during a practice round prior to the 2021 PGA Championship.
Jamie Squire
KIAWAH ISLAND, S.C—The first ball went to parts unknown. The second, water. The third followed the second. There wasn't much vexation, at least visibly; it was a practice round, after all. And on his fourth, after he and his group moved from the back 17th tee to a box 25 yards up, Bryson DeChambeau did, in fact, hit the green Wednesday afternoon. But as he went forth, a fan perched above a sand path noted, "This wind has him turned every which way."
DeChambeau's career is one built off zealous pursuits. They may not be conventional and often the routes he takes to them are derided, yet he always gets to where he wants to go. Off of talent, sure, but also a manic approach that does not allow for anything less. However, there is one pursuit DeChambeau has not mastered, what in the past has called his "Holy Grail." The wind.
"The one thing, nobody out here will ever be able to control, is the conditions of the course, whatever it is, and the wind," DeChambeau said after winning the 2018 Northern Trust. "The wind is always going to be the final—you know, the Holy Grail. We'll never be able to figure that out."
He is a different player—in profile, performance, stature—than he was then. The quixotic chase remains though, and that could be problematic this week. For the one thing Bryson DeChambeau can't control is what will control this tournament.
"It's not easy. It's definitely a difficult test at hand. I think that's what's so unique about this golf course is that when the wind picks up, it is probably one of the hardest golf courses I've ever played," DeChambeau said Wednesday ahead of the 2021 PGA Championship. "You can't miss it in certain areas. Like you can't bail out left or right. You've just got to have your ball-striking on the whole day, and if you don't, you're going to get penalized."
Getting penalized is not something Bryson is used to. Most PGA Tour and major championship venues bend, if not altogether break, at the bomb-and-gouge attack. It is a strategy DeChambeau rode to a U.S. Open victory, and a strategy that has him first in the FedEx Cup standings heading into Kiawah.
The Ocean Course, however—despite weighing in at 7,800 yards—will require more this power. As DeChambeau mentioned, there is a premium on precision, an area which he has struggled with off the tee (172nd in driving accuracy) and in approach (195th in proximity to the hole). Those vulnerabilities could be amplified against the relentless puffs off the Atlantic. valleys below the volcano-like greens.
Moreover, DeChambeau is, by his own admission, not one who likes to dabble in conjecture. The wind, by its very nature, has no equation.
"We try to make our best educated guess, but it doesn't always work out," DeChambeau said. "Like for example, today I hit a perfect shot with a 53-degree wedge at 10:30 [in his swing arc] and on the device it says it went the right distance, and then we looked up and it landed five yards past the flag and went over the green, just because of wind and something we couldn't feel or control. It just gusted right at that moment."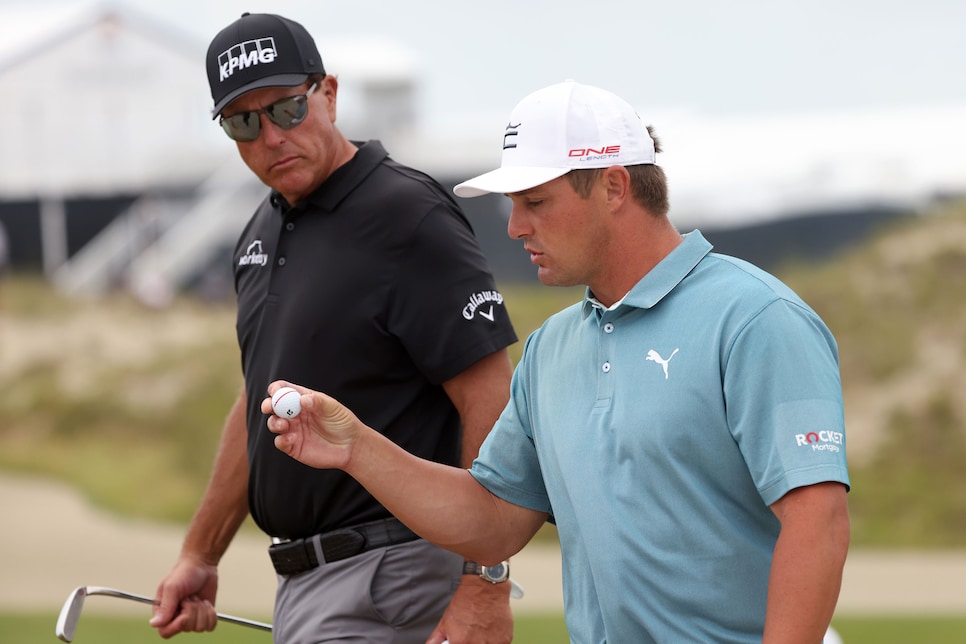 Phil Mickelson and Bryson DeChambeau walk off the 10th hole during a practice round prior to the 2021 PGA Championship.
Jamie Squire
This expected chaos led DeChambeau to surmise this week that the tournament would be decided by providence and composure. The latter of which has, at times, not been Bryson's strong suit.
"A lot of it is going to be dependent on luck this week. I will say that. When it's dependent on luck you have to be patient," DeChambeau said. "You have to say either there's going to be good breaks, there's going to be bad breaks, but you have to be patient, wait for those opportunities to make birdies on the par 5s, on those short par 4s, and just hit it in the middle of the green this week. That is my ultimate goal is if I can hit as many greens as possible, I think I'll do OK."
Give DeChambeau credit. In a sport filled with players unwilling to concede their flaws, he is transparent that the wind has him flummoxed. He continues to work the blackboard, but still hasn't figured out the best way to remove the guesswork.
Not to say he's short on conviction. In his follow-up, DeChambeau worked "laminar flow" into his answer. No, seriously:
"If there was a way to figure out the wind—man, you guys are going to eat this one up, but the laminar flow of the wind and how it works—look, there are certain times where over certain dune hills and stuff on greens and before the greens where the wind will flow down and up and over certain mounds, so that's going to make it feel weird, play different, and it's just going to affect how the ball goes," DeChambeau says.
This is not a knock on DeChambeau or his chances this week. For starters, most of the field shares his frustrations with the wind. His distance, should he be able to keep his flight down, will continue to be a tremendous asset. For what it's worth, DeChambeau's shortest drive in his practice rounds was "only" 270 yards.
DeChambeau has also proven he's more than muscle. He finished T-3 at the TPC Sawgrass earlier this year, a course that shares many of the Pete Dye attributes that will pose as challenges this week. His putting, which was such a sore point earlier in his career he toyed with the side-saddle method, is now a weapon in his arsenal, ranking 10th in stroke-gained/putting last year and 38th this season.
Conversely, even here DeChambeau mentioned the wind. "You're over the putt and you go, oh, more gust, and so you push a little bit more or whatever to account for that." And there was the wind, again, when DeChambeau was asked his comfort level on the dance floors: "The wind really affects putts. That's the tough part. You have a perfect aim and you hit it and the wind gusts and moves it along. You've got to be willing to adapt and adapt really quickly out here."
So here we are, on the eve of the PGA Championship, with a forecast calling for steady 15 mph wind in Rounds 1 and 2. To make it to Round 3, to hoist the Wanamaker Trophy after Round 4, DeChambeau will need to adapt to his discomfort. And adapt quickly.