Numbers
PGA Championship 2021: Based off this stat, Jordan Spieth's chances of winning this week just went to zero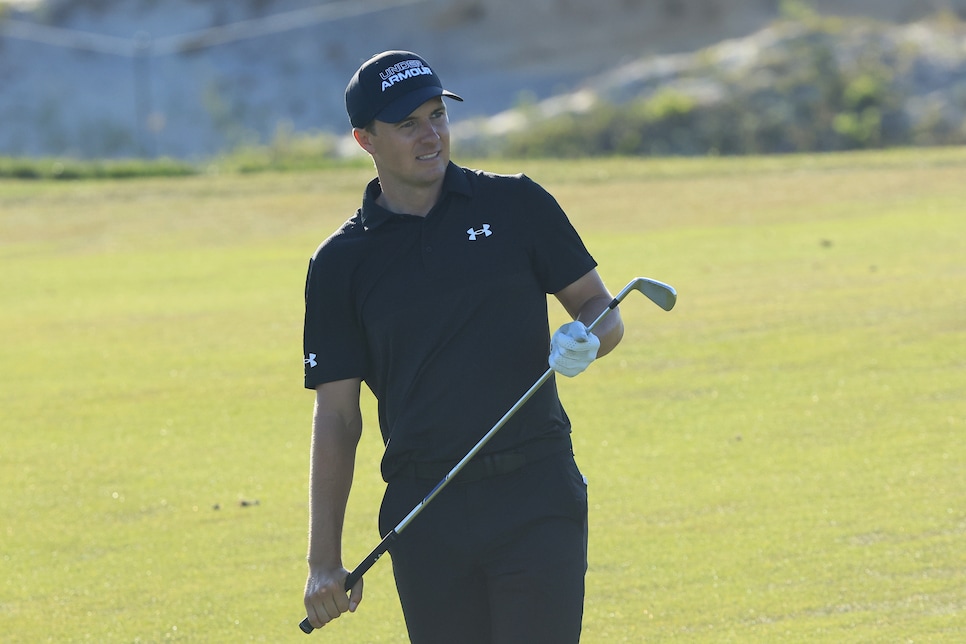 Jordan Spieth reacts to a shot on the 15th hole during the first round of the 2021 PGA Championship.
Sam Greenwood
The legendary Kevin Garnett once said screamed at the top of his lungs, "ANYTHING IS POSSIBLE!!!" Jordan Spieth fans might be screaming a similar refrain to the heavens when their knees hit the floor on Thursday night.
That's because, according to this stat from stats guru Justin Ray, Spieth's chances of making history and completing the career grand slam this week are practically nil following his opening-round 73:
Welp, that was fun while it lasted, Jordy. Pack your things, fire up the jet. Your week is over.
Obviously, we kid, but that is still a tough stat to look at for Spieth's legion of fans (and anyone who has a financial interest in him this week). It's almost hard to believe, until you quickly remember that Spieth has always been a fast starter, often grabbing hold of tournaments on Thursday and never letting go. In all 12 of his PGA Tour victories, he's shot at least 71 or lower in the first round. In nine of them, he's shot 68 or lower.
We did go back and look to see if Spieth has at least come close to winning after an over-par opening round, and we're talking truly "close." The answer is yes, twice. At the 2017 Dell Technologies Championship, Spieth opened with a one-over 72 at TPC Boston, then wound up finishing in solo second at 14 under, three back of winner Justin Thomas. The second time came in the 2018 Open Championship at Carnoustie, where Spieth shot a one-over 72 on Thursday and then played his way into the final group on Sunday, but faded with a closing 76 to finish four back of Francesco Molinari.
One thing to note about his near Carnoustie comeback—he was six back after the first-round 72, which just so happens to be the exact deficit he faces after 18 holes at Kiawah Island, where Corey Conners grabbed the solo lead with a five-under 67. Should he somehow fight his way into the final group again, like he did in Scotland, he'll have a chance to put this pesky stat to bed and to make history by becoming the sixth player ever to win the career grand slam. Hey, per Garnett Law, anything is possible.