Where are they now
PGA Championship 2021: David Lynn's career shone brightest at Kiawah, and then he walked away from the game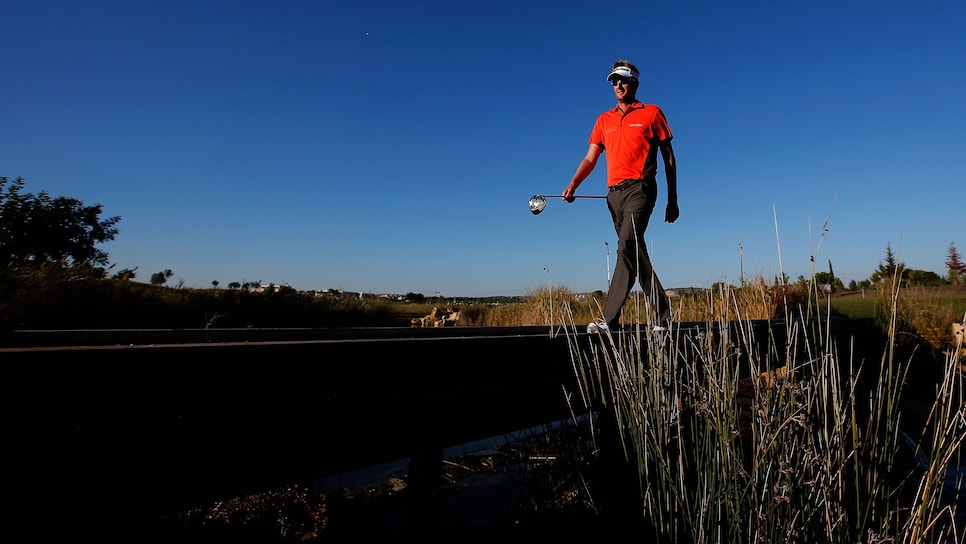 Photo By: Dean Mouhtaropoulos
When David Lynn arrived at Kiawah Island to prepare for the 2012 PGA Championship, it's safe to say few eyes were on the then 38-year-old Englishman. It's even safer to state no one expected him to finish second that week, beating everyone in the elite field except the runaway eight-shot winner, Rory McIlroy.
Playing for the first time in a month and making only his second appearance in any of golf's four major events, there was little in Lynn's competitive past to suggest he was in South Carolina to do anything other than make up the numbers. The supposedly smart money was on him shooting a couple of so-so rounds in the mid-to-high 70s, then find his not-so merry way back to Blighty.
Even those who had somehow noted Lynn's almost unprecedented presence, his World Ranking of 98 and lone European Tour victory at the even-then long-ago 2004 KLM Open, would surely have confirmed the likelihood of an early departure. Described by his pal and fellow pro Mark Roe, as a "slightly above-average journeyman," Lynn had "missed cut" written all over him.
Which is where perceived wisdom and reality part company. As things turned out, no one could have predicted exactly what Lynn was going to do in his life over the next few days, months and two-and-a-bit years. From being a solid player good enough to maintain exempt status in Europe for more than a decade, Lynn morphed into a (one-time) major-championship contender and something of a minor revelation on the PGA Tour. Then, not long after, as if by magic, he was gone from the professional game.
"David was the opposite of the guy who 'wows' you but shoots 71," says one former European Tour player. "There was no 'wow' but when you turned 'round, he had shot 67 or 68."
"Tee-to-green, David was a solid player," agrees European Ryder Cup captain Padraig Harrington. "He hit a lot of fairways and greens. He wasn't short. He wasn't long. He had a big, long, wide swing and was probably a little ahead of his time in that he played with a strong club face. He had the sort of swing you see a lot more of these days.
"He didn't win very often though," continues Harrington, who played alongside Lynn in the final round at Kiawah. "Was there something missing? I don't know. But I would say that playing for the money as much as he did held him back. Coming down the 18th with water about, I could see him playing safe to guarantee second place. I can't imagine him 'going for it' if a bad shot meant finishing eighth instead. Every time he missed a putt on 18, I bet he knew how much it cost him. That's the way he was. And it is hard to change that."
Closer examination of Lynn's play in the run-up to Kiawah reveals three top-12 finishes in his previous six starts. Not bad. And the month off was motivated by an understandable desire to maintain his position just inside the top 100 in the World Ranking—and, in turn, his spot in the elite PGA field. Confirming Harrington's view, he metaphorically played for the fat of the green.
"I could have played in Austria," says Lynn on the phone a few weeks back, recalling Kiawah and his career thereafter. "But I would have had to finish in the top six just to stay where I was on the World Ranking. So I gave it a miss. Plus, I had just bought a new house and was working on the garden. I didn't practice much at all in those four weeks. But when I did, my game felt good. Besides, I was very much a feel player. I never had a coach. So if nothing was broken I wasn't going to fix anything."
Indeed, change would surely not have been nearly as good as his rest. After opening rounds of 73 and 74, Lynn's weekend aggregate of 136 (68-68) was bettered only by McIlroy.
"Kiawah was a venue I liked," Lynn says. "It was windy. And I liked the way the course played. It suited Europeans [seven of whom finished in the top 10]. And I was always good at knocking the ball down. I can't really pinpoint where my game was really strong. I did have a nice putting week. And I should have birdied the last five holes. My second shot to the last was from a deep bunker; I hit a 7-iron to about six feet. I looked up and there was Padraig smiling and shaking his head. I missed the putt though. Not that it would have made much difference to the final result."
Still, for Lynn the $865,000 he earned (more than double his next biggest check) was, at least in the short term, life-changing.
"Finishing second got David his PGA Tour card," Harrington says. "Which he took. David played for money and nothing else. He was always interested in the financial side of life. He would admit that. So going to the States made sense. It was a lucrative move for him."
Acknowledging that life as a tour pro is challenging, David Lynn gave up the game shortly after the best stretch of his career.
Stuart Franklin
That it was, certainly compared with life on the European Tour, where Lynn's career earnings from 408 starts are €8,421,399. In 22 PGA Tour starts during 2013, the former Greek Amateur champion made $1,633,523 and finished 48th on the FedEx Cup points list. Of his two top-10s, the best was a playoff loss to Derek Ernst in the Wells Fargo Championship at Quail Hollow.
"It does hurt that I never won on the PGA Tour," Lynn admits. "I came very close at the Wells Fargo. The guy who won got down in two from 220 yards at the last to get into the playoff. That is something I think about now and then. It would have been great to have had that on my CV. I loved the crowds in America. The hype they bring is brilliant. If you interact with them, they do take you on board. At the '13 PGA, I put the wrong fuel in my car and it had to be written off. So the crowds were calling me 'Lynn-diesel.' In the first round I was heckled on every shot. I was laughing with them. We all had great fun."
Indeed, there was always room for some of that in Lynn's career. Even at Kiawah, he was up for some nonsense. Staying in an apartment on the water, he soon noticed the nearby presence of hungry alligators.
"I was feeding them all week," he says, the glee still evident in his voice. "Pizzas. But with a difference. I would see how hot I could get them by adding chillis and peppers and tabasco sauce. Then I would throw them into the lake. I laugh when I think of the gators shuddering as they swallowed the hottest pizzas ever."
For all that, life in America was never going to be something Lynn could fully embrace. Nor, as things came to pass, was life on tour—any tour. At the end of 2013—despite recording a second European Tour victory at the late-season Portugal Masters—Lynn told his caddie he wouldn't play often enough on the PGA Tour the following year to keep his card.
"I couldn't do it," he says. "We had a little one at home, and I just didn't want to do it. Which is not to say 2013 wasn't great. It was the most enjoyable year of my career. Because everything was brand new. New people. New challenges. And there is one thing I miss—how quickly you get paid on the PGA Tour. You hole out on a Sunday afternoon and the money is on your bank account Monday morning. Phenomenal."
At the end of 2014, Lynn took the decision to walk away from the game entirely. The official reason was tendinitis in his right elbow. But the truth was he had simply had enough.
"The thoughts of finishing had been with me for a few years. I had my caddie, Wayne, at my house recently. He reckons I'd have stopped at the end of 2012 had I not done what I did at Kiawah. I had threatened it often enough. When I stopped I was still exempt. A few guys told me to put in for a medical exemption in case I changed my mind. But I knew I was done."
Lynn's last event was the Turkish Airlines Open. He finished T-48 after one-under 71 in the final round.
"Playing the tour is like walking a tight-rope," Lynn says. "You have to be on your game the whole time. Your whole life is wrapped up in it. It's like being on a carousel. It's head down for 20 years. I used to think life was passing me by because I wasn't living a normal life. But it was a privileged life. There came a time when I wanted to slow it down.
"Plus, you have to be incredibly selfish to reach the highest level," he continues. "I made it into the top 50 for a year or so. But that came with sacrifices. My missus remembers the first time we ever went away on holiday together. I was storming off and leaving her behind in the airport. Because I was so used to being on my own. I was so selfish. And to get to the very top you have to be even more that way."
What to do next was never going to be a problem. Lynn knew exactly the direction his life would take. Since 2001, he had been investing in property. And doing rather well, too. Behind the practical joking facade for which he was perhaps best known on the European Tour lurked a shrewd financial brain. Asked what he was going to do with the cash in the wake of his maiden victory on the European Tour, Lynn's response was that the money was already gone. "I bought two houses last week," he said.
'Playing the tour is like walking a tight-rope. You have to be on your game the whole time. Your whole life is wrapped up in it. It's like being on a carousel.'
David Lynn
So the man one former tour pro calls "the class idiot" was nothing of the sort. His critic came to know that too, of course, in turn calling Lynn "sneaky smart."
"It was always in the back of my mind to set myself up before I finished playing," Lynn says. "I earned a bit of money at golf and invested in my portfolio as I went along. I was of a mindset that my golf wouldn't last forever. If I got injured or lost form, I wanted to have an alternative income. There is always a 'there but for the grace of God' aspect to playing a sport for a living.
"I've just finished a project building 38 houses," he continues. "We've only got two left to sell. That's taken the last two years. We went from planning to building to selling. I'd always wanted to do something like that. And my rental portfolio—my bread-and-butter when I retired—continues to tick over. I call myself a 'property buyer' these days."
And in that, he applies at least some of what he picked up during his former career. According to Lynn, businesspeople and pro golfers have much in common, not least in how they make decisions and handle setbacks. In his mind, spending money on an eventual lost cause and missing the cut are both the same: costs of doing business.
"Investing a few grand in legal fees and the like before a deal falls apart has happened to me," he says. "But I never worry about it. There is always something else. That's me saying, 'I've missed the cut. Let's get on to the next event.'"
As for the future, Lynn hasn't dismissed the possibility of a comeback on the PGA Tour Champions. He continues to play sporadically. A couple of years ago he shot 60 while on holiday in Spain. And a recent first-in-seven-months outing began with a birdie on the opening hole.
"If David plays senior golf, I can see him imitating Walter Hagen," says Roe. "He'll pull up at the course in a huge Rolls Royce. Then he'll jump out dressed to the nines. He'll have a huge bag too."
"I think I got things spot on," Lynn says. "I could have struggled on for another couple of years. I knew how to get the ball round the course. But there are two types of golf: stressful golf and frustrating golf. Stressful is when you are always scrambling for pars. Frustrating stems from missing a lot of putts for birdies. My game had started to descend into stressful. That's not a nice way to play."