The Loop
PGA Championship 2018: Dustin Johnson has a very Dustin Johnson answer for not wearing shorts at Bellerive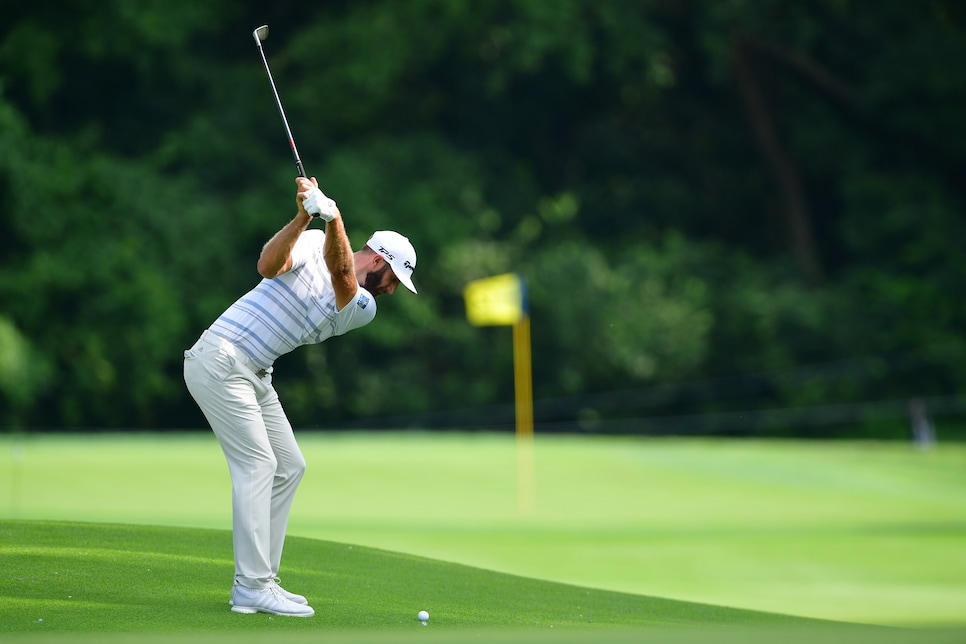 ST. LOUIS—Dustin Johnson is not one for exposition. Which is perfectly fine, because his brevity never ceases to deliver.
For the second straight year, the PGA of America allowed the PGA Championship field to don shorts during the tournament's practice rounds. Given temperatures were in the mid 90s on Monday (with a real feel in the 100s), most of the field took advantage of the relaxed dress code.
One notable that did not, however, was World No. 1 Dustin Johnson. Many chalked this up to the fact that DJ doesn't look like he's sweated a single day in his life. But, speaking to the media on Tuesday at Bellerive, Johnson had a slightly less complicated answer for rocking pants in the Missouri heat.
"Yeah, I definitely forgot to pack them," Johnson said.
"I mean, today I was playing, I was going to play really early this morning so it wasn't going to be too hot so I just wore pants," Johnson continued. "And I did it last year and at Quail Hollow, and it almost felt kind of weird wearing shorts, especially when I wear pants every single day out here. At home I do wear them a bunch, but yeah, I definitely forgot."
For the record, players will have to wear pants during the actual tournament, and perhaps Johnson's secretly prepping for those conditions by eschewing shorts. But, if you take the man for his word, that's not the case. Which just proves the pros, just like us, have no idea how to pack.